NEWS
Hiroshima to take on Higashi Fukuoka to clinch Prince Takamado U-18 Premier League West title
25 November 2016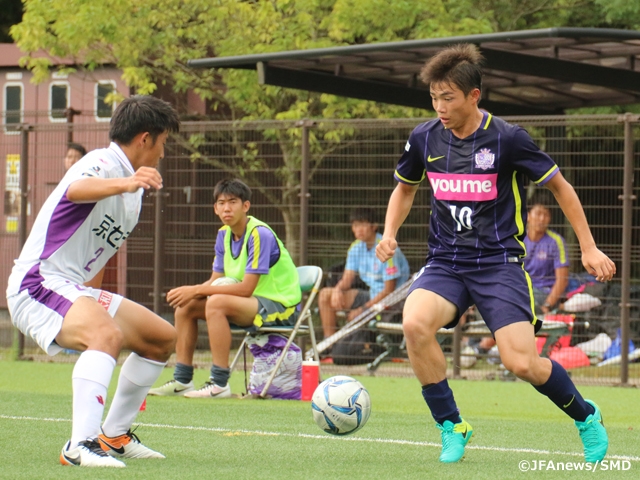 Pick-up Match Premier League WEST - Matchday 16
Sanfrecce Hiroshima FC Youth vs Higashi Fukuoka High School
The 16th matchday of the Prince Takamado Trophy U-18 Premier League WEST will take place on Saturday 26 and Sunday 27 November, as Sanfrecce Hiroshima FC Youth (Hiroshima) face Higashi Fukuoka High School (Fukuoka) at Yoshida Soccer Park on Sunday.
League leaders Hiroshima potentially will win the WEST title with their own win and the draw or loss by second-placed Cerezo Osaka U-18 (Osaka) combined. Hiroshima now are on their no-loss streak for the ten matches since the sixth matchday with eight wins and two draws during that stretch. At the 2016 J. Youth Cup 24th J. League Youth Championship held during the Premier League's mid-season break, their performance was very stable despite their loss to F.C.Tokyo U-18 (Tokyo) at the final.
Coach SAWADA Kentaro who leads Hiroshima says of how the team spent the mid-season break: "if we had lost early in the J. Youth Cup, we would have had unwanted long break until the next regular season match to play. But actually we were able to advance to the final. So I think we can come back to the Premier League in good form." The squad seem to be ready to play this upcoming match without concerns for their readiness.
For Higashi Fukuoka also, how they refresh their mind after the All Japan High School Soccer Tournament Regional Qualifiers is the key for this matchday. They have conceded 10 goals in the two most recent Premier League matches, but the improvements made during the break resulted in stronger defence. They allowed only one goal in four of the said qualifying matches and became the winning team representing Fukuoka Prefecture in the national tournament.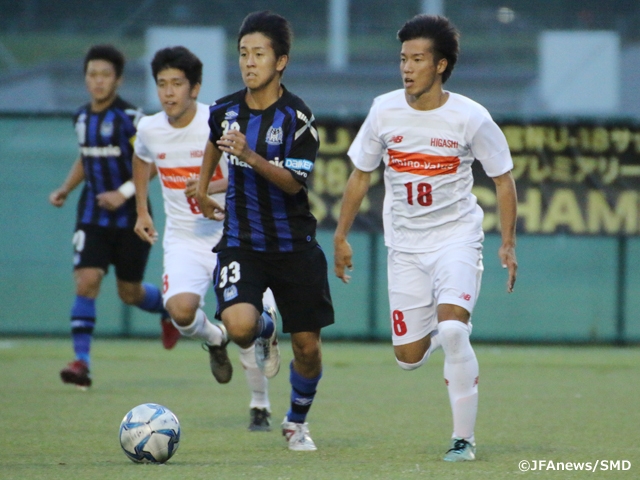 Their coach, MORISHIGE Junya says "we learned from the last matchday where we allowed too many goals and failed to maintain our energy until the last minute. We took advantage of that lesson in the All Japan qualifiers. In the rest of the Premier League season, we want to show our solid all-men defence. In order to leave some positives for next season, we will go all out and see how much we can do."
In the previous match-up of these two clubs, Higashi Fukuoka scored the opener soon after the kick-off, but could not hold on to the lead and conceded two goals. This time they are looking to pay back and bring home some points. This must-see contest is expected to end up with either the powerhouse among high school teams in the nation showing their resiliency or Hiroshima proving why they are the league leaders.
Coaches' and Players' Comments
SAWADA Kentaro, Coach (Sanfrecce Hiroshima F.C Youth)
Regardless of the opponents and the situation we are in, we see this matchday as one of the 18 matches we have in this league. I don't know how my players will react once the match starts, but I want them to play just as they usually play. We don't have much left in this season, and I want all of my players, both those who get to play in matches and those who don't, to take every one of the remaining matches seriously. If we win the WEST, we will have one more match to play with this squad in the Championship. I think my players are aware of that, and that fact should be our driving force.
YAMANE Towa (Sanfrecce Hiroshima F.C Youth)
The impression I have toward Higashi Fukuoka is that they are individually skilled and very good in one-on-ones. They will play hard offensively and defensively throughout the 90 minutes even with the substitute players, so we have to try not to be outplayed in each situation. I play near the opponents' goal, so I will try to be effective in terms of making my moves and try to help my team win by scoring goals. The Premier League is the last tournament we can play with this current squad. Depending on our own result, we can get to play in the Championship. So we want to make sure to be prepared for every match starting with this one against Higashi Fukuoka, and we will play with full strength. I will do my best to lead my team to a good direction.
MORISHIGE Junya, Coach (Higashi Fukuoka High School)
We don't have a chance either for championship or relegation, but we don't want to face them being unmotivated. It will be a difficult match against a great team like Hiroshima, but we want to stay with them until the end. We want to be a team that can scare title contenders like Hiroshima, and we want to make this WEST more entertaining by us winning this upcoming match. In order to take a good momentum into a one-and-done tournament like the All Japan High School Soccer Tournament, for the rest of the three matches we are going to show our attitude, which is "get a win even with the minimum scoring margin".
Sanfrecce Hiroshima FC Youth vs Higashi Fukuoka High School
Date:Sunday 27 November (Kick-off 11:00)
Venue:Yoshida Soccer Park
Directions:●20 minutes by taxi from "Mukaihara Station" of JR Geibi Line
      ●10 minutes by car from "Takada"IC of Chugoku Expressway
      ●60 minutes by car from downtown Hiroshima
Premier League WEST Matchday 16
Saturday 26 November
14:00 Vissel Kobe U-18 vs Nagoya Grampus U18(Ibukinomori Stadium)
Sunday 27 November
14:00 Gamba Osaka Youth vs Oita Trinita U-18(Gamba Osaka Ground)
15:00 Kyoto Sanga F.C. U-18 vs Kobe Koryo Gakuen High School(Kyoto Sanga F.C. Higashi Joyo Ground)
15:00 Cerezo Osaka U-18 vs Ozu High School(Cerezo OSAKA Maishima Ground)
While they are striving for three points to stay in the title contention, Cerezo Osaka U-18 (Osaka) welcome Ozu High School (Kumamoto) at home. It is interesting to see whether the Osaka side can defeat again the opponents that they did so 3-0 in the last outing.
Nagoya Grampus U18 (Aichi) sitting at ninth place within the relegation range will face third-placed Vissel Kobe U-18 (Hyogo) on the road, while 10th-placed Oita Trinita U-18 travel to Osaka to play against Gamba Osaka Youth (Osaka). The two teams struggling in the bottom half of the league are certainly required to play well against the upper-half counterparts.
Six-placed Kyoto Sanga F.C. U-18 and eighth-placed Kobe Koryo Gakuen High School (Hyogo) go head to head with both attempting to pile up three points to stay as far away as possible from relegation.
Players' Comments
NAKAHATA Yuta (Oita Trinita U-18)
Gamba Osaka Youth that we play against in the upcoming match are very good in moving the ball and attacking the sides. We want to fully share our defensive game plan, where we set our focal point in particular to rob the ball as we build defensive blocks. I also think scoring the opening goal is the key. I personally will defend not to let the opposing side do their job and lead my teammates with my coaching. We are in a very difficult situation where we are at the bottom of the league with only three matches remaining. But we want to keep playing our style of football and get out of relegation as soon as possible.
New players from Matchday 16 (Japanese version only)