NEWS
F.C. Tokyo targeting U-18 Prince Takamado EAST title face Kashima
02 December 2016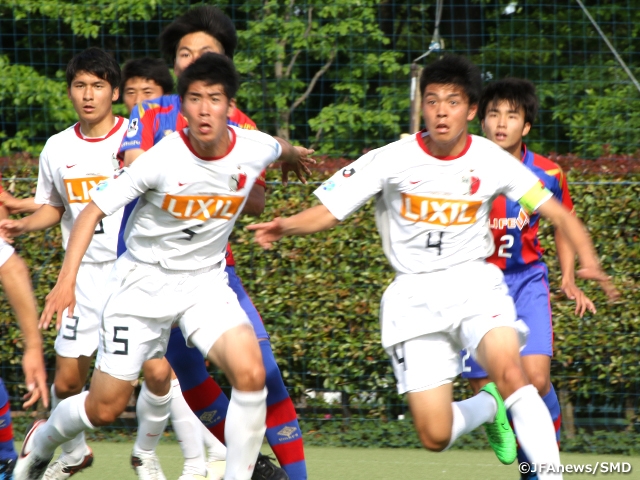 Pick-up match Premier League EAST - Matchday 17
Kashima Antlers Youth vs F.C. Tokyo U-18
Matchday 17 of the Prince Takamado Trophy U-18 Premier League EAST will take place on Saturday 3 and Sunday 4 December at Kashima Soccer Stadium. Kashima Antlers Youth (Ibaraki) will square off against F.C. Tokyo U-18 (Tokyo).
Kashima, who will play at home this time, is currently in eighth place with 5 points separating them from ninth-placed Albirex Niigata U-18. In the Premier League, two bottom teams (ninth and tenth place teams) will be relegated to the Prince League the following year. Six of their eight defeats this season were the ones in which they lost by a single-goal difference, and they had difficulties in winning points. "The things I kept telling my players since the beginning of this season have not changed at all", says coach KUMAGAI Koji. They will work hard and try to improve the necessary factors to win a match, including making quicker transitions from offence to defence and showing strength on the ball.
In the 2016 J-Youth Cup, which was held during the season break of this Premier League, Kashima lost against Vissel Kobe U-18 (Hyogo) 0-1, but Kumagai expressed the team's improvement as 'throughout this competition, we performed extremely well'. From keeping their style of play even during tough stretches this year, they defeated Aomori Yamada High School (Aomori) 1-0 in their first match after the Premier League resumed, and they are now one step closer to staying in the league. This is their second consecutive week, where they face a potent team, but they will make every effort to earn the maximum points.
F.C. Tokyo U-18, on the other hand, have already won two titles this season, namely JAPAN Club Youth (U-18) Football Championship and 2016 J-Youth Cup. Depending on the results of other matches, they can be the champion of this Premier League. However, coach SATO Kazuki states with caution: "we need to concentrate on this up-coming match. If we think about winning the title, then the players may not have the right mindset going into the game."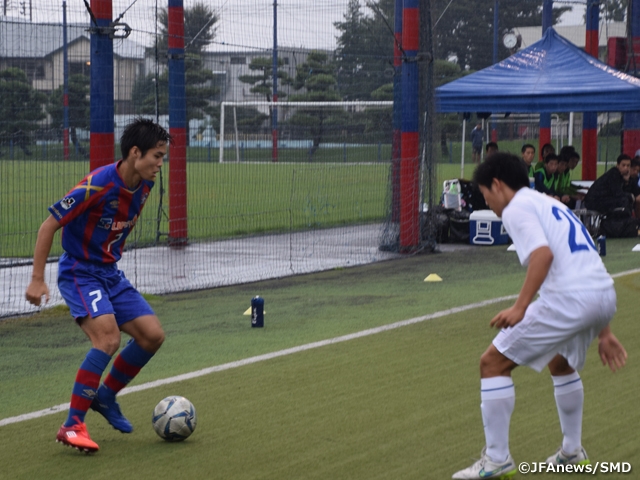 The team drew two matches in Matchday 14 and 15 and posted a smashing victory 3-0 last week against one of the top teams, Yokohama F・Marinos Youth (Kanagawa) . They displayed their offensive skills and defensive strength in stealing the ball to earn 3 points. Until mid-season, the team had difficulties in selecting players for the match, since some of them play for the upper-level F.C. Tokyo U-23 in the Meiji Yasuda J3 League. Now that J3 season is over, they can focus solely on the Premier League matches, and this will obviously be an advantage for them. Check out how the Tokyo club will compete against Kashima who are showing their strong passion to stay in this league.
Coaches' and Players' Comments
KUMAGAI Koji (Kashima Antlers Youth)
We can be positive about the victory of the previous match day, but all we have to do now is to concentrate on displaying what we have done, not being affected by our past results. I believe that my players and I know our level of football well. As I keep telling them since the beginning of the season, we will do our best for our future. We want to win the weekend contest to stay in this league. What I am going to tell them for the remaining two matches will be the same: we will focus on playing our football and do whatever it takes to win the next match, even against F.C. Tokyo U-18.
MATSUURA Koyo (Kashima Antlers Youth)
F.C. Tokyo U-18 have skilful players, so we cannot be outrun by the opponents and we must be quicker in transitions. Personally I want to display my skills in feeding long balls and showing strength on the ball. In any set plays, I will aggressively seek for goals. With two more matches remaining in the season, both of them will be important in deciding whether we can stay in the league or not. We will get united and give our best.
SATO Kazuki, Coach (F.C. Tokyo U-18)
We have been in the position that we can win the third title of this season, but to be honest, what I feel more strongly is the desire to play more games with such wonderful staff and players. If you concentrate on the match one at a time, while keeping the level of your performance, good results will follow. And, this is giving us an opportunity to play one more match—the championship game. I want them to demonstrate their individual skills and play enticing football.
OIJI Yoshiatsu (F.C. Tokyo U-18)
Kashima's players seem to be well united from their warming-up sessions before the match. I have an impression that they are strong in the battles for the ball and also in the air. I believe that we also have a good sense of unity as a team and the quality of our daily training is high. Personally I want to make a difference with left-footed kicks and dribbling. I want to break through Kashima's defence and contribute to scoring. Looking towards winning the title of the Premier League EAST, every match will be important, so we will help each other to hoist the Trophy.
Kashima Antlers Youth vs F.C. Tokyo U-18
Date:Sunday 4 December (Kick-off 11:00)
Venue:Kashima Soccer Stadium
Directions:Approx. 10 minutes by taxi from JR Kashima Line "Kashima Jingu" station
Premier League EAST Matchday 17
Sunday 3 December
13:00 Omiya Ardija Youth vs Albirex Niigata U-18(NACK5 Stadium Omiya)
14:00 Yokohama F・Marinos Youth vs Ryutsukeizaidai Kashiwa(Yokosuka Leaf Stadium)
Sunday 4 December
11:00 Shimizu S-pulse Youth vs Aomori Yamada High School(Shimizu National Training Centre J-STEP)
15:00 Kashiwa Reysol U-18 vs Ichiritsu Funabashi High School(Hitachi Kashiwa Soccer Stadium)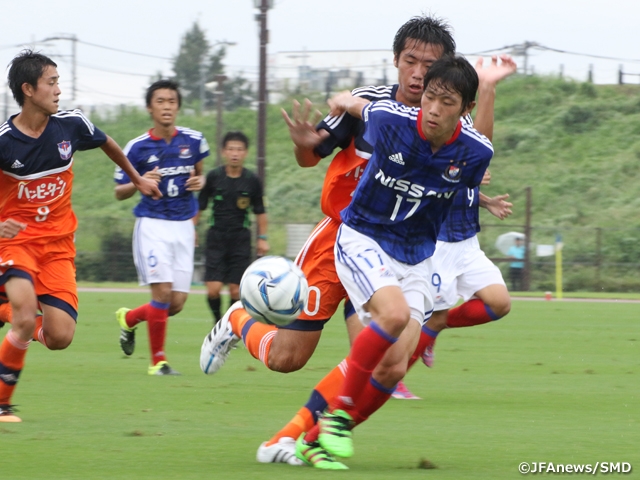 Omiya Ardija Youth (Omiya) who is chasing the league leaders F.C. Tokyo U-18 with three-point difference will face Albirex Niigata U-18 (Niigata). If Omiya wins the match on Saturday, F.C. Tokyo U-18 will not get the title regardless of their result.

Yokohama F・Marinos Youth (Kanagawa), who is in fourth place, will play against Ryutsukeizaidai Kashiwa (Chiba). For Yokohama having any chance of winning the title, they must win this match and the last one against powerhouse Omiya Ardija Youth.

Second placed Aomori Yamada High School (Aomori) will play away from home against Shimizu S-pulse Youth (Shizuoka). Aomori Yamada are looking to avenge the loss on the previous matchday, whereas Shimizu, who haven't won a single game at home this season, seek to win one this weekend.

Ichiritsu Funabashi High School, who have a possibility to win the title, will take on Kashiwa Reysol U-18 this time. Both teams are from Chiba prefecture. Since Ichiritsu Funabashi High School haven't won the past four matches with only one goal scored in total, forward players are expected to come out strong.
JFA-TV (Japanese version only)
Highlights from Matchday 16
Vote for the best goal of the season - U-18 Takamado Prince Premier League (Japanese version only)