NEWS
Omiya looking to come from behind for championship, face Ichiritsu Funabashi in Prince Takamado U-18 Premier League EAST
24 November 2016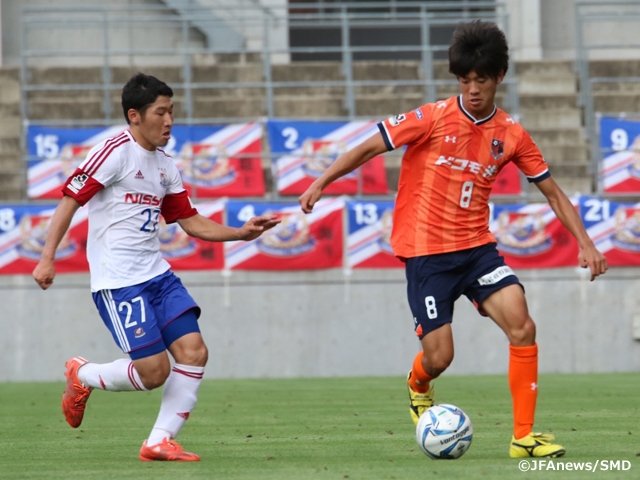 Pick- up Match Premier League EAST Matchday 16
Omiya Ardija Youth vs Ichiritsu Funabashi High School
On Sunday 27 November, the Prince Takamado Trophy U-18 Premier League EAST holds its matchday 16. At Saitama Stadium 2002's second field, Omiya Ardija Youth (Saitama) will take on Ichiritsu Funabashi High School (Chiba).
Omiya are now at fourth place in the league with 27 points while Ichiritsu Funabashi are trailing right behind by one point. Both clubs still have the possibility to pass the leaders Aomori Yamada High School (Aomori) with 30 points.
Although Omiya struggled near the bottom of the league early in the season, they successfully came upward by recording only one loss since the fourth matchday. Their offence and defence are well coordinated with each other, which has helped them win recent three in a row by scoring multiple goals in each contest. OGASHIMA Tsuyoshi up front has scored in six straight matches and midfielder HASEGAWA Motoki also scored in each of last three. Their offensive end is undoubtedly in good form.
Their defence still has room for improvement as they held their opponents scoreless only once in the season. But that lone opponents they succeeded in stopping were Ichiritsu Funabashi on the seventh matchday. Coach OTSUKA Shinji says with high expectation, "our team can go out for this weekend match with good image about it. I expect it to be a good match as the concentration will be kept throughout the 90 minutes."
On the other hand, Ichiritsu Funabashi have just won the All-Japan High School Soccer Championship's Chiba prefectural final and clinched the spot in the national tourney for the second straight year by defeating Ryutsukeizaidai Kashiwa (Chiba). In that regional tournament, they experienced many close matches, so coach ASAOKA expects that his team "will have a hard time in staying focused because we battled through many intense matches on our way to the championship." Even so, his players are in the middle of the competition within the team for the starting spots in the said national championship. That should be enough for them to recharge themselves for the match of the weekend.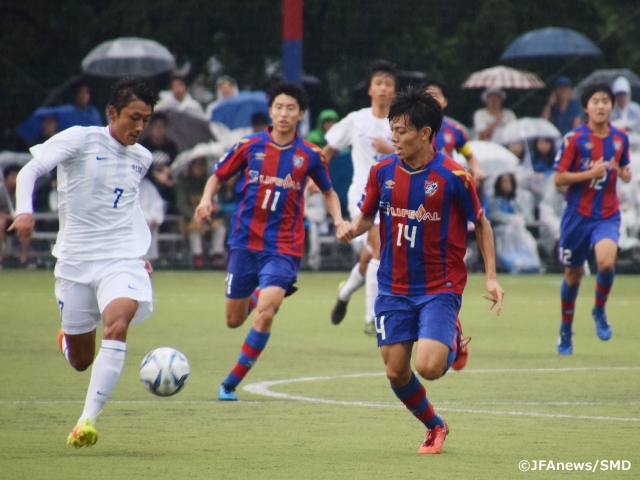 The key for Ichiritsu Funabashi, who scored only two goals in the four matches since the 12th matchday, is "do everything they can possibly do to score" according to coach Asaoka. As they aim to defend high-power Omiya offence, the high school side need to fully take advantage of limited opportunities of attacking deep in the Omiya's end.
Coach's and Players Comments
OTSUKA Shinji, Coach (Omiya Ardija Youth)
We started the season with three straight losses, but now we are at a position to have a shot at the top. So far in this season, after every match we looked at ourselves trying to find what was missing, and we built the team up little by little for each coming match to play. Our players worked hard in practices with willingness to do even more, and that led to the current record we have. I can feel the growth of the team and individual players and I want them to display what they have practised on the pitch against Ichiritsu Funabashi, which is the first of the remaining three matches. I want them to show how hard they have worked.
OGASHIWA Tsuyoshi (Omiya Ardija Youth)
Our next opponents, Ichiritsu Funabashi, have recorded a great achievement like winning the Inter High School Sports Festival, and they seem to have very tough and powerful players. With decent amount of respect for the opponents, we want to try to break down their defence with my individual plays with quickness. I want to lead my team to the win with my goals. This is one of the few matches we have left in the season, and it is a very important one for us winning the championship. It's not an easy match, but we want to play tenaciously, show our strength and grab three points for all the remaining matches of the season.
ASAOKA Ryuzo, Coach (Ichiritsu Funabashi High School)
It's right after the Chiba prefectural qualifiers for the All-Japan High School Soccer Championship, so to be honest, I think it's difficult for our players to change their mindset. I want to let them go out for the match of the weekend, as I pay attention to their mental condition. Their mental readiness reached the peak level at the Chiba prefectural final once, so it is necessary to get it up again. I want my players to compete against each other one more time within the team. They have not given up their desire to come from behind and win the Premier League, and they seem to be determined to go for the championship as long as we still have that chance.
KANEKO Daiki (Ichiritsu Funabashi High School)
The key in this match of the weekend is how we can stay organised and defend collectively against highly-skilled opponents. And more particularly, battles on the ball, one-on-one coverage and set-pieces will be the turning points in my opinion. I personally want to pick up second balls, taking advantage of my stamina, and show my ability to rob the ball from opponents. I will make sure to play to my strength and contribute to the team by joining build-ups and attacks.
Omiya Ardija Youth vs Ichiritsu Funabashi High School
Date:Sunday 27 October (Kick-off 13:00)
Venue:Saitama Stadium 2002 Second Field
Directions:15-minute walk on pedestrian-only street from "Urawa Misono Station" of Saitama Express Railway line
Premier League EAST Matchday 16
Sunday 27 November
11:00 Shimizu S-pulse Youth vs Kashiwa Reysol U-18(Fujieda Sports Complex Park Soccer Stadium)
11:00 Aomori Yamada High School vs Kashima Antlers Youth(Aomori Yamada High School)
11:00 Ryutsukeizaidai Kashiwa vs Albirex Niigata U-18(Ryutsukeizaidai Kashiwa)
13:00  F.C. Tokyo U-18 vs Yokohama F・Marinos Youth(Tokyo Gas Musashino Ground)
The league leaders Aomori Yamada High School (Aomori) will face Kashima Antlers Youth (Ibaragi) at home. Previous meeting ended up in a scoreless draw. Aomori are seeking to get three points, but Kashima facing relegation will be formidable opponents.

J-Youth Cup winners, F.C. Tokyo U-18 (Tokyo) will square off against the third-placed Yokohama F・Marinos Youth (Kanagawa). Depending on the result of the Aomori-Kashima match, they have the chance to move to the top of the league table. They are also targeting the full three points.

The weekend match is a must-win for both Ryutsukeizaidai Kashiwa (Chiba) and Albirex Niigata U-18, as they are currently in the relegation zone. They will be looking to win the match to stay in the league.

The result may not be the only thing to look for in the contest between Shimizu S-pulse Youth and U-18 Kashiwa Reysol. They are likely to test new players looking ahead to the next season.
New Players from Matchday 16 (Japanese version only)