NEWS
Hiroshima, F.C. Tokyo start ACL campaign with defeat
24 February 2016
The group stage of the Asian Champions League (ACL) got underway on 23 February 2016 as Japanese sides started their respective campaign with a defeat. While Sanfrecce Hiroshima suffered a 2-1 home loss against Shandong Luneng FC (China), who came back from behind, F.C. Tokyo fell to Jeonbuk Hyundai Motors 2-1 on the road.
Hiroshima, who won the J1 league and made an ACL appearance for the first time after two years, made six line-up changes from the FUJI XEROX SUPER CUP on 20th this month and the players moved aggressively to pick up the momentum.
In the 19th minute, midfielder MARUTANI Takuya fired from the edge of the box through a right side attack. And forward Peter UTAKA found a chance and unleashed a shot against the opponents' China National Team's goalkeeper Wang DALEI in the 38th minute and then met KASHIWA Yoshifumi's cross two minutes later, but both shots went wide. In the 45th minute, forward ASANO Takuma received Utaka's pass, but his floated shot was denied by Wang.
Shandong made an appearance in the finals after a comeback win over Adelaide United in the playoff match on 9 February. Under coach Mano MENEZES, former Brazil National Team, the Chinese side with two Brazilian internationals forward Diego TARDELLI and defender Gil were looking for a chance without taking a risk. In the 30th minute, they gained an indirect free kick right in front of goal, but Hiroshima coped well not to let them find the net.
The deadlock was broken in the second half. In the 64th minute, forward MINAGAWA Yusuke received defender SHIOTANI Tsukasa's cross at centre and passed the ball to the left. Midfielder SHIMIZU Kohei controlled it with his chest and smashed a left-footed shot into the net.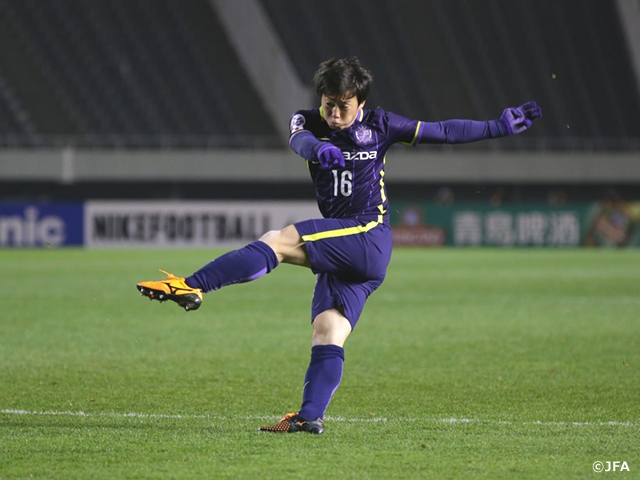 Yet three minutes later, Shandong's midfielder Jucilei fired a shot on a counterattack. Although Hiroshima's goalkeeper HAYASHI Takuto saved the shot, forward Yang XU headed the second corner kick at the near post to equalise the scoreline. In the 78th minute, substitute midfielder Wu XINGHAN cut in from the right flank on a counterattack and passed the ball from the side of the post to the other side. After rushing into the box, unmarked forward Tardelli hit the pass with his right foot to put his side ahead.
Hiroshima subbed in forward NOTSUDA Gakuto and tried to rally back. Defender CHIBA Kazuhiko headed a right corner kick in the 90th minute, midfielder SHIBASAKI Kosei took a shot from just outside of the box, but both shots did not find the net. Hiroshima capped 20 shots, double the amount of the opponents', but the match came to an end with Hiroshima's 2-1 loss.
See more match details (Japanese version only)
In the other Group F match of the day, FC Seoul thrashed Buriram United 6-0 on the road. As a result, Hiroshima finished the first day at third place following FC Seoul and Shandong.
F.C. Tokyo vs Jeonbuk Hyundai Motors
In the meantime, Group E F.C. Tokyo faced K League Classic champions Jeonbuk Hyundai Motors. F.C. Tokyo side were to take advantage of the momentum from the crushing playoff victory over Chonburi FC. But Tokyo defender KOMANO Yuichi subbed out due to injury in the 21st minute and F.C. Tokyo allowed an opening goal to forward Go Moo Yol in the 39th minute before going into half-time 1-0 down.
Tokyo, looking for a comeback, grabbed goal-scoring opportunities early in the second half with shots by midfielders HIGASHI Keigo and YONEMOTO Takuji, but both did not find the net. Tokyo sought a chance as Australian international striker Nathan BURNS and attacking midfielder KAWANO Hiroki came off the bench in the mid second half.
However, Jeonbuk's forward Lee Dong Gook found the back of the net in the 83rd minute to give his side a two-goal lead. Five minutes later, Tokyo forward ABE Takuma scored, but it ended up being the last goal of the match.
See more match details (Japanese version only)
In Group E, Vietnam's Becamex Binh Duong drew with Jiangsu FC (China), resulting in Tokyo starting at fourth place following Jeonbuk Hyundai, Jiangsu and Binh Duong.
On 24 February, Urawa Reds host Sydney FC (Australia) at home while Gamba Osaka take on Suwon Samsung Bluewings FC (Korea Republic) on the road.
Coach and Players' Comments
MORIYASU Hajime, Coach (Sanfrecce Hiroshima)
It was a home match in the ACL opener, but it's disappointing we lost. We needed to win the match and we played a good game as we had 20 shots. But they didn't lead to a win. We conceded a goal right after we scored. Maybe the timing I replaced players was also one of the reasons, but as a team we need to build up a style of taking a lead and adding a goal. It's still the beginning of the season, and the players haven't been able to materialise what they have in mind when playing. But as their physical condition goes up, they can make some changes. With today's loss, we are going to be in a tough situation but still have five remaining matches. I believe we can definitely go through the group stage if we can play like today with a winning attitude.
MF SHIMIZU Kohei (Sanfrecce Hiroshima)
Talking about my goal, I was able to take a well-controlled shot with a good swing. It was the opening match at home and we wanted to win. We were determined to win battles on the ball from the start and looked for three points. I'm disappointed we let them come from behind. We need to score when to score and get more goals. And we've also got to nail down the way we avoid conceding a goal. The first game of the series was just finished. We will try to win the next one.
MF AOYAMA Toshihiro (Sanfrecce Hiroshima)
It was the first match and I knew it would be very tough. But the match didn't go in a way we usually play, and we wanted at least one point. I'm disappointed. I was composed to play from the first half, and risk management was also carried out well. We conceded the first goal after a substitution came off. We know how to play after scoring a goal, so we will try to do that on the Asian stage as well. There is not time to look down. We will reflect on today's match and try to work together to win the next away match scheduled a week from now.
Mano MENEZES, Coach (Shandong Luneng FC)
It was tough game as expected, but we were able to get the three points in the teamwork and the organised play. Our coaches are about two months to join the team, but the players did a great performance. An important match of ACL opener got three points from a strong opponents' of Hiroshima, I am very happy and the players I think to be a confidence.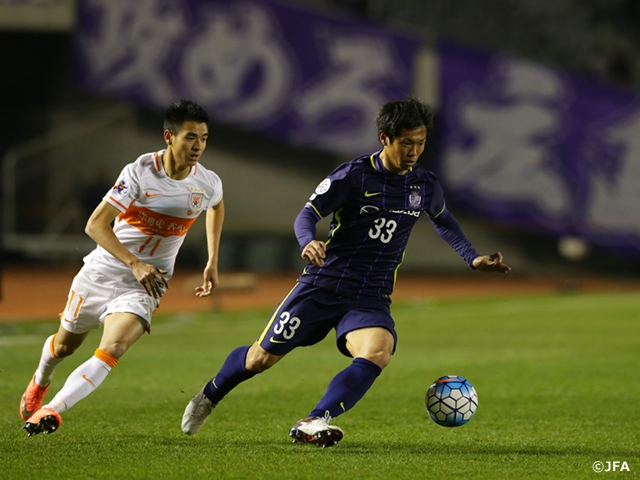 AFC Champions League 2016
27 January 2016 - 26 November 2016