NEWS
Refresher Seminar for coaches from Hong Kong Football Association held in Osaka during National Training Centre U-14 2018
31 May 2018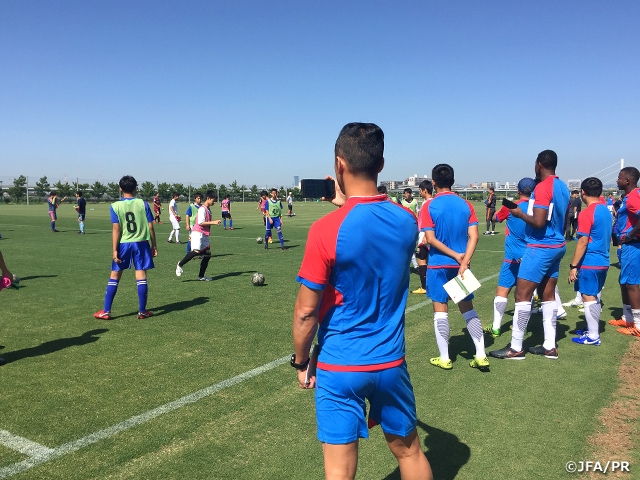 Led by former JFA National Training Centre Coach ADACHI Yusuke, 23 coaches from Hong Kong visited Japan to learn the system and coaching methods of JFA youth development from Thursday 24 to Sunday 27 May.
Every day during this seminar, the participants observed the training sessions of National Training Centre U-14 which was held at J-GREEN Sakai in Osaka at the same time. The observation was followed by practical session under the same training theme to deepen their understandings. Through the theoretical sessions delivered by JFA Youth Development Director IKEUCHI Yutaka as well as the practical sessions, they shared broad range of knowledge and information about the youth development in Japan, including its philosophy, system, current situation and issues. They also observed the players' group meetings in the evening. After learning the JFA initiatives from various angles, they finished up the four-day seminar.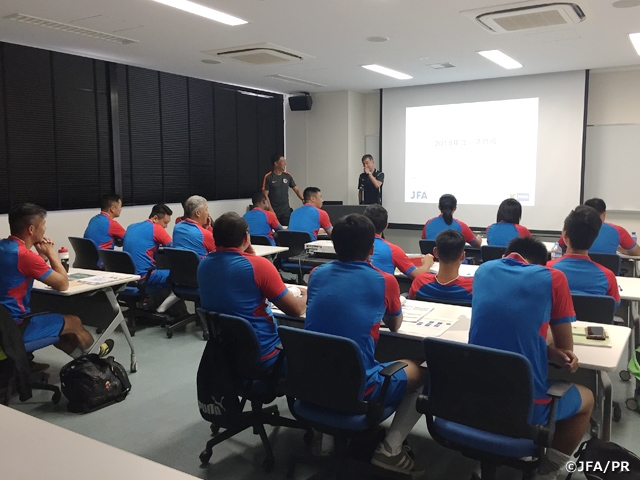 Participants' Comments
Chiu Siu Keung, District Mentor (Hong Kong Football Association)
This 20 to 30 years, Japanese football is improved a lot and I think they are one of the strongest in Asia. Luckily we got a chance to come and see how the football system, especially youth development is working so we can see what we can learn and do in Hong Kong to improve our football. After this observation, I found the training system is systematic. One of the good point was that there were always meeting before and after the session. There are many chances to check anything to improve. I think it would be a best practice for Hong Kong too. Also the system is very effective and it will be very helpful for Hong Kong development. When we go back to Hong Kong, we will try to tell our coaches about the actual situation in Japan and share the experiences. Hopefully we can choose what is most suitable for Hong Kong to improve a lot and enjoy the football.
Wing Ip, GK Coach of Hong Kong U-15 Girls National Team (Hong Kong Football Association)
This Trip to Japan is to learn the youth training system such as how they run and how the coaches work together at national and regional level and also the player's level. Because two years ago Mr Adachi came and brought some Japanese method to Hong Kong so I wanted to see with my eyes and this is good opportunity to come here. I would like to thank JFA for allowing us to come this program. Within four days I observed the training U13/14 training centre. It was not about only on the pitch but also off the pitch. We attended the meetings with the players and coaches. We learned about how the coaches work with the players and with the other coaches. Especially the staff meeting, how the information passed from JFA to regional coaches like they run and evaluate the session. It was very high quality in the program and it is a very good reference and good standard for Hong Kong to target. What I would like to bring back is that first is the attitude from the JFA and the coaches who are very professional and also the players are very high well trained with quality. We need to think about how we apply to Hong Kong. Also the effort Mr Adachi brought to Hong Kong, we saw them here. The training was very effective, good quality, keeps high intensity and the players can learn a lot even though it was only four days. Thank you again for JFA to organize this to Hong Kong FA. It was good benefit and we try to bring good things back to Hong Kong.
Fan Ying Ying, Assistant Coach of Hong Kong U-15 Girls National Team (Hong Kong Football Association)
The reason why I joined this camp is to improve myself, especially my coaching to help the Hong Kong players and to learn the coaching method, the speak of coaching, how to hint and guide the players. I've observed the teamwork from the JFA coaches, and the players with good attitude and good technique, skill and toughness who were trying their best to play football. I think it is important for Hong Kong players. I want to get more information and ideas to change Hong Kong football. Some of the changes happened in Japan would also the tips to improve and help Hong Kong players and it is important for us to understand.
Wong Kwok Leong, Assistant Coach for Kowloon South U6/U8 (Hong Kong Football Association)
I came here to learn Japanese football culture because I know Japanese football is one of the best in Asia and it was a good opportunity for me to see this training camp. I learned how to organize and set up the training. I also saw many meetings before and after the training session. I found that the positioning of the coaches is important. I observed the coaching methods to improve skills and techniques step by step. I would like to take all things back in Hong Kong. For example, the meeting with the players would be more effective to communicate each other after the training session because there is not much time within the training in Hong Kong.