NEWS
Saudi Arabia arrive in Japan for Final Asian Qualifiers (Road to Russia)
09 November 2016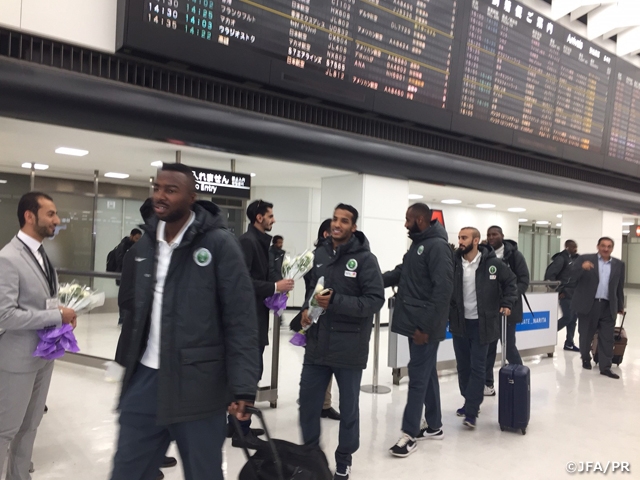 The Saudi Arabia National Team arrived at Narita Airport on Tuesday 8 November to face Japan in the Final Asian Qualifiers (Road to Russia) which will be held at the Saitama Stadium 2002 in the Saitama Prefecture.
Although the players seemed to be tired from the long trip, they were welcomed by the Saudi supporters, and they gracefully agreed to take pictures with them.
The team will be spending a full week in Japan to get ready for the important match on Tuesday 15 November.
Coach
Bert VAN MARWIJK (Netherlands)
Players
GK
ASSAF ALQARNI (Al-Ittihad)
WALEED ABDULLAH (Al-Shabab)
MOHAMMED ALOWAIS (Al-Shabab)
DF
OSAMA HAWSAWI (Al-Hilal)
OMAR IBRAHIM OTHMAN (Al-Nassr)
HASSAN MUATH FALLATAH (Al-Shabab)
MANSOUR AL HARBI (Al-Ahli)
MOHAMMED JAHFALI (Al-Hilal)
MOTAZ HAWSAWI (Al-Ahli)
YASIR ALSHAHRANI (Al-Hilal)
MOHAMMED ALBURAYK (Al-Hilal)
MF
TAISEER AL JASSAM (Al-Ahli)
ABDULMALEK AL KHAIBRI (Al-Hilal)
ABDULMAJEED ALRUWAILI (Al-Hilal)
HUSSAIN ALMOQAHWI (Al-Ahli)
AWADH ALFARAJ (Al-Nassr)
SALMAN MUWASHAR (Al-Ahli)
SALMAN ALFARAJ (Al-Hilal)
NAWAF ALABID (Al-Hilal)
SHAYA SHARAHILI (Al-Nassr)
YAHIA ALSHEHRI (Al-Nassr)
FHAD ALMUWALLAD (Al-Ittihad)
FW
NASSIR ALSHAMRANI (Al-Hilal)
MOHAMMED AL SAHLAWI (Al-Nassr)
NAIF HAZAZI (Al-Nassr)
Schedule
Tue. 8 November
PM
Training 
Wed. 9-Sun. 13 November
PM
Training 
Mon. 14 November
PM
Official Traning (Saitama Stadium 2002)
Tue. 15 November
19:35
Final Asian Qualifiers (Road to Russia)
vs SAMURAI BLUE(Saitama Stadium 2002)
*Schedule is subject to change due to team condition, weather, or any other unforseeable circumstances
ASIAN QUALIFIERS - ROAD TO RUSSIA
2016-11-15 (Tue.) - 19:35 (Estimated time)
Saitama Stadium 2002
SAMURAI BLUE (Japan National Team) vs Saudi Arabia National Team
More Information