NEWS
Oman National Team arrive in Japan for KIRIN CHALLENGE CUP 2016
09 November 2016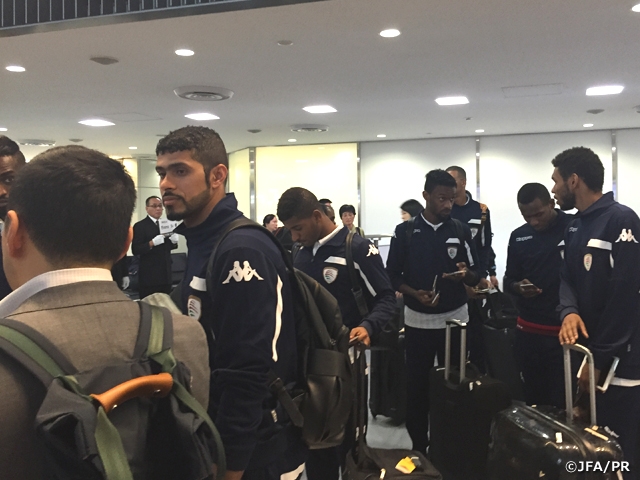 The Oman National Team arrived at Narita Airport on Tuesday 8 November in order to participate in the KIRIN CHALLENGE CUP 2016, which will be held at Kashima Soccer Stadium in Kashima City, Ibaraki. Although the players looked tired from the long trip, they seemed to be in good spirits.
The team will hold an official practice session at Kashima Soccer Stadium on Thursday 10 November and will meet SAMURAI BLUE (the Japan National Team) on Friday 11 November.
Coach's and Players' Comments
JUAN RAMON LOPEZ CARO, Coach
I'm truly grateful to the Japan Football Association for giving us such a great opportunity to play this friendly. We'll face a very strong team, Japan, and it will be essential for us, as we are aiming to improve our team.
ABDUL AZIZ AL-MAQBALI, Captain
I'm sure this match is vital for Japan as well prior to the final qualifiers for the World Cup. I expect a tough game surrounded by Japanese supporters. I hope to learn something from this match, while enjoying it thoroughly.
MOHAMMED AL BALUSHI
I'm delighted to play against such a strong team, the Japan National Team. As the Oman National Team this time consist of only young players, we'd like to capitalise on this experience for our future.
Coach
JUAN RAMON LOPEZ CARO (Spain)
Players
GK
RIYADH AL-ALAWI (Dhofar)
FAIYZ AL RUSHEIDI (Al-Nasr)
IBRAHIM SALEH AL MUKHAINI (Al-Oruba)
DF
ABDUL SALLAM AL MUKHAINI (Dhofar)
MOHAMMED AL BALUSHI (Al-Suwaiq)
ALI AL NAHAR (Dhofar)
MAHMOOD MAROOK NASIB (Al-Suwaiq)
MOHAMMED AL RAWAHI (Girona/Spain)
BASIL AL RAWAHI (Fanja)
NADIR BAIT MABROOK (Dhofar)
MF
MOHSIN AL KHALDI (Al-Nasr)
QASIM SAID (Dhofar)
AYMEN DARWISH DHAHI (Al-Suwaiq)
AYMEN DARWISH DHAHI (Oman Club)
RAED SALEH (Dhofar)
SAUD AL FARSI (Al-Oruba)
OMER AL MALKI (Oman Club)
YASEEN AL SHEYADI (Al-Suwaiq)
JAMEEL AL YAHMADI (Oman Club)
SALAAH AL YAHYAEI (Fanja)
FW
SAID AL RAZAIQI (Dhofar)
ABDUL AL-MAQBALI (Fanja)
SAID AAL ABDULSALAM (Al-Khabourah)
Schedule
| | | |
| --- | --- | --- |
| Wed. 9 November | PM | Training  |
| Thu. 10 November | PM | Official Training (Kashima Soccer Stadium) |
| Fri. 11 November | 19:20 | vs SAMURAI BLUE (Kashima Soccer Stadium) |
*Schedule is subject to change due to team condition, weather, or any other unforseeable circumstances
KIRIN CHALLENGE CUP 2016
2016-11-11 (Fri.) - 19:20 (estimate time)
Kashima Soccer Stadium
SAMURAI BLUE (Japan National Team) vs Oman National Team
More Information
※HUGE CROWD and HEAVY TRAFFIC expected for the game. Please check the directions/traffic information below.
Directions/ Traffic Information (Japanese only)