NEWS
SAMURAI BLUE (Japan National Team) resumes training ahead of Costa Rica match
08 September 2018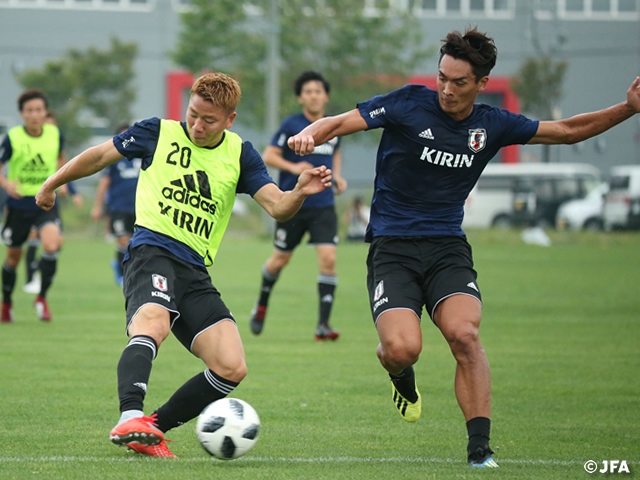 On Friday 7 September, with their match against the Chile National Team at the KIRIN CHALLENGE CUP 2018 being cancelled following the massive earthquake that struck the Hokkaido region, the SAMURAI BLUE (Japan National Team) resumed their trainings in Sapporo to prepare for their match against Costa Rica National Team which is scheduled on the Tuesday 11 September in Osaka.
Day five of the Sapporo camp saw cloudy skies with some cold breeze, as the team took on the training field for the first time in two days. The players were seen conducting series of agility drills while stretching their bodies to loosen up before going over drills using the ball. After working on their possessions and long balls, the attacking players, including the three forwards, KOBAYASHI Yu (Kawasaki Frontale), SUGIMOTO Kenyu (Cerezo Osaka), and ASANO Takuma (Hannover 96) spent their time taking shots.
Despite suffering power and water outage in many areas of Hokkaido, close to 200 fans cheered on as the team went through an 11 vs 11 scrimmage. Although the team had originally scheduled to conduct 35-minute halves, the second half was cut short to 20 minutes as the sun was setting, but the team had managed to play the scrimmage match with great intensity.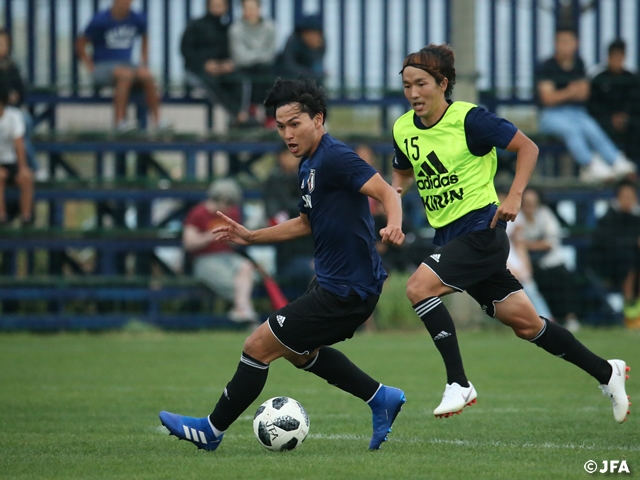 During the scrimmage, MAKINO Tomoaki (Urawa Red Diamonds) stayed vocal to give directions to his teammates, while AOYAMA Toshihiro (Sanfrecce Hiroshima), ENDO Wataru (Sint-Truidense V.V.), and AMANO Jun (Yokohama F・Marinos) took control of the midfield. The players playing in the attacking third also showed great mobility as MINAMINO Takumi (FC Red Bull Salzburg), DOAN Ritsu (FC Groningen), and NAKAJIMA Shoya (Portimonense S.C.) made their efforts upfront.
Coach MORIYASU Hajime observed the session from the side line as he gave out occasional instructions to keep the players focused. Midfielder ITO Junya (Kashiwa Reysol), who scored the only goal of the scrimmage mentioned, "The ball came towards me as I made a run into the space," while Minamino reflected on his effort that struck the goal post, "I wanted to score that one." Aoyama later reflected the, "Once we play in an 11 vs 11 setting, we can figure out who makes the runs at which timings in each situation. We stayed vocal and managed to put in a good session."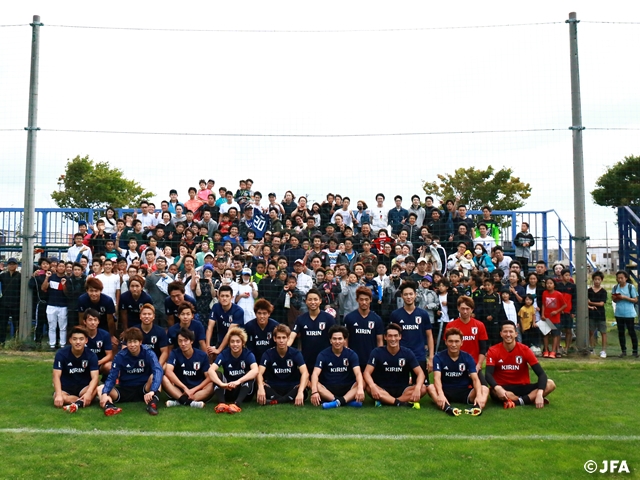 When the players made their ways towards the fans to thank them for their appearance after the training session, they were asked to take a picture, so the entire team huddled up with the fans for a photo shoot.
The team will hold another training session on Saturday 8 September before leaving Sapporo to Osaka, where they will face the Costa Rica National Team on Tuesday 11 September at Panasonic Stadium Suita.
Players' Comments
DF #3MUROYA Sei (F.C. Tokyo)
(With their scheduled match being switched into a scrimmage session) It was very difficult, but the fact that we are still able to play football under this circumstance is something we must not take for granted. I am very grateful for the hotel staffs and all the other people who has made their efforts to allow us to play. Despite given a short period of time, our obligation as the national team is to prepare ourselves within the given time frame. I must come up with ways to showcase my strengths in the best way possible. Although we couldn't play our first match, we can still improve ourselves through these training sessions, so we must keep on striving to get better.
DF #20MAKINO Tomoaki (Urawa Red Diamonds)
The fact that we are still able to train under this circumstance is something we should be thankful of. With all the situations surrounding us, I know it is not an easy task to perform well, but everybody including the new players, youngsters, and the veterans, have managed to showcase a great performance. Each player has taken in consideration of what Coach Moriyasu wants, especially in our transitions in offence. The coach has mentioned that he wants to experiment with both the four-back and the three-back formation depending on the opponents, so I will keep working on the given tasks to deepen my tactical understandings.
MF #7ITO Junya (Kashiwa Reysol)
I am very appreciative of our fans for coming here despite the power outage and water outage that has been going around. I entered the training session with the intention to inspire those who came to watch us today. At the scene where I scored the goal, I made a run into the space when Amano received the ball, and I managed to time myself well to convert that opportunity. I think we were on the same page. It's always difficult to play with players you normally don't play with, but we will try to stay vocal and convey our thoughts while we are playing together during this limited time.
MF #8MINAMINO Takumi (FC Red Bull Salzburg)
In just two days following the earthquake, I am thankful to be given this environment to play football. By playing with our best efforts, I hope that we can provide strengths and hope to those who are watching us. In our training match today, the passes were being played where I expect them to be, and the players were on the same page when making the runs, so I felt that we are coming along well as a team. We just have to perform in the same way at our match. The match against Costa Rica will be played at may home town, Osaka, so I hope to showcase my best performance there, but for now, I will take each training at a time to prepare myself ahead of the match.
MF #17AOYAMA Toshihiro (Sanfrecce Hiroshima)
Playing in real matches gives us the best workout as a team, so I really wanted to play the match at Sapporo, but many people came to watch our training session despite the difficult times they are currently facing, so I played with the intention to inspire and encourage those who has made it out to support us. The scrimmage was a lot more intense and faster tempo than we usually play, so I think everyone was really into the match. Everyone was very focused, and it allowed us to conduct a very productive training session. I personally thought that the level of play was very high-level. We hope to display a great match in Osaka and earn a victory by playing well as a team. Here in Sapporo, we've experienced many things during our stay and through football, I hope to express what I have learnt and felt.
Schedule
For Schedule of SAMURAI BLUE (Japan National Team)

Coach MORIYASU Hajime Interview

MAKINO Tomoaki (Urawa Red Diamonds) Interview
ENDO Wataru (Sint-Truidense V.V.) Interview

MINAMINO Takumi (FC Red Bull Salzburg) Interview

Tue. 11 September Scheduled Kick-off time 19:20 @Panasonic Stadium Suita, Osaka
SAMURAI BLUE (Japan National Team) vs Costa Rica National Team
Tournament Information