NEWS
SAMURAI BLUE (Japan National Team) Squad, Schedule - KIRIN CHALLENGE CUP 2018【9/7@Hokkaido vs Chile】【9/11@Osaka vs Costa Rica】
30 August 2018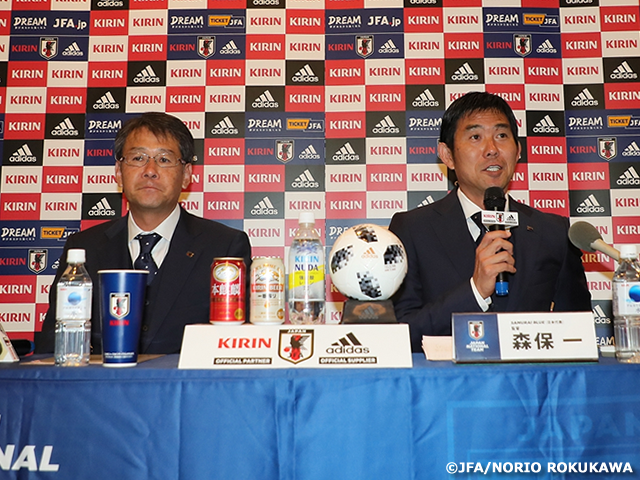 *09/05 Jersey numbers updated
Staff
Coach: MORIYASU Hajime (JFA Naitonal Coaching Staff)
Assistant Coach: YOKOUCHI Akinobu (JFA Naitonal Coaching Staff)
Assistant Coach: WADA Ichiro (JFA Naitonal Coaching Staff)
Physical Coach: MATSUMOTO Ryoichi (JFA Naitonal Coaching Staff)
GK Coach: SHIMODA Takashi (JFA Naitonal Coaching Staff)
Squad
GK
12 HIGASHIGUCHI Masaaki (Gamba Osaka)
23 GONDA Shuichi (Sagan Tosu)
1 SCHMIDT Daniel (Vegalta Sendai)
DF
20 MAKINO Tomoaki (Urawa Red Diamonds)
4 SASAKI Sho (Sanfrecce Hiroshima)*
5 KURUMAYA Shintaro (Kawasaki Frontale)
6 ENDO Wataru (Sint-Truidense V.V./Belgium)
3 MUROYA Sei (F.C. Tokyo)
2 UEDA Naomichi (Cercle Brugge K.S.V./Belgium)
19 MIURA Genta (Gamba Osaka)
22 TOMIYASU Takehiro (Sint-Truidense V.V./Belgium)*
MF
17 AOYAMA Toshihiro (Sanfrecce Hiroshima)
YAMAGUCHI Hotaru (Cerezo Osaka)
OHSHIMA Ryota (Kawasaki Frontale)
7 ITO Junya (Kashiwa Reysol)
10 NAKAJIMA Shoya (Portimonense S.C./Portugal)
8 MINAMINO Takumi (FC Red Bull Salzburg/Austria)
15 MISAO Kento (Kashima Antlers)
14 ITO Tatsuya (Hamburger SV/Germany)*
21 DOAN Ritsu (FC Groningen/Netherlands)*
FW
13 KOBAYASHI Yu (Kawasaki Frontale)
9 SUGIMOTO Kenyu (Cerezo Osaka)
11 ASANO Takuma (Hannover 96/Germany)
*First time selection
Players Changes (9/2)
YAMAGUCHI Hotaru
MF Club: Cerezo Osaka Sidelined due to injury
OHSHIMA Ryota
MF Club:Kawasaki Frontale Sidelined due to injury

AMANO Jun
MF 18 Club:Yokohama F・Marinos DOB: 19 July 1991 175cm / 64kg
*First time selection
MORITA Hidemasa
MF 16 Club:Kawasaki Frontale DOB: 10 May 1995 177cm / 74kg
*First time selection
Sidelined Player (9/9)
SUGIMOTO Kenyu
FW Club: Cerezo Osaka Sidelined due to injury
Schedule
Mon. 3 September
PM
Training
Tue. 4 September
PM
Training
Wed. 5 September
PM
Training
Thu. 6 September
PM
Official Training
Fri. 7 September
19:00
KIRIN CHALLENGE CUP 2018
vs Chile National Team (Sapporo Dome)
Sat. 8 September
AM
Training
Sun. 9 September
PM
Training
Mon. 10 September
PM
Official Training
Tue. 11 September
19:20
KIRIN CHALLENGE CUP 2018
vs Costa Rica National Team (Panasonic Stadium Suita)
*The schedule is subject to change due to the team condition, the weather, etc.
Comments
MORIYASU Hajime, Coach of SAMURAI BLUE (Japan National Team)
This will be my first team as the head coach of the SAMURAI BLUE (Japan National Team). I hope the players I have selected will showcase their full potential as a member of the Japan National Team. I have elected not to call-up those players that played in the World Cup Russia and currently plays for clubs overseas. With the club season already in full strides, I have also excluded those who are under the age category of the Rio Olympics team, considering their current position and situation at each of their clubs. Including the players who has made their first selection into the top team, I believe that all of these players have been showcasing a worthy performance. As the head coach of the Olympics team, I have seen an enormous amount of matches along with my staffs. I had to get some assist from the technical committee after I've arrived in Indonesia in mid-August, but I feel like I have a firm grip on how the players have been performing. The core team has not been determined yet, so I will be on the search to find new players to construct our team.
SEKIZUKA Takashi, JFA Technical Director
This will mark the new start for the SAMURAI BLUE (Japan National Team). Following the six matches of this year's KIRIN CHALLENGE CUP 2018, we will be entering the Asia Cup. We hope to utilise these six matches wisely to develop and prepare ourselves ahead of the Asia Cup. The matches scheduled for September features matches against the Central and South American powerhouses, Chile and Costa Rica. These are some great opponents to face to develop the team. I hope you will support the new SAMURAI BLUE (Japan National Team).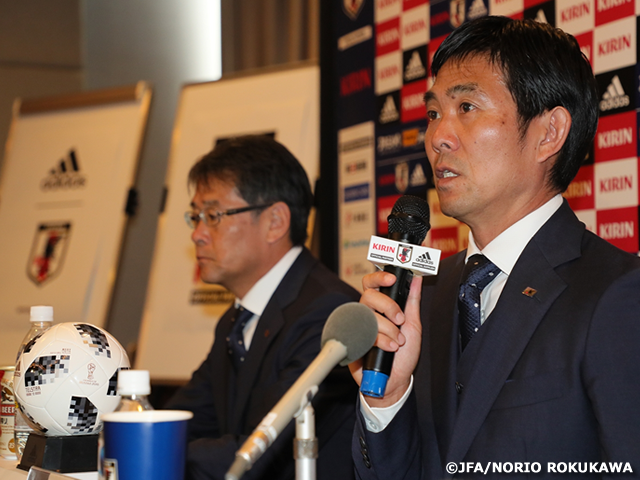 Fri. 7 September Scheduled Kick-off time 19:00 @Sapporo Dome, Hokkaido
SAMURAI BLUE (Japan National Team) vs Chile National Team
Tournament Information
Ticket Information(Japanese Website)
Tue. 11 September Scheduled Kick-off time 19:20 @Panasonic Stadium Suita, Osaka
SAMURAI BLUE (Japan National Team) vs Costa Rica National Team
Tournament Information
Ticket Information(Japanese Website)