NEWS
Costa Rica National Team arrives to Japan for KIRIN CHALLENGE CUP 2018
08 September 2018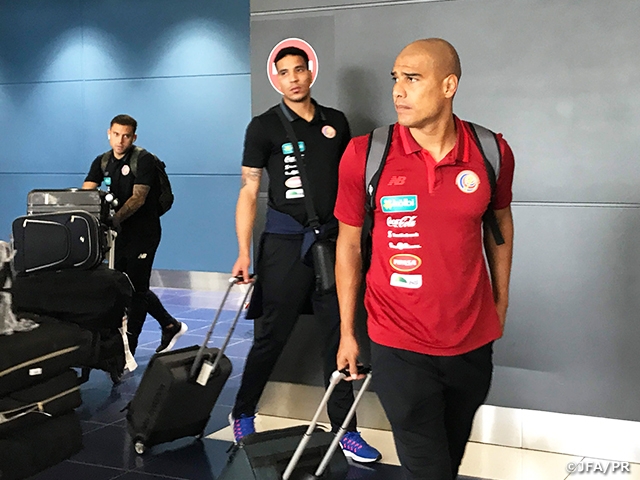 On Saturday 8 September, the Costa Rica National Team arrived in Japan ahead of their match against the SAMURAI BLUE (Japan National Team) in the KIRIN CHALLENGE CUP 2018, which will take place at Panasonic Stadium Suita.
Following their international friendly match against the Korea Republic National Team on Friday 7 September, the team showed no signs of fatigue as they made their ways to the hotel.
The KIRIN CHALLENGE CUP 2018 match between the SAMURAI BLUE (Japan National Team) and the Costa Rica National Team is scheduled to kick-off at 19:20 on Tuesday 11 September.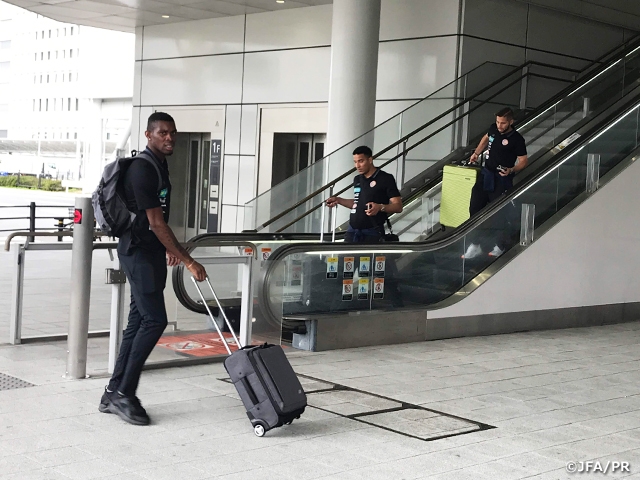 Travel Squad
Coach
RONALD GONZALEZ
Squad
GK
1 ESTEBAN ALVARADO (Trabzonspor/Turkey)
23 LEONEL MOREIRA (Herediano)
18 KEVIN BRICEÑO (Deportivo Saprissa)
DF
19 KENDALL WASTON (Vancouver Whitecaps FC/Canada)
19 KEYNER BROWN (Herediano)
6 OSCAR DUARTE (RCD Espanyol/Spain)
16 CHRISTIAN GAMBOA (Celtic F.C./Scotland)
8 BRYAN OVIEDO (Sunderland/England)
2 JUAN PABLO VARGAS (Deportes Tolima/Colombia)
3 LUIS HERNANDEZ (Deportivo Saprissa)
4 IAN SMITH (IFK Norrköping/Sweden)
MF
9 DANIEL COLINDRES (Deportivo Saprissa)
13 RODNEY WALLACE (New York City FC/USA)
20 DAVID GUZMAN (Portland Timbers/USA)
12 ELIAS AGUILAR (Incheon United FC/Korea Republic)
7 DAVID RAMIREZ (Omonia Nicosia/Cyprus)
14 WILMER AZOFEIFA (Santos de Guápiles F.C.)
5 ALLAN CRUZ (Herediano)
22 RANDALL LEAL (Deportivo Saprissa)
21 JIMMY MARIN (Herediano)
17 JONATHAN MARTINEZ (A.D. Carmelita)
FW
28 JONATHAN MOYA (Alajuelense)
11 MAYRON GEORGE (FC Midtjylland/Denmark)
*There was an error in the squad list of the Costa Rica National Team announced on 9/8. The correct information is listed with an underline. We apologise for any confusion this may have caused.
Coach and Player's Comments
RONALD GONZALEZ, Coach
Including my time as a player, this will be my fourth time visiting Japan. Japan is a very beautiful country and compared to Costa Rica, Japan is a very advanced country. Definitely one of my favourite countries in the world. This international friendly match represents a new beginning to the Costa Rica National Team. We look to fusion our young players with our veterans who has fought at the World Cup. This is our first step towards the 2022 FIFA World Cup Qatar. Although we may not have the speed that the Japanese football have, we have many talented players that can showcase an entertaining football. I hope we can show the fans of Japan what we are capable of.
DF #6 OSCAR DUARTE (RCD Espanyol/Spain)
This is my first-time visiting Japan, and I haven't spent any time here yet, so I can't tell you what I think about the country. But I can tell you that I am in good condition now. Yesterday's match against Korea Republic was a tough one, but we will put in a good workout session to prepare ahead of our match on Tuesday. We have many talented players and we are always eager to win. Of course, we are here to win a match. I hope many Japanese fans will come watch our match. I am sure that this will be a good match for both Japan and Costa Rica. We will give our best to show you a spectacular football match that you can enjoy.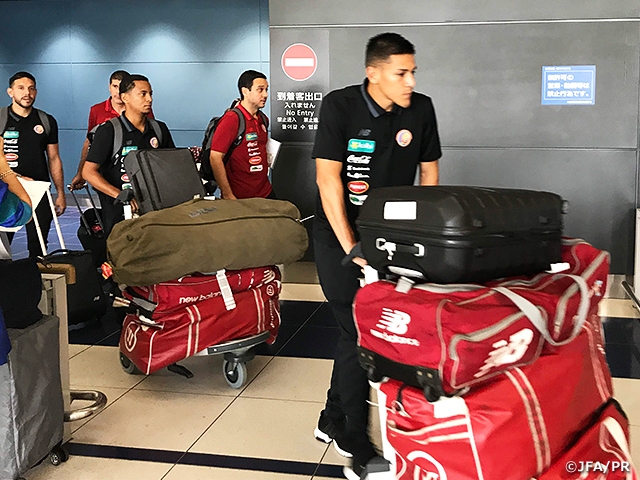 Tue. 11 September Scheduled Kick-off time 19:20 @Panasonic Stadium Suita, Osaka
SAMURAI BLUE (Japan National Team) vs Costa Rica National Team
Tournament Information