NEWS
SAMURAI BLUE (Japan National Team) sends their sincerest condolence to the affected area
07 September 2018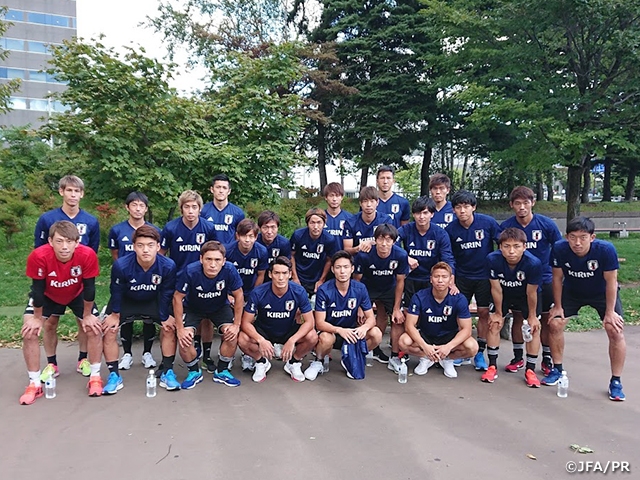 With their match against the Chile National Team at the KIRIN CHALLENGE CUP 2018 being cancelled due to the effect of the 2018 Hokkaido Eastern Iburi Earthquake, the SAMURAI BLUE (Japan National Team) conditioned themselves at their hotel on Thursday 6 September.
The players gathered at the dining area of the hotel when the earthquake struck before dawn, and returned to their rooms in the morning, as they gathered information on the earthquake while taking a rest. The team was then seen walking around the hotel and stretching their bodies to loosen up in the evening.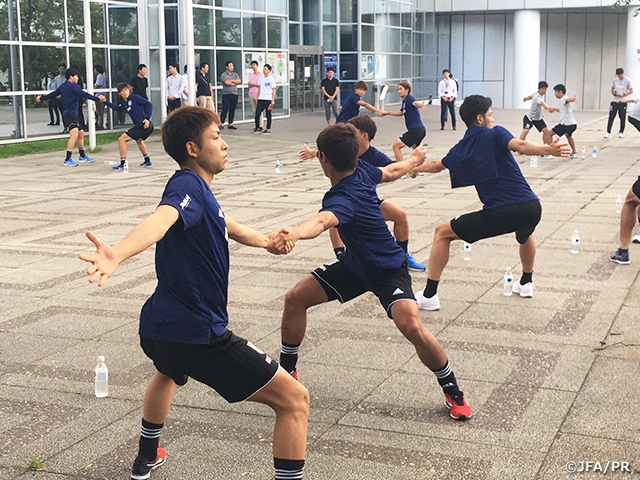 In regard to the earthquake that left a major impact in the area, Coach MORIYASU Hajime gathered the players and spoked, "There are people who has continued to support our activities despite being affected by this earthquake and being anxious themselves of this whole situation. The hotel has provided us with a secure environment. We must not take these services for granted. As a team, we must keep a sincere gratitude towards everybody who are supporting us, while giving out the sincerest condolence to the affected people." The coach followed by mentioning to his players, "I know it's difficult, but I want you to stay calm. This current situation has been well beyond our expectations, but we must give our best efforts at any given circumstances to make the most out of the situation."
Messages were sent out from each player as they encouraged the affected people by telling them, "Let's fight together."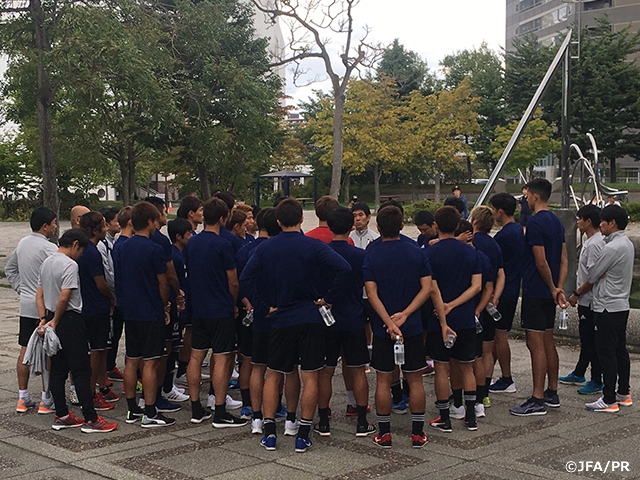 MORIYASU Hajime, Coach of SAMURAI BLUE (Japan National Team)
I would like to give out my deepest condolences and sincerest sympathies to those affected by this earthquake. At the same time, I am praying for the safety of those who are still missing. So many people have been affected and wounded by this tragedy. I hope to see a quick recovery so that the people can return to their daily lives as soon as possible. I have told my players to keep their thoughts and prayers to those who has been affected by this earthquake. Although we may only convey our support through football, our hearts will always be with you.
It is unfortunate that we cannot conduct our match against the Chile National Team, but there are very little we can do when facing natural disasters. This current situation is certainly beyond our expectations, but we must accept it as reality and give our very best while choosing to do what's best under the circumstance. We don't know what happens next from here, but we will take our actions accordingly.
Announcement regarding the International Friendly Match versus the Chile National Team

Tue. 11 September Scheduled Kick-off time 19:20 @Panasonic Stadium Suita, Osaka
SAMURAI BLUE (Japan National Team) vs Costa Rica National Team
Tournament Information