NEWS
"Yokohama Derby" turns into an instant classic - Prince Takamado Trophy JFA U-18 Football Premier League 2020 Kanto
05 October 2020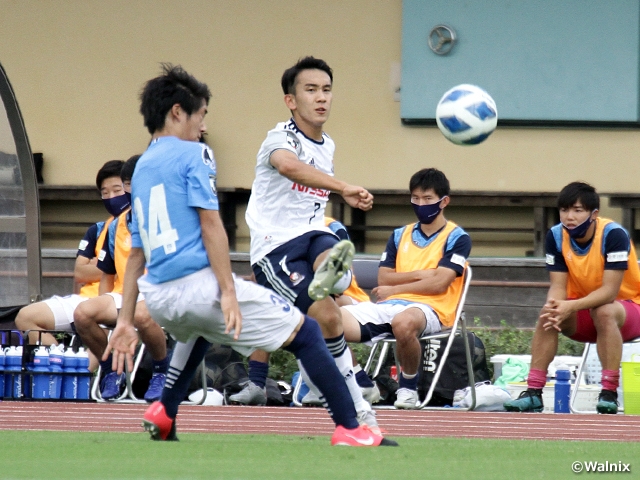 The fourth sec. of the Prince Takamado Trophy JFA U-18 Football Premier League 2020 Kanto took place on Saturday 3 and Sunday 4 October.
Pick-up Match
Yokohama FC Youth 2-2 (0-1, 2-1) Yokohama F. Marinos Youth
At Nissan Field Kozukue, the "Yokohama Derby" between Yokohama FC Youth (Kanagawa) and Yokohama F. Marinos Youth (Kanagawa) took place on Saturday. With two teams from the same city squaring off against each other, tension rose ahead of the match, as Yokohama FC's NAKAGAWA Nobuteru (#10) mentioned, "An opponent we can not lose to," and the match turned into a heated battle, as Yokohama FC's coach HAYAKAWA Tomonobu later described, "A worthy match for the derby."
"Our defence functioned splendidly in the first half." Just as coach TSUTSUI Noriaki later reflected, the match started with Yokohama FM taking the initiative, while Yokohama FC struggled to pickup their pace, as Nakagawa mentioned, "We played poorly in defence during the first half." The opening goal came in the sixth minute, when Yokohama FM's first grader, KAWAMURA Maiya (#35) scored a fantastic goal.
After conceding the opening goal, Yokohama FC started to rally back, as they created more opportunities to threaten the opposing goal but failed to score the equaliser. "We made adjustments to our defensive strategy while also resetting our minds during halftime." Nakagawa explained that the team have changed their approach in the second half, as he continued by saying, "We were able to apply pressure as a team."
With momentum on their side, Yokohama FC earned a PK in the second half, but failed to convert the opportunity. Despite missing a major chance to equalise the match, the team continued to show their aggression, as coach Hayakawa described, "It was a match we could not afford to lose, so I did not have to say anything. The missed PK gave them more reasons to work harder." Following the water break, Yokohama FC regrouped to unify their intentions, as Nakagawa reflected, "We were able to regain our composure." Yokohama FC's aggression led to another PK in the 86th minute, this time converted by Nakagawa to equalise the match. Just two minutes later, Nakagawa scored the go-ahead goal as he later described, "I was able to see where the DF and GK were and carry the ball just as I envisioned."
Despite giving up the lead in the 88th minute, Yokohama FM did not give up, as coach Tsutsui mentioned, "It was tough giving up the lead in the closing minutes, but the players showcased their commitment towards this match." With the players giving everything they've got, Yokohama FM rallied in the 90th minute, when the shot taken by TSUNODA Yoshikaze (#13) shook the net to level the score just before the final whistle. The "Yokohama Derby" turned into an instant classic, as the two teams showcased an intense battle until the final whistle and walked away with a point apiece.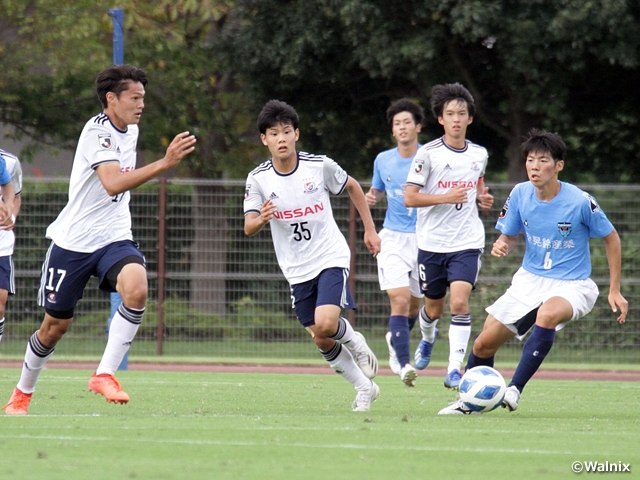 Coaches and Players' Comments
HAYAKAWA Tomonobu, Coach (Yokohama FC Youth)
I wish we could have won this match, but the players fought extremely hard until the end. Facing Yokohama F. Marinos Youth, our players were super motivated ahead of this match and I think that has led to this intense battle. I really did not have to say anything, the players came ready to put on a show today.
MF #10 NAKAGAWA Nobuteru (Yokohama FC Youth)
One of my goals was a PK, so I just had to convert it, but I feel like I was able to score the second goal just as I envisioned. I knew the defender was coming after me and I managed to evade the pressure just the way I wanted. The second half water break was the turning point for us. However, our lack of fitness has led to that final goal.
TSUTSUI Noriaki, Coach (Yokohama F. Marinos Youth)
Our players did well to fight through the entire 90 minutes. I am glad that we were able to equalise in last minute. We were running out of gas towards the end of the match, but we were committed to executing our aggressive style of football until the final whistle. I wish we could have done a better job managing the match while we had the lead.
MF #6 UEDA Keita (Yokohama F. Marinos Youth)
In the third sec., we gave up a two goal lead in our match against Kashiwa Reysol U-18, so it was great to see us coming from behind to equalise the match this week. However, we must address the fact that we conceded two goals in this match and I am not satisfied with my plays neither. As the defensive midfielder, I had to perform much better in this match.
Results of other matches
FC Tokyo U-18 1-0 (0-0, 1-0) Ryutsu Keizai University Kashiwa High School
Omiya Ardija U18 1-1 (1-0, 0-1) Funabashi Municipal High School
Urawa Red Diamonds Youth 1-0 (0-0, 1-0) Kashiwa Reysol U-18
KOBAYASHI Keita (#13) scored the game winner in the 58th minute to give FC Tokyo U-18 (Tokyo) the league lead with their 1-0 victory over Ryutsu Keizai University Kashiwa High School (Chiba). Omiya Ardija U18 (Saitama) gave up the equaliser in the 90th minute to share a point apiece with Funabashi Municipal High School (Chiba). Urawa Red Diamonds Youth (Saitama) won their home game against Kashiwa Reysol U-18 (Chiba), thanks to the 89 minute goal scored by KINOSHITA Tsubasa (#10).
Prince Takamado Trophy JFA U-18 Football Premier League 2020 Kanto
League duration: Sat. 5 September - Sun. 6 December 2020

For more information
Prince Takamado Trophy JFA U-18 Football Premier League official Twitter account (external link)