NEWS
Team captain propels Yokohama FM to their first victory! - Prince Takamado Trophy JFA U-18 Football Premier League 2020 Kanto
14 September 2020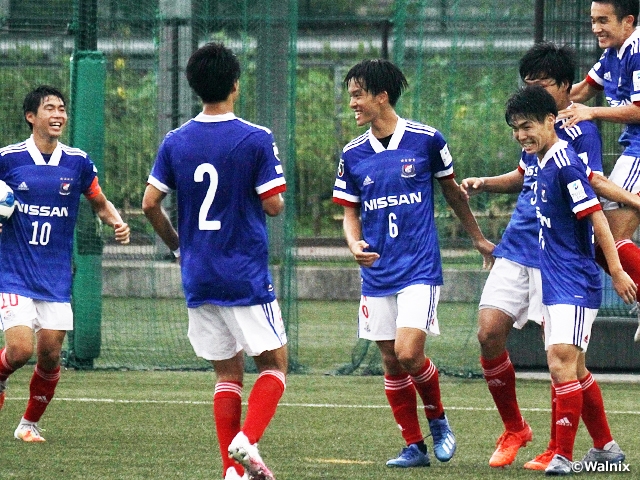 The second sec. of the Prince Takamado Trophy JFA U-18 Football Premier League 2020 Kanto took place on Saturday 12 and Sunday 13 September.
Pick-up Match
Yokohama F. Marinos Youth 4-1 (1-0, 3-1) Urawa Red Diamonds Youth
The match between Yokohama F. Marinos Youth (Kanagawa) and Urawa Red Diamonds Youth (Saitama) took place at Yokosuka Leaf Stadium on Sunday. Despite winning the season opener, the Urawa side struggled to find their rhythm in the early minutes, as their defender KUDO Kota (#15) later reflected, "we played poorly in the first half." Urawa almost conceded a goal in the 14th minute, but their goalkeeper KAWASAKI Atsushi (#25) made a superb save to keep the clean sheet intact.
After losing their first match of the season, Yokohama FM entered their second game with strong intentions to win, as their captain NAKAMURA Tsubasa (#10) mentioned, "(in order to win the title) we need to win all seven remaining matches. We trained with a sense of urgency." The home side got off to a good start, as they captured the opening goal in the 20th minute. The goal came from a play following a throw-in, where the final pass was delivered by Nakamura, who later mentioned, "we had been working on variety of plays in the attacking third." It was HOSHINO Souki (#9) who fought for the ball against the Urawa defence before striking a shot that shook the net.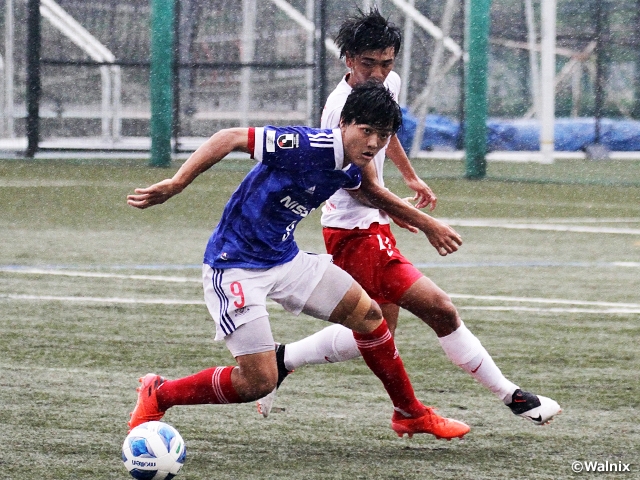 Yokohama FM carried their momentum into the second half, as Nakamura capitalised on a shot deflection created by Hoshino in the 47th minute to double their lead. In the 53rd minute, Nakamura once again showed his talent, as he pierced a shot between the opponent's legs to extend their lead to three goals.
Trailing by three goals, Urawa started to rally, as coach IKEDA Nobuyasu later mentioned, "our players were hesitant to take risks and completely lacked aggressiveness." With players like HORIUCHI Yota (#40) and OKAMOTO Gaku (#31) being introduced to the match, the visiting side started to show more aggressiveness, allowing them to score a goal in the 84th minute from a set-play.
However, the Urawa rally ended there, as Yokohama FM's Nakamura scored his third goal of the match during additional time to put the final nail in the coffin. With the match ending with a final score of 4-1, Yokohama FM registered their first win since returning to the Premier League, as coach TSUTSUI Noriaki praised his players, "our players showcased a fantastic job today."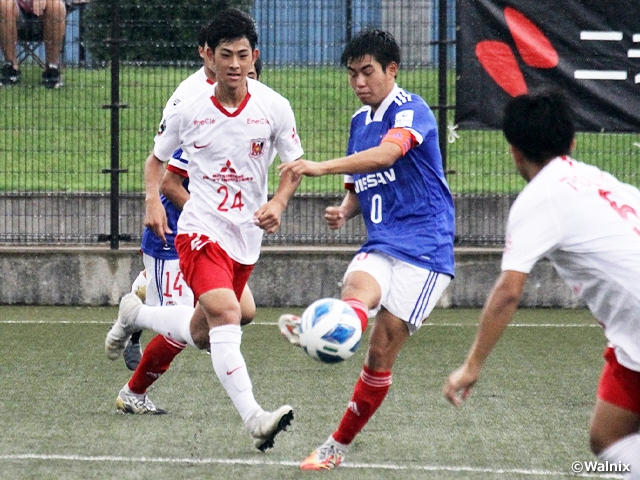 Coaches and Players' Comments
TSUTSUI Noriaki, Coach (Yokohama F. Marinos Youth)
The player fought through the entire 90 minutes. These official matches can be quite nerve-racking, and we saw many players getting cramps during the match. However, this league provides such a wonderful environment for the players, and our players have showcased a fantastic job. This pandemic has allowed our players to reconfirm the joy of playing football as a team, and we are highly motivated to play in this league.
MF #10 NAKAMURA Tsubasa (Yokohama F. Marinos Youth)
This was my first hat-trick since moving up to the youth category. During the pandemic, I have been working on my right foot, so I am glad that I was able to score with my right foot. Especially because I knew the opponents were expecting me to play the ball with my left foot. These official matches have a unique tense atmosphere. Last week we lost the match despite creating many opportunities, so this week we focused on working our plays at the final third.
IKEDA Nobuyasu, Coach (Urawa Red Diamonds Youth)
We played a good match overall, but it was just a tough match. We were not able to showcase our strengths. Our offence lacked cohesiveness and lost most of the fifty-fifty situations. It was not about the system or the tactics, our opponents simply played better football than us. However, the substituted players played very aggressively, and their plays were the one positive take back from this match. We hope to play more aggressively next time.
DF #15 KUDO Kota (Urawa Red Diamonds Youth)
We lost our cool after giving up the opening goal. Everybody was just watching the ball when we conceded that goal, and we were not aggressive enough to fight for the ball. We have been training to evade the opponents' pressure, but we could not showcase that on the pitch today. (Reflecting on the goal scene) The ball came right at me, so I just had to strike the ball. I would like to become a defender who can score goals in set-play situations, but more than anything, I want to keep clean sheets. So, it would have been more ideal, if I can score goals in a 0-0 match.
Results of other matches
FC Tokyo U-18 2-0 (2-0, 0-0) Omiya Ardija U18
Yokohama FC Youth 3-1 (2-0, 1-1) Funabashi Municipal High School
Ryutsu Keizai University Kashiwa High School 2-0 (1-0, 1-0) Kashiwa Reysol U-18
FC Tokyo U-18 (Tokyo) started off the season with back to back wins by defeating Omiya Ardija U18 (Saitama) 2-0, thanks to the goals scored by AOKI Yusuke (#18) and SUMI Koshiro (#10). Yokohama FC Youth (Kanagawa) welcomed Funabashi Municipal High School (Chiba) to their home, where they earned their first Premier League victory with a score of 3-1. Ryutsu Keizai University Kashiwa High School (Chiba) scored a goal apiece in both halves to win over Kashiwa Reysol U-18 (Chiba).
Prince Takamado Trophy JFA U-18 Football Premier League 2020 Kanto
League duration: Sat. 5 September - Sun. 6 December 2020

For more information
Prince Takamado Trophy JFA U-18 Football Premier League official Twitter account (external link)