NEWS
U-20 Japan National Team holds final training session ahead of their 3rd group stage match against Italy at the FIFA U-20 World Cup Poland 2019
29 May 2019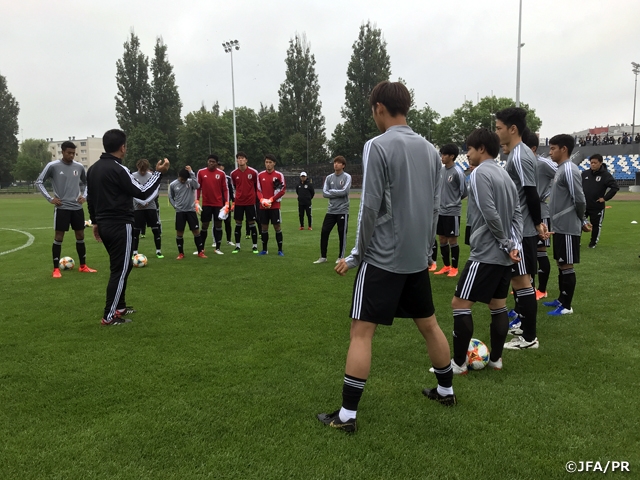 On Tuesday 28 May, the U-20 Japan National Team held a training session one day before their match against Italy.
The session was held under light rain with the temperature around 13 degrees Celsius. This was the first time during their stay in Poland where the team trained in the rain. However, despite the rainy weather, the players came out to the field with a positive vibe.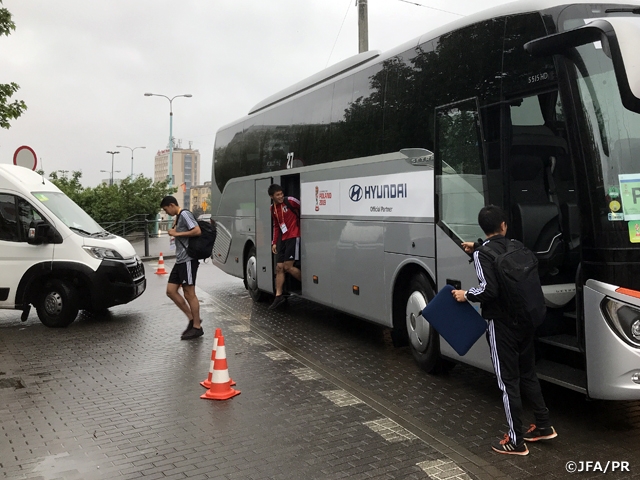 Prior to the training session, Coach KAGEYAMA Masanaga told his players, "Let's prepare ourselves so that we can enter the match in the best condition possible."Once the session started, the players were seen taking a light jog, followed by warmup routines that involved agility and reaction drills. After the first 15 minutes, the session went under closed doors.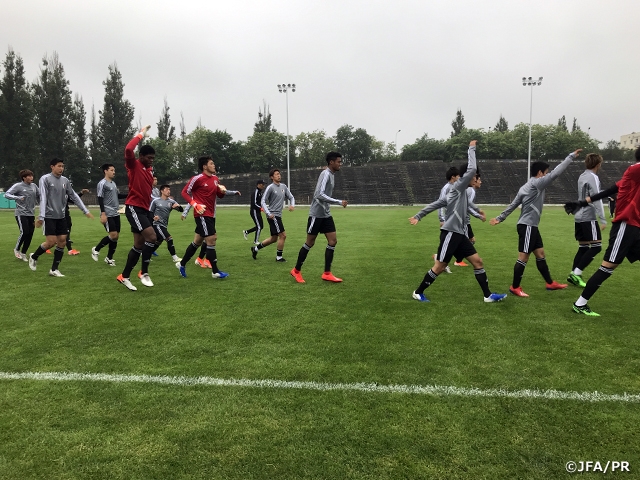 The U-20 Japan National Team will face Italy on Wednesday 29 at 18:00 (25:00 Japan time), where a draw or better will take them through to the knockout stage.
Players' Comments
DF #17 MIKUNI Kenedeiebusu (Avispa Fukuoka)
Our team has not lost a match yet and the atmosphere is very good. I have the impression that Italy has many tall and agile players, so I hope to showcase my strengths to challenge them when I have the opportunity. In order for us to take the group lead, we must win the match, so we will enter the match with a strong intention to win.
MF #16 YAMADA Kota (Yokohama F・Marinos)
We are starting to feel a bit fatigued, but we have been able to showcase a good performance so far, and everyone has been recovering well from the matches, so it's not a negative fatigue. I know that a lot of people are cheering for us in Japan and many of my teammates at Yokohama F・Marinos have sent me words of encouragement. It makes me happy and realise that I am participating in a major tournament. The team is highly motivated, and we will give our utmost efforts to win the match to advance through to the next round.
FW #20 NAKAMURA Keito (Gamba Osaka)
We have been playing our matches with two-day rests and travelled long ways prior to our two matches, but I am not feeling tired that much. We have been able to eat Japanese food and spend our time comfortably. The team is communicating well off the pitch and we will enter our next match with a strong intention to win.
Schedule
FIFA U-20 World Cup Poland 2019
Thu. 23 May
1-1
1st Group Stage Match vs U-20 Ecuador National Team
(Bydgoszcz Stadium, Bydgoszcz)
Fri. 24 May
AM
Training
Sat. 25 May
PM
Training
Sun. 26 May
3-0
2nd Group Stage Match vs U-20 Mexico National Team
(Gdynia Stadium, Gdynia)
Mon. 27 May
PM
Training
Tue. 28 May
PM
Training
Wed. 29 May
18:00
3rd Group Stage Match vs U-20 Italy National Team
(Bydgoszcz Stadium, Bydgoszcz)
Sun. 2 - Tue. 4 June
TBC
Round of 16
Fri. 7 or Sat. 8 June
TBC
Quarterfinals
Tue. 11 June
17:30/20:30
Semi-Finals
Fri. 14 June
20:30
3rd Place Match
Sat. 15 June
18:00
Final
*Local time
*The schedule is subject to change due to the team condition, the weather, etc.
FIFA U-20 World Cup Poland 2019
Tournament Dates: Thu. 23 May - Sat. 15 June 2019
Group Stage:
Fri. 24 May 2019 03:30 (Japan time)
vs U-20 Ecuador National Team
Sun. 26 May 2019 22:30 (Japan time)
vs U-20 Mexico National Team
Thu. 30 May 2019 01:00 (Japan time)
vs U-20 Italy National Team