NEWS
U-20 Japan National Team wins over Mexico 3-0 to earn pivotal 3 points at the FIFA U-20 World Cup Poland 2019
27 May 2019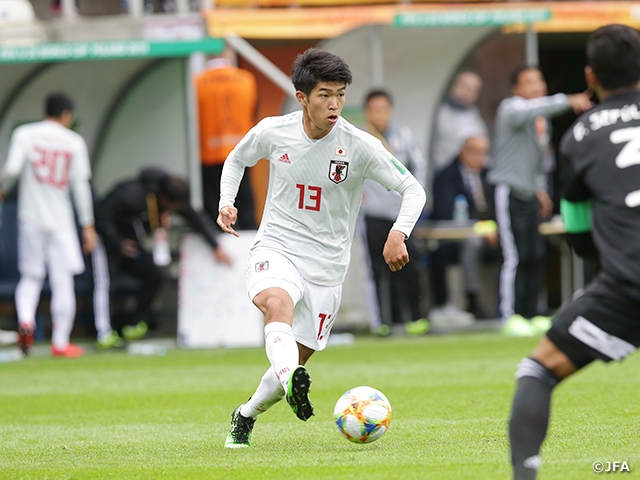 On Sunday 26 May, the U-20 Japan National Team played their second group stage match against the U-20 Mexico National Team at the FIFA U-20 World Cup Poland 2019. With MIYASHIRO Taisei scoring the opener in the first half, followed by the second half goals scored by TAGAWA Kyosuke and Miyashiro, the team earned their first win of the tournament 3-0.
Three changes were made from the starting line-up of the first match against Ecuador. WAKAHARA Tomoya started in goal with SUGAWARA Yukinari, SEKO Ayumu, KOBAYASHI Yuki, and SUZUKI Toichi forming the defence line. SAITO Mitsuki and FUJIMOTO Kanya played as the defensive midfield role, while SAITO Koki and YAMADA Kota were placed in the flanks. It was Miyashiro and Tagawa who were named upfront to start the match.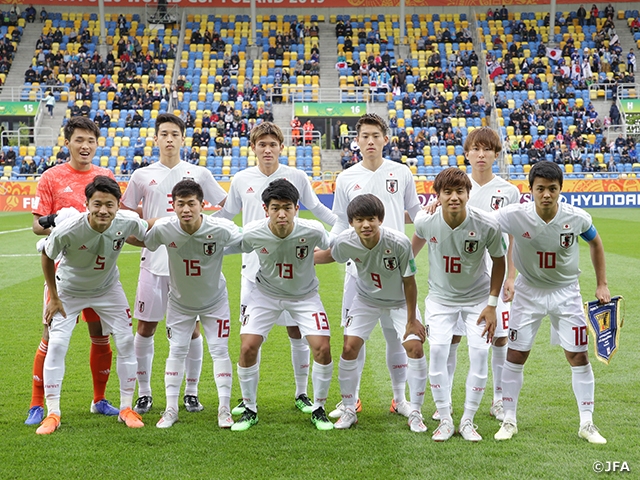 An early turnover given up by Japan led to a close opportunity for the Mexican side, but Wakahara made a great save to keep the score line even. As time progressed, it was the Japanese side who started to take control of the match. The opening goal came in the 21st minute, when Fujimoto responded to a loose ball and delivered a lobbing pass towards the goal area. It was Miyashiro who made the run into the space behind the Mexican defenders and struck a half-volley with his left foot that caught the corner of the goal.
After finishing the first half with a 1-0 lead, Japan continued to show great intensity in the second half, as they initiated their attacks while controlling the match. In the 52nd minute, Tagawa connected with a corner kick delivered by Fujimoto to strike a header into the net, giving Japan a 2-0 lead. With momentum on their side, Japan further extended their lead in the 77th minute, when the second half substitute NAKAMURA Keito dribbled up the field in the right flank before sending the ball to Tagawa who dished the ball to Miyashiro inside the box. The striker who turned 19 on this day, utilised his body to shake off the opposing defender and struck a powerful shot that captured the net. With the commanding lead, Japan continue to work hard in defence to deny the opponents from creating major opportunities. Led by their centre halves, Seko and Kobayashi, Japan managed to keep a clean sheet and earn a much-needed win.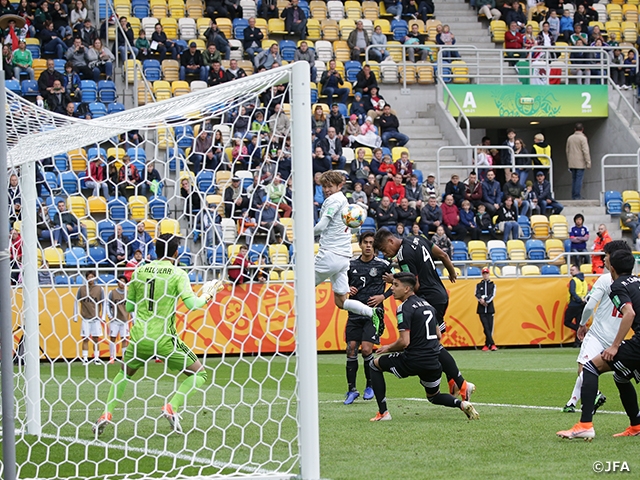 With the 3-0 victory, Japan earned a pivotal three points that can take them through to the next stage, but Coach KAGEYAMA Masanaga remained calm and collected about their situation, "We have not won anything yet, and Italy is a very strong team. Anything can still happen, so we must prepare ourselves for our final match." The U-20 Japan National Team will now face Italy, who has won both of their matches to take the lead in Group B. Their match will be played on Wednesday 29.
Coach and Players' Comments
KAGEYAMA Masanaga, Coach
That opening goal was huge for us. Our players managed to adjust to our opponents and create good coverage to receive the ball, while anticipating for their timing to penetrate. With this approach, we were able to score the first goal and gain great confidence. More than anything, it is important to acknowledge that our players understood what went wrong in the first match, and they made the necessary adjustments before this match. It is not easy to make such changes, and in a sense, we were already taking the upper hand of this match by making those adjustments.
MF #8 FUJIMOTO Kanya (Tokyo Verdy)
When I was watching our match against Ecuador from the bench, I was visualising myself getting involved in the build-up plays to change the pace and creating attacking threats. In today's match, I feel like I was able to add a different shape to our build-ups and effectively deliver the ball upfront. Also, I was focused on collecting the loose ball before our opponents, and that helped us score one of our goals today.
FW #11 TAGAWA Kyosuke (F.C. Tokyo)
In the scene where I scored the goal, it was a set-play we have been working on during training sessions, so I knew the opportunity would come and I am happy that I was able to capitalise on the situation. As a forward, it is important for us to score goals and take shots to build our momentum, so this goal really means a lot for me. A win in our next match would certainly get us through, so we will ride this momentum and give our best efforts to win the match.
FW #13 MIYASHIRO Taisei (Kawasaki Frontale)
I was given the opportunity to start the match, so I really wanted to earn results in this match. I feel like I was highly motivated to enter the match as usual. Being able to score goals on my birthday means a lot for me, and it gave me lots of confidence to move forward. However, we have not won anything yet, so we will do our best to prepare ourselves for the next match.
Schedule
FIFA U-20 World Cup Poland 2019
Thu. 23 May
1-1
1st Group Stage Match vs U-20 Ecuador National Team
(Bydgoszcz Stadium, Bydgoszcz)
Fri. 24 May
AM
Training
Sat. 25 May
PM
Training
Sun. 26 May
3-0
2nd Group Stage Match vs U-20 Mexico National Team
(Gdynia Stadium, Gdynia)
Mon. 27 May
PM
Training
Tue. 28 May
PM
Training
Wed. 29 May
18:00
3rd Group Stage Match vs U-20 Italy National Team
(Bydgoszcz Stadium, Bydgoszcz)
Sun. 2 - Tue. 4 June
TBC
Round of 16
Fri. 7 or Sat. 8 June
TBC
Quarterfinals
Tue. 11 June
17:30/20:30
Semi-Finals
Fri. 14 June
20:30
3rd Place Match
Sat. 15 June
18:00
Final
*Local time
*The schedule is subject to change due to the team condition, the weather, etc.
FIFA U-20 World Cup Poland 2019
Tournament Dates: Thu. 23 May - Sat. 15 June 2019
Group Stage:
Fri. 24 May 2019 03:30 (Japan time)
vs U-20 Ecuador National Team
Sun. 26 May 2019 22:30 (Japan time)
vs U-20 Mexico National Team
Thu. 30 May 2019 01:00 (Japan time)
vs U-20 Italy National Team