NEWS
U-20 Japan National Team resumes training after first match of FIFA U-20 World Cup Poland 2019
25 May 2019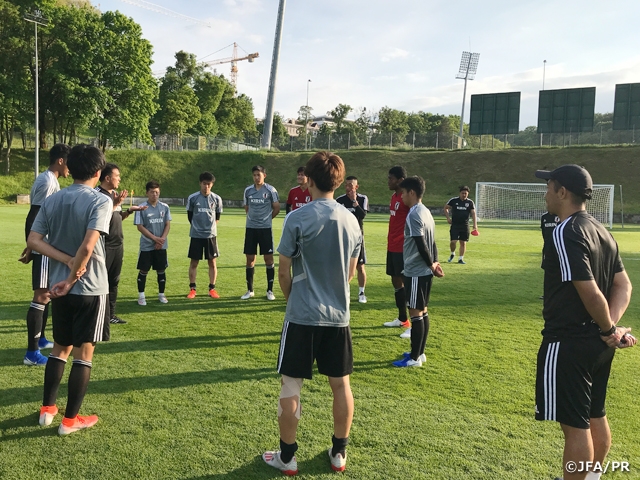 One day following their 1-1 draw against the U-20 Ecuador National Team in the first group stage match of FIFA U-20 World Cup Poland 2019, the U-20 Japan National Team resumed their trainings on Friday 24 May.
On this day, two of the training partners, KUMASAWA Kazuki (Ryutsu Keizai University) and MATSUMOTO Nagi (Cerezo Osaka U-18) made their ways back to Japan. With the departure of the two players who have been training with the team since Tuesday 14, the remaining players sent off the two players by showing their respect and appreciation in their own ways.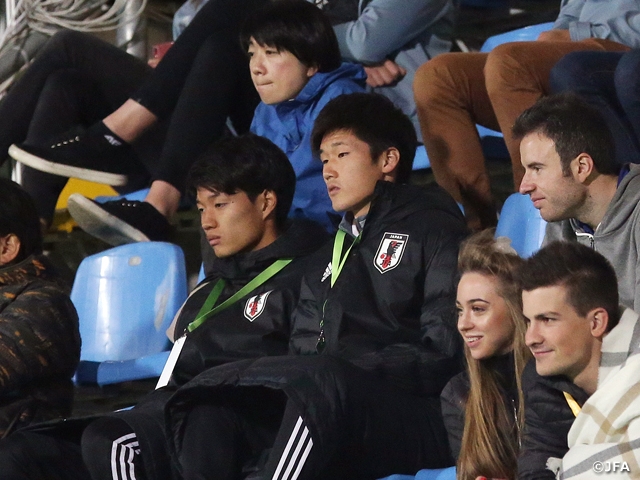 The team then travelled to a port city called Gdansk, located in the northern part of Poland, where they will play their second match of the tournament. On their way to Gdansk, the team stopped by Gdynia Stadium, their next match venue, to check out the pitch conditions and locker rooms to get their mind set towards their next match against Mexico on Sunday 26.
After a three-and-a-half-hour bus ride, the team finally arrived at their hotel, but the team took no time to settle down, as they held a training session soon after their arrival. The session was held in two separate groups, as the players who played in the first match remained at the hotel to conduct a recovery menu, while the others made their way to the training field. During the group stage, the team is scheduled to play their matches with just two days in between, making the recovery process an essential factor for their success. While one group worked on their conditions, the remaining nine players were seen working up a sweat by going through variations of possession drills on the field.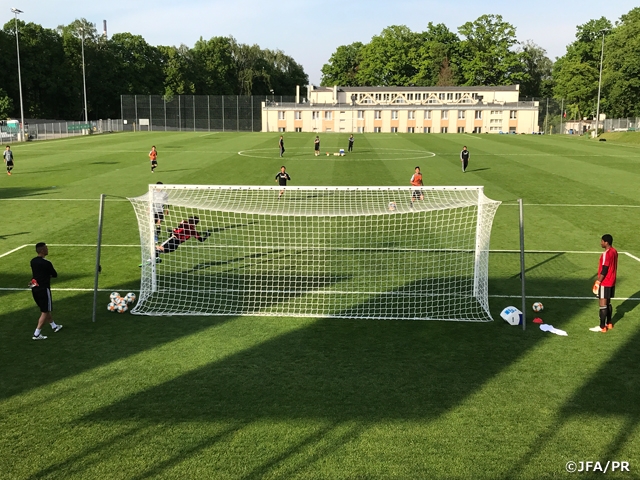 U-20 Japan National Team will now face Mexico, who has lost to Italy in their first match. The match will take place on Sunday 26, 15:30 (local time).
Players' Comments
GK #12 MOGI Shu (Cerezo Osaka)
I was very happy to see WAKAHARA Tomoya stop a penalty kick in our match against Ecuador yesterday, as his play not only saved a goal, but earned a point for the team. I focused on staying vocal from the bench and tried to make my teammates relaxed, while making myself ready to play on the pitch at all times. All three goalkeepers have their own strong points, so we hope to work together and heighten each other's abilities.
MF #8 FUJIMOTO Kanya (Tokyo Verdy)
The draw against Ecuador left a positive atmosphere for the team. However, we still think it was a match we could have won, and we probably paid too much respect to our opponent. If I am given the opportunity to play on the field, I will try to control the match by possessing the ball. The presence of Coach Kageyama is a major factor for this team's positive atmosphere. He is always communicating with each of the players and lectures us with great enthusiasm. His presence is a huge support for us in the mental aspect.
Training Partners' Comments
MF KUMASAWA Kazuki (Ryutsu Keizai University)
I was given the opportunity to gain great experience in this past 10 days. As a college player, I was surrounded by professionals and it made me feel the difference from the college league. The strengths to win the ball, quality of their ball control, kicking ability, all of the techniques were at a high level. The entire 10 days was a great learning experience for me. I observed the match against Ecuador from the stands and saw the unique rhythm and speed of the South American players. The match made me realise that I need to improve my play speed and become able to respond against such players. From now I will work even harder to heighten my skills. Once I return to my team, I will work on my defensive positionings and ability to force turnovers. I will do my best to become a player that can contribute for the team win.
MF MATSUMOTO Nagi (Cerezo Osaka U-18)
The intense trainings with this team have given me great inspiration. This was truly an experience of a lifetime, so I hope to make the most of it. After watching Japan's first match against Ecuador, the speed and quality of each plays were very high, and it made me realise the world standard. The World Cup I need to strive for is coming up in two years, so I must not waste any time and work hard to become a player that can create the difference for the team.
Schedule
FIFA U-20 World Cup Poland 2019
Thu. 23 May
1-1
1st Group Stage Match vs U-20 Ecuador National Team
(Bydgoszcz Stadium, Bydgoszcz)
Fri. 24 May
AM
Training
Sat. 25 May
PM
Training
Sun. 26 May
15:30
2nd Group Stage Match vs U-20 Mexico National Team
(Gdynia Stadium, Gdynia)
Mon. 27 May
PM
Training
Tue. 28 May
PM
Training
Wed. 29 May
18:00
3rd Group Stage Match vs U-20 Italy National Team
(Bydgoszcz Stadium, Bydgoszcz)
Sun. 2 - Tue. 4 June
TBC
Round of 16
Fri. 7 or Sat. 8 June
TBC
Quarterfinals
Tue. 11 June
17:30/20:30
Semi-Finals
Fri. 14 June
20:30
3rd Place Match
Sat. 15 June
18:00
Final
*Local time
*The schedule is subject to change due to the team condition, the weather, etc.
FIFA U-20 World Cup Poland 2019
Tournament Dates: Thu. 23 May - Sat. 15 June 2019
Group Stage:
Fri. 24 May 2019 03:30 (Japan time)
vs U-20 Ecuador National Team
Sun. 26 May 2019 22:30 (Japan time)
vs U-20 Mexico National Team
Thu. 30 May 2019 01:00 (Japan time)
vs U-20 Italy National Team