NEWS
"Third time pays for all" in Ozu's victory over Ehime at the 6th Sec. of Prince Takamado Trophy JFA U-18 Football Premier League WEST
13 May 2019
On Saturday 11 and Sunday 12 May, the sixth Sec. of Prince Takamado Trophy JFA U-18 Football Premier League WEST took place, as Ehime FC U-18 (Ehime) and Ozu High School (Kumamoto) faced each other.
Pick-up Match
Ehime FC U-18 0-1 (0-0, 0-1) Ozu High School
In the fixture between the two newly promoted sides saw an evenly matched bout from the early minutes. Ozu carried positive momentum from their back-to-back victories, but struggled against Ehime's rhythm, as their defender TATENO Wataru (#5) later reflected, "We were getting used to the fast pace of the Premier League and struggled to deal with the slow tempo created by Ehime. Our systems were similar too, so it made it hard to control the match."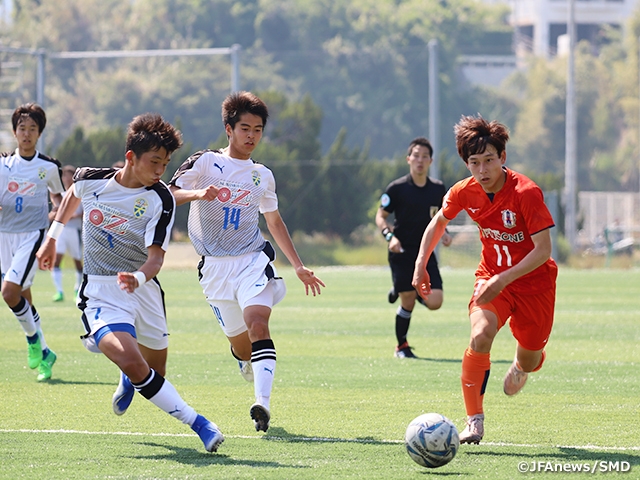 Despite showing difficulties to break through, Ozu actively created opportunities, as seen in the play made by FUJII Eito (#14) to connect with the cross delivered by TERAOKA Junichiro (#23) in the 21st minute. A golden opportunity came in the 26th minute, when HIGUCHI Kenta (#8) responded to a through ball sent by NONO Kimito (#10) before being brought down in the penalty area. A penalty kick was given to Ozu, but Ehime's goalkeeper KUSANO Manato (#1) made a big save to keep the score 0-0 at halftime.
Ozu's second big chance came in the 48th minute, when Nono was fouled in the penalty area to earn their second penalty kick of the match, but once again Kusano rose to the occasion and denied the spot kick. Despite missing out on their two big chances, Ozu kept their spirits high as Nono later reflected, "We almost lost all of our momentum after missing the two penalties, but we kept believing that if we keep working hard as a team, we can win the match." In efforts to score a goal, Ozu applied more numbers upfront to keep the pressure on. In the 52nd minute, the cross delivered by Nono induced a hand ball inside the penalty area to give Ozu their third penalty kick of the match. Third time was certainly the charm for Ozu, as Nono converted the spot-kick into the upper left corner.
After the goal, Ehime made the efforts to rally back, but led by Tateno, Ozu's defence showed great composure to keep the clean sheet. Ozu came close to scoring their second goal in the 81st minute when HONDA Rikuya (#2) struck the goal post with a header, but the match ended with a final score of 1-0, as Ozu marked their third consecutive victory. After the match, Tateno mentioned, "Our goal was to avoid relegation, but if we keep working hard, we might be able to find a new goal for ourselves."
Coaches and Players' Comments
AONO Daisuke, Coach (Ehime FC U-18)
We knew our opponents were anticipating to penetrate the space behind our defenders, so we knew what we had to do, but it didn't go as we planned. I don't think our team was committed to the match today. We didn't fight hard enough in the one-on-one situations, we lost the ball too easily, and couldn't execute the simple stuff. We also need to heighten the quality of our plays in the final third, but more than anything, I want my players to make the efforts to break out of their shells.
GK #1 KUSANO Manato (Ehime FC U-18)
The team has been losing consecutive matches, and I cost the team a loss against Kyoto last week, so I entered this match with a strong intention to help the team win. Although I was able to stop two penalties, I couldn't stop the third one. I need to make more saves to help our team win at the Premier League. I felt the need to work even harder and improve on my weaknesses. We are all fighting to overcome this bitter feeling. I don't think our performance is that bad, so we just need to show more willingness to win the match.
KOGA Kenshi (Ozu High School)
The pace of the match was rather slow, but with the strengths of the two sides being evenly matched, we took priority on defence first. After keeping a clean sheet in the first half, I felt like we were able to showcase a good performance with plenty of chances to score. I didn't expect us to earn this many points in the early part of the season, and it gives our players great confidence moving forward. The players did a great job to build a positive momentum ahead of the qualifiers for the Inter-High School Championships.
DF #5 TATENO Wataru (Ozu High School)
Since the start of the season, we have been continuously conceding goals to our opponents, so we focused on our defence in today's match. We focused on our transitions and made sure to move collectively as a team. When our opponents had the ball, we made sure to defend the penalty area and blocked the shots effectively. Anything can happen if we allow our opponents to take shots freely, so we focused on preventing them from taking shots, and that approach has helped us earn our first clean sheet of the season.
Results of other matches
Cerezo Osaka U-18 0-1(0-1, 0-0) Vissel Kobe U-18
Sanfrecce Hiroshima F.C Youth 1-2 (0-2, 1-0) Gamba Osaka Youth
Nagoya Grampus U-18 3-3 (1-0, 2-3) Avispa Fukuoka U-18
Kyoto Sanga F.C. U-18 2-3 (1-1, 1-2) Higashi Fukuoka High School
Vissel Kobe U-18 (Hyogo) kept their one goal lead they took in the first half to earn a win over Cerezo Osaka U-18 (Osaka). The league leading Gamba Osaka Youth (Osaka) kept their great form to win over Sanfrecce Hiroshima F.C Youth (Hiroshima) 2-1. The match between Nagoya Grampus U-18 (Aichi) and Avispa Fukuoka U-18 (Fukuoka) saw a total of six goals scored by the two sides, as they drew 3-3. Despite taking the lead against Higashi Fukuoka High School (Fukuoka), Kyoto Sanga F.C. U-18 (Kyoto) suffered a loss after conceding two goals in the second half.

WEST 6th Sec. Highlights
Prince Takamado Trophy JFA U-18 Football Premier League 2019
League Duration: Sat. 6 April - Sun. 8 December 2019