NEWS
JFA signed on partnership with Football Association of Malaysia
05 April 2019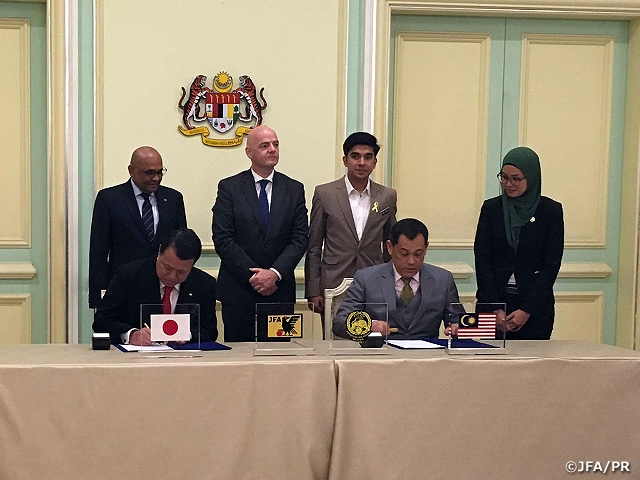 Japan Football Association (JFA) signed on a partnership Memorandum of Understanding (MoU) with Football Association of Malaysia (FAM) on 5 April in Malaysia.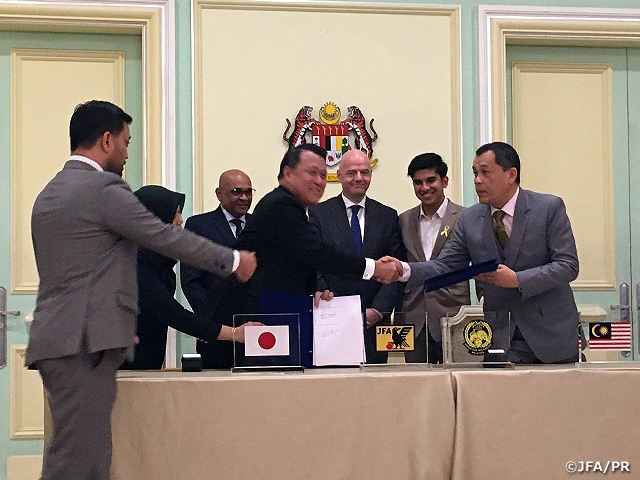 The signing ceremony took place at the Prime Minister's office of Malaysia, and the ceremony went in an amicable manner with the presence of Prime Minister, Tun Dr Mahathir bin Mohamad, Malaysian Youth and Sports Minister, YB Syed Saddiq Syed Abdul Rahman, FIFA President, Gianni Infantino, AFC General Secretary, Dato' Windsor John and was signed by FAM President Dato' Hamidin BIN MOHD AMIN and JFA President TASHIMA Kohzo.
The MoU focuses on knowledge sharing and exchange programmes in order to cooperate together for further development of football in both Malaysia and Japan.
JFA President TASHIMA Kohzo expressed his appreciation for this precious occasion of signing the first MoU between FAM and JFA.
"It is our great pleasure to have signed a Partnership Memorandum of Understanding with the Football Association of Malaysia. Today marks a new chapter of Malaysia and Japan's friendly relations as we signed our MoU for the further development of football in both countries. Under the MoU, we will join our efforts towards further exchange of experience and knowledge, with our primary focus being on coaching education, referee development, as well as in the areas of women's football and youth development. To this end, we vow to continue working hand in hand with Football Association of Malaysia to realise our common goals."
Both football associations positively discussed as to how football exchanges can be enhanced through the signing of partnership this time, and expressed expectation for the future initiatives.
The MoU between FAM and JFA aims to cooperate with each other in the areas as follows
・Coaching education
・Referees' development
・Vitalising women's football
・Friendly matches, camping for youth national teams
・Structure and operation of youth competitions
・Futsal development
・Commercialisation and revenue generation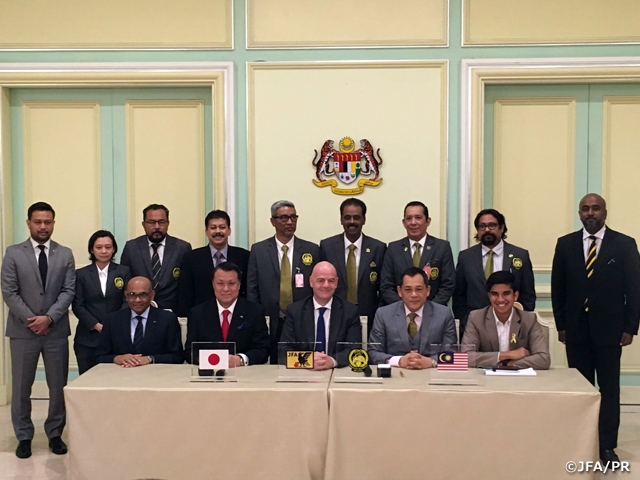 Until today JFA has signed MoU with the following football associations, confederation and club
Asia
[East]Chinese Taipei, Hong Kong, Mongolia
[ASEAN]Indonesia, Laos, Singapore, Thailand, Vietnam
[South]India
[Central]Iran, Uzbekistan
[West]Jordan, Oman, Qatar, United Arab Emirates
Europe
Denmark, England, France, Germany, Spain, Russia and Belgium, FC Bayern Munchen
South America
CONMEBOL