NEWS
JFA signed on partnership with Royal Belgian Football Association
23 October 2018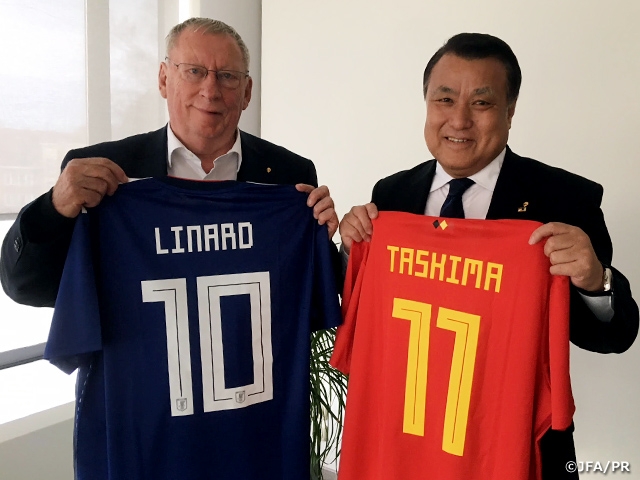 Japan Football Association (JFA) signed on a partnership Memorandum of Understanding (MoU) with Royal Belgian Football Association (URBSFA/KBVB) on 23 October 2018 in Brussels.
The MoU further focuses on knowledge sharing and exchange programmes in order to cooperate together for further development of football in both Belgium and Japan.
The signing ceremony took place at the head office of Royal Belgian Football Association, and the ceremony went in an amicable manner with the presence of Mr. Gerard LINARD, President of Royal Belgian Football Association and Mr. TASHIMA Kohzo, President of Japan Football Association.
Both Football Associations positively discussed as to how football exchanges can be enhanced through the signing of partnership this time, and expressed expectation for the future initiatives.
The MoU between the URBSFA/KBVB and JFA aims to cooperate with each other in the areas as follows
・Technical Assistance
・Knowledge-Sharing and exchange programmes
・Coach education
・Youth development
・Grassroots
・Women's football
・Refereeing
・Sports science and medicine
・Marketing
・Domestic and International matches
・Prevention of match manipulation
・Inclusive football & walking football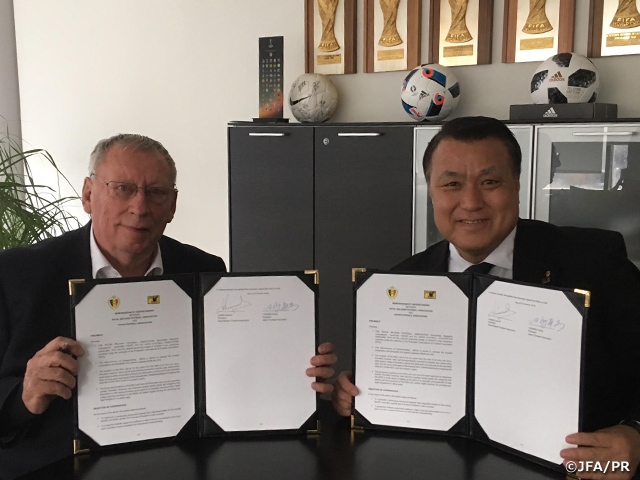 Until today JFA has signed MoU with the following football associations, confederation and club
Asia
[East] Chinese Taipei, Hong Kong, Mongolia
[ASEAN] Indonesia, Laos, Singapore, Thailand, Vietnam
[South] India
[Central] Iran, Uzbekistan
[West] Jordan, Oman, Qatar, United Arab Emirates
Europe
Denmark, England, France, Germany, Spain and Russia
FC Bayern Munchen
South America
CONMEBOL