NEWS
JFA President TASHIMA Kohzo re-elected as the FIFA Council Member
06 April 2019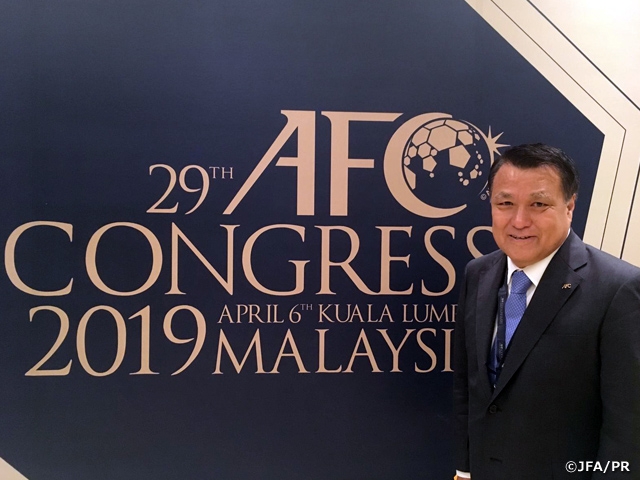 On Saturday 6 April, the Asian Football Confederation (AFC) held the election for the members of the AFC Executive Committee at a hotel in Kuala Lumpur, Malaysia. At the election, Japan Football Association (JFA) President TASHIMA Kohzo was re-elected for his second term to serve as the FIFA Council Member. A total of five men and one woman were elected as the FIFA Council Members. (Names listed below)

At the election, incumbent president, H.E. Shaikh Salman bin Ebrahim Al Khalifa (Bahrain), who Japan has declared their full support to, was re-elected by acclamation for his second four-year term until 2023 as the AFC President, also serving as the FIFA Vice President.

For more information on the AFC election, please visit the official web-site of the AFC (http://www.the-afc.com/).
Comment of JFA President TASHIMA Kohzo
I am thankful as I believe this is a result of the recognition from my colleagues on my activities for good governance, such as Chairpersonship for the Ad-Hoc Committee for Evaluation as well as the work of FIFA/AFC Joint project for normalisation of Indonesian football in the past years. I am happy that I could be of service to raise the level of Asian football as Chairperson of Technical Committee. With the activities of Japanese football inside and outside Asia, good result of our National Teams of all categories, from Senior, Women, to youths, and varied activities of JFA helped this in its trust in Japanese football. With such number of trust in me, I feel a strong sense of responsibility for further growth and development of football in all levels in Asia and in the world.
Results of the FIFA Council Election
AFC President/FIFA Senior Vice President (Term: 2019-2023)
H.E. Shaikh Salman bin Ebrahim Al Khalifa (Bahrain)
* Mr. Saoud A.Aziz M A Al-Mohannadi (Qatar) and H.E. Mohamed Khalfan Matar Saeed Al-Romaithi (UAE) withdrew their candidacy.
FIFA Council Members (Term: 2019-2023)
| | |
| --- | --- |
| TASHIMA Kohzo (Japan) | 38 votes |
| Mr. Praful Patel (India) | 38 votes |
| Mr. Saoud A. Aziz M A Al-Mohannadi (Qatar) | 37 votes |
| H.E. Du Zhaocai (China PR) | 35 votes |
| Mr. Mariano V. Araneta,Jr. (Philippines) | 34 votes |
| Ms. Mahfuza Akhter Kiron (Bangladesh) | 28 votes |
*Candidates included eight men and five women. Among the FIFA Female Council Candidates, Ms. Susan R.A.Alshalabi (Palestine) and Ms. Kanya Keomany (Laos) withdrew their candidacy.
Remarks: Past Japanese FIFA Council Members (formerly the FIFA Executive Committee)
| | |
| --- | --- |
| ICHIDA Soichi | 1958-1962 (Standing Member of JFA Executive Committee at the time) |
| NOZU Yuzuru | 1969-1978 (JFA President at the time, Honorary Chairman since 1976) |
| OGURA Junji | 2002-2011 (JFA General Secretary at the time, JFA President since 2010) |
| TASHIMA Kohzo | 2015- (JFA Vice President at the time, JFA President since 2016) |