NEWS
JFA signs on partnership with FC Bayern Munich
07 May 2018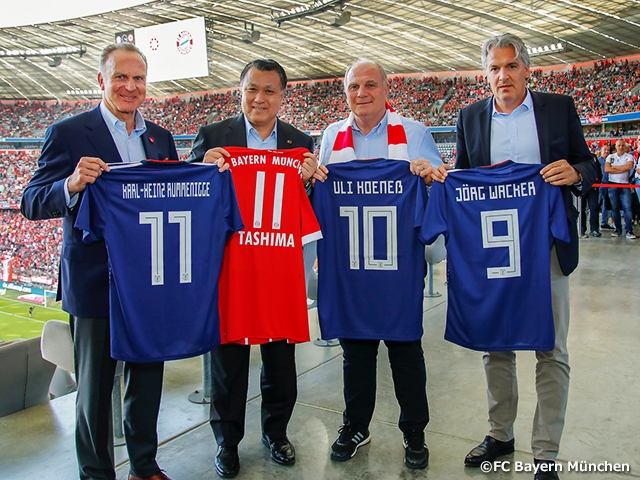 Japan Football Association (JFA) signed on a Memorandum of Understanding (MoU) with FC Bayern Munich (FCB) on 28 April in Munich, Germany. This agreement between FCB and JFA will deepen the mutual relationship and cooperation for the development of football in both Munich and Japan.
Having visited FC Bayern Munich President Uli Hoeneß, Executive Board Chairman Karl-Heinz Rummenigge and Executive Board Member for internationalisation and strategy Jörg Wacker at the Allianz Arena, JFA President TASHIMA Kohzo expressed his appreciation. "Up until today, JFA has signed partnerships with 21 Football Associations and one Confederation in total. However, this is the first time for us to form an agreement with a professional football club like FC Bayern Munich. It is the greatest pleasure and such an honour for me to sign the MoU today with the leading club of world football. Once again, I would like to take this opportunity to express my deepest gratitude for the cooperation of FC Bayern Munich to make this event possible. FC Bayern Munich has long history and tradition and is known for a series of success. I look forward to working closely together through various exchanges by sharing knowledge and experience. I believe this partnership will bring us a lot of valuable outcomes."
FC Bayern München AG Executive Board Chairman Karl-Heinz Rummenigge commented, "We are proud to announce this partnership with one of Asia's strongest associations. The cooperation with the JFA is an important step in pursuing our goals in Japan."
"The Japanese market is highly interesting for FC Bayern. The enthusiasm for football is impressive and the quality of young players is very high. That is why we founded our first FC Bayern Football School in Japan, near Hiroshima, a few years ago. Now we want to add another building block to our global strategy with the partnership with the JFA," Jörg Wacker, FC Bayern München AG Executive Board Member for internationalisation and strategy added.
The MoU between FCB and JFA aims to cooperate with each other in the areas as follows:
・Coaching staffs exchange programme
・Friendly matches between both academies and invitation to training camps
・Youth development and grassroots
・Medical and diagnostics
Until today JFA has signed MoU with the following football associations and confederation:
Asia
[East] Chinese Taipei, Hong Kong, Mongolia
[ASEAN] Indonesia, Laos, Singapore, Thailand, Vietnam
[South] India
[Central] Iran, Uzbekistan
[West] Jordan, Oman, Qatar, United Arab Emirates
Europe
Denmark, England, France, Germany and Spain
South America
CONMEBOL