NEWS
Official JFA Licensed Coaches commended by their dispatch destination of Mongolia and Brunei Darussalam - Mr. IKI Yoji / Mr. FUJIWARA Takao
06 February 2019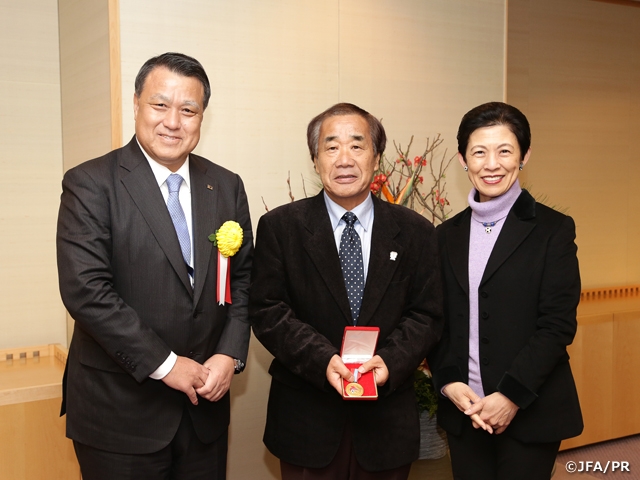 In efforts to help the overall growth of football in Asia, the JFA has dispatched Official JFA Licensed Coaches to various Asian countries.
Most recently, an order of merit was granted by the Mongolian Football Federation to Coach IKI Yoji of the Mongolia U-15/U-18 Women's National Teams for his contributions, as the medal was presented through by JFA President TASHIMA Kohzo. Also, Mr. FUJIWARA Takao, who had coached the Brunei Darussalam U-22 National Team, has been awarded with the Ambassador's Commendation by the Ambassador of the Embassy of Japan in Brunei Darussalam.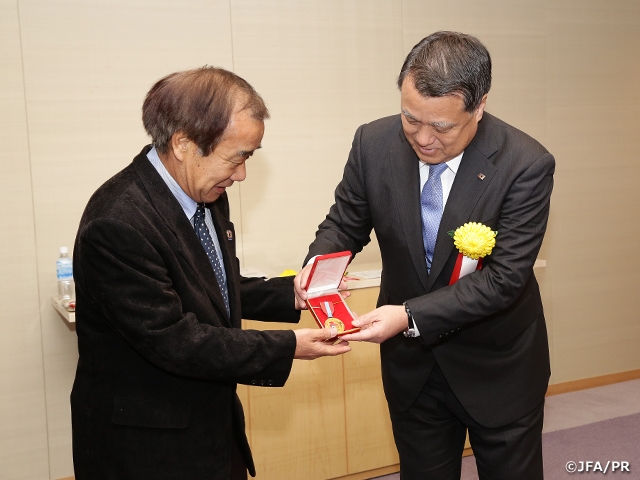 Coaches' Comments
Mr. IKI Yoji
It's a great honour to receive this order of merit from the Mongolian Football Federation. When coaching the youth categories, I have taken great emphasis on "human education" through football. "The spirit of respecting others," "taking care of your peers," "holding responsibilities in your plays," "always greeting each other," and "staying on time." Although these concepts may have become a norm in Japan, I have implemented the words of the father of modern football in Japan, Mr. (Dettmar) CRAMER, that football is "A sport that can develop children to adults, and adults to gentlemen (ladies)." At first, our team had challenges in executing very basic plays, but through the enthusiastic efforts shown by our players, we have developed into a team that can win a total of three matches at the first round of the AFC U-19 and U-16 Women's Championship qualifiers in our first appearances. I can proudly say that we have contributed to build the foundation of women's football in Mongolia. I would like to take this time to show my sincere gratitude towards the Mongolian Football Federation and JFA for all their support.
Mr. FUJIWARA Takao
I am very honoured to be given the prestigious Brunei Darussalam Ambassador's Commendation. This would not been made possible without the daily support from the National Football Association of Brunei Darussalam, the JFA, and the Japan Foundation Asia Center. During my time in Brunei Darussalam, I have experienced many challenges, but the four years I spent was such productive time and it flew by so quickly. From the bottom of my heart, I am thankful for everyone who has supported me.