NEWS
U-16 Tajikistan National Team holds training camp in Kashima, Ibaraki (6/22-29)
04 July 2018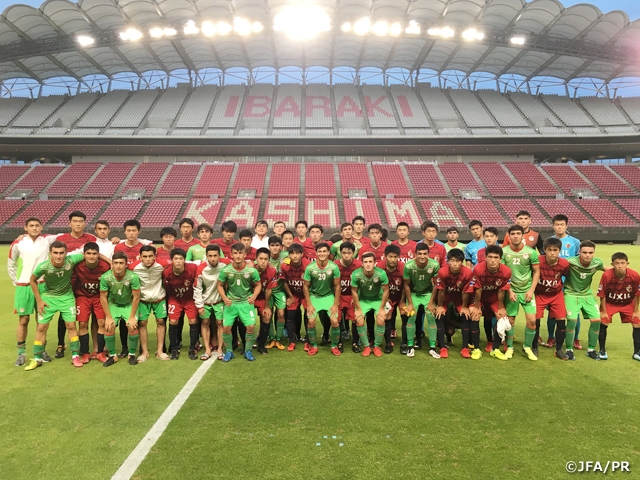 The U-16 Tajikistan National Team, who will be participating in the AFC U-16 Championship Malaysia 2018 which will take place in late September, held a week-long training camp in Kashima, Ibaraki. The training camp aimed to strengthen the team ahead of the tournament. Three training matches were conducted during their stay as the team left with a record of two wins and one loss. Kashima Soccer Stadium was the match venue for their second training match against the Kashima Antlers Youth, as the players rejoiced over the experience to play in a venue that held matches at the 2002 FIFA World Cup Korea Japan.
Coming from a landlocked country, the Tajikistani players were given the opportunity to see the Ocean for their first time when they visited Hirai Beach in Kashima as part of their activities off the pitch. The players were also seen enjoying themselves visiting sightseeing spots in Tokyo. The camp provided valuable time for the players on and off the pitch during their stay.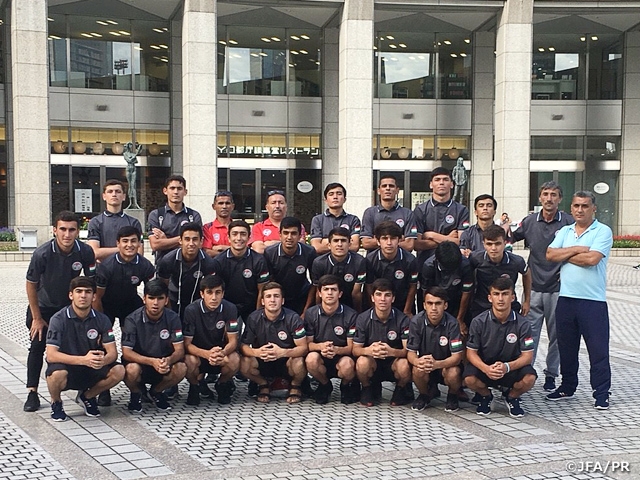 The results of the training-matches were as follow:
| | | |
| --- | --- | --- |
| Sun. 24 June | ○2-1 | vs Ibaraki Kokutai Selection Team |
| Tue. 26 June | ●1-2 | vs Kashima Antlers Youth |
| Thu. 28 June | ○3-2 | vs Urawa Reds Youth |
Coach and Players' Comments
Rahimov Zainidin, Coach (U-16 Tajikistan National Team)
In this camp, we were given the opportunity to play three matches against Japanese teams with very high quality, and it has certainly helped us strengthen our team. Besides playing football, we were able to spend a very interesting time by visiting places like Asakusa and Shinjuku. The campsite, Kashima was also a wonderful place as the pitch condition was great and the beach was beautiful. We felt very comfortable there, so we would like to come back and hold another camp in Japan again.
Khodzhiev Parviz (U-16 Tajikistan National Team)
During our stay we played a total of three matches. Although we struggled in our first match facing a team we weren't accustomed to playing against, we felt that our team got better as we kept on playing, so this camp provided us with a very valuable experience. We would like to utilise what we have learnt in this camp at the AFC Championship in September.
Zabirov Nidoyor (U-16 Tajikistan National Team)
The scenery of Japan was so beautiful. This camp has given me an unforgettable experience, not just through football, but through the activities off the pitch as we were given the opportunity to collect seashells at the beach and tour around Tokyo. The environment to play football was wonderful as well, and the fact we managed to win two matches against Japanese teams gave us great confidence.
Ismoilov Sunatullo (U-16 Tajikistan National Team)
I got the impression that the Japanese teams are very high-levelled, as they are well organised and consists players with great techniques. Having said that, I am very proud that I managed to score three goals during this camp. Playing at the Kashima Soccer Stadium was the most memorable experience of all. I would love to become a professional football player in the future and play in the J. League, especially for the Kashima Antlers so that I can play in that stadium once again.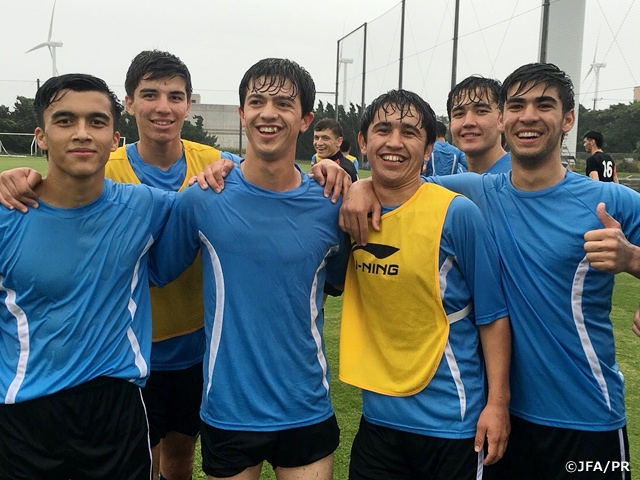 Accepting teams from the AFC Member Associations to hold training camps in Japan
Upon receiving requests to hold training camps in Japan, JFA will make all arrangements including training-matches in efforts to support the strengthening of the national teams of the Member Associations.
For more information