NEWS
SAMURAI BLUE (Japan National Team) expresses both regret and confidence after facing the world standards
04 July 2018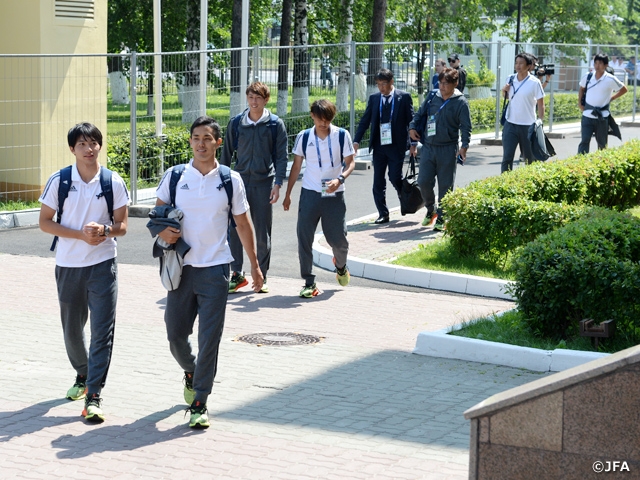 On Tuesday 3 July, just one day after their loss to Belgium in the round of 16 at the 2018 FIFA World Cup Russia, the team spent their last moments at their base camp in Kazan after returning from Rostov-on-Don.
After advancing through the group stage with a record of one win, one draw, and one loss, Japan led 2-0 against a Belgium side who has won all three matches in their group but conceded three goals afterwards to lose the match with a final score of 2-3. As a result, Japan once again failed to break through the round of 16 in their third attempt.
One day after the match, Coach NISHINO Akira, still seemingly in disbelief, shared his take of the match, "We kept on striving to score the third goal, but after we scored the second goal, Belgium brought their game level to a whole new level. The standard of the World's top-flight football was definitely on display in the last 30 minutes of the match. We really got to experience what the World Cup had to offer."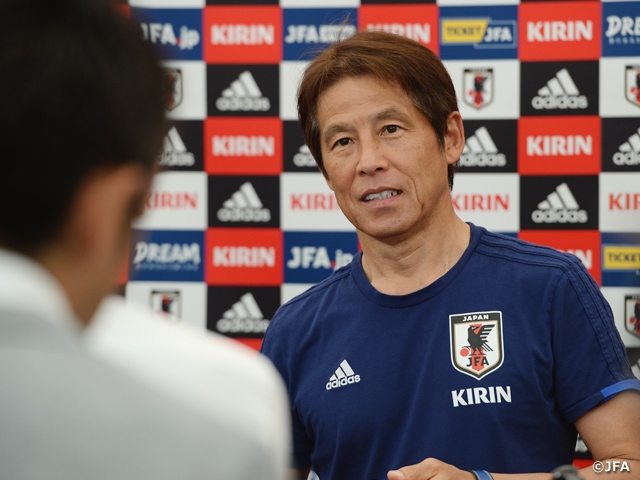 After being named as the head coach of the national team just two months ahead of the World Cup, the former technical director utilised the limited time to prepare for the Cup and led the team into the round of 16. Despite coming short from their first ever quarterfinals appearance, it was only the third time the Japanese side has made it to the round of 16, following the same feat in 2002 and 2010.
The coach showed his confidence towards the team's future, "Japan has made it to the round of 16 every eight years now. However, I don't think we will have to wait for another eight years before we make it into the quarterfinals. In this third attempt, we have showed the ways that Japan can win at Qatar."
On this day, the captain, HASEBE Makoto (Eintracht Frankfurt) announced his retirement from the national team on his SNS account. Coach Nishino shared that he was informed in person the day before, "It is a decision made by someone who has dedicated himself to the Japanese football community and the national team for a very long time. We must respect his decision."
Hasebe stated that his decision to retire from the national team was made ahead of the World Cup, "The decision was made with a sense of commitment. I can honestly say that I have truly gave everything I've got." Reflecting on the three World Cups he participated in, the captain continued to say, "We have fought with great courage and challenged many things to lead the way. Each time we played, in 2010, 2014, and 2018, there was definitely a sense that we were moving forward."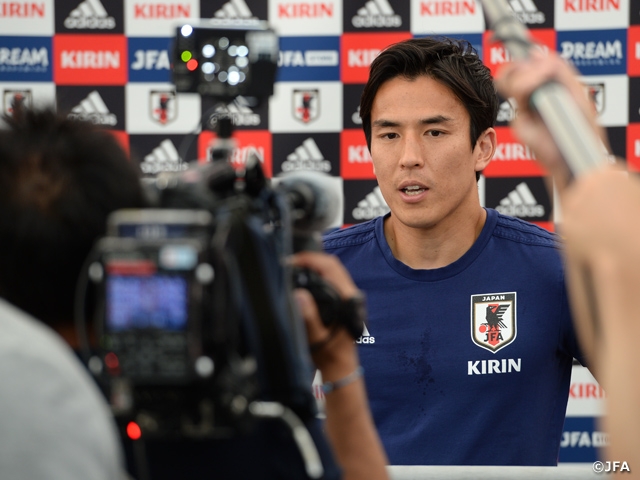 YOSHIDA Maya (Southampton FC) was seen caught up in emotions as he spoke of the team captain's decision, "I don't think there are many players who has thought about the team as much as he has. I knew what this World Cup meant for him from the amount of commitment he has exerted for this tournament. Having been close with him on and off the pitch, it's truly an emotional moment for me."
When asked regarding the fact the team failed to preserve their two-goal lead against Belgium, the defender responded, "We must nurture the composure to manage the match in situations like that. And the only way to obtain such experience is to put ourselves in environments where we face big-time players in a regular basis."
In his first World Cup appearance, SHIBASAKI Gaku (Getafe C.F.) led the team with his plays in the midfield. The young midfielder shared his take on the World Cup from his experience.
"It may have changed my perspective, while it definitely made me think about the future and certain aspects like responsibility. It gave me a sense of being covered with such things."
The team will leave Russia on Wednesday 4 July and arrive back to Japan on Thursday 5, where the team will be dismissed.
Coach and Players' Comments
NISHINO Akira, Coach of SAMURAI BLUE (Japan National Team)
(Regarding the fact the team stayed aggressive after leading Belgium 2-0) We had a sense to redeem ourselves from the third group stage match, so we kept on striving to score the third goal. The team was in a very good rhythm and I didn't feel it was necessary to make any changes, especially in the defence. We actually had chances to score the third goal, too. In my mind, what Coach HALILHODZIC has built over the years served as a vital role for the team. What he has demanded from the team was evident in our match against Senegal and the goals scored by Inui and Haraguchi. I have always thought that those aspects were essential at the international level. It is important to accept and inherit such qualities, rather than rejecting them. The players were able to build up on what they have worked on while adding their ball possession skills and cohesiveness to it. I spent each day focusing on how to adapt to the team, so I kept my concentration level high in each training sessions and meetings.
GK #1 KAWASHIMA Eiji (Football Club de Metz)
The sense to live up to the supporter's expectation has given me so much strengths. When I heard Hasebe's decision to retire from the national team, as much as I wanted to appreciate his long captaincy, as a football player and as a friend, I also felt that there was no need for him to rush the decision. But I guess that is who he is. It must have been very tough to be the team captain of the Japan National Team for such a long period. I cannot fathom how much pressure he was facing during his tenure. It is something that couldn't have been accomplished without his outstanding personality.
GK #12 HIGASHIGUCHI Masaaki (Gamba Osaka)
There were many new findings as I did all I can to support the team from the bench. The results were somewhat satisfying and at the same time disappointing to some extent. I think I have gained many things from this World Cup.
FP #3 SHOJI Gen (Kashima Antlers)
It is truly disappointing to be scored on right in front of your eyes, and I cannot reflect on it. The scene just keeps looping in my head as I regret how I started sprinting after De Bruyne received the ball. When the ball was crossed to the centre, I was sincerely hoping that Lukaku will not dummy the ball as I was chasing them down. I didn't care if I broke a bone or sustain a muscle strain, I just wanted to save that goal, so it's just truly disappointing. I have never wished for something more than anything and I was willing to sacrifice everything in that moment.
FP #4 HONDA Keisuke (CF Pachuca)
This will be my last World Cup, and I regret not being able to carry the team into the next stage. The reality is what it is, and the fact I couldn't score in that situation tells me that I just wasn't good enough. I must embrace the reality and hope that the younger players will succeed my will to win the World Cup. I was given the opportunity to participate in three World Cups, and despite given the role as a substitute in this one, I truly gave everything I've got.
FP #5 NAGATOMO Yuto (Galatasaray S.K.)
The team was led by three different coaches in the past four years. In that sense, what we have nurtured the most over this time period must have been our flexibility. Under any given circumstances, even when the team was under criticism, each player did what they had to do, regardless of either the player was experienced or not. I am especially proud of the younger players. Back in 2010, I certainly wouldn't have been able to respond the way these youngsters did. I was also very impressed and at the same time happy of how the first timers performed in this World Cup. But foremost, the players on the bench showed an enormous amount of support, and I have nothing but respect for those players.
FP #6 ENDO Wataru (Urawa Red Diamonds)
Japan played a wonderful match. Watching the match from the bench, it was evident that the players on the pitch showcased an enormous amount of fighting spirit, and it really felt like we were truly fighting against Belgium as a team, including everyone on the bench. Our team executed a perfect game plan until we scored the second goal in the second half. We managed to put up a great fight against a top-flight team, and despite the results, I am very proud of the players on the pitch.
FP #7 SHIBASAKI Gaku (Getafe C.F.)
I want to play in the World Cup again and lead Japan into its first ever quarterfinals. Playing in the World Cup made me want to play in a tournament with similar level, such as the UEFA Champions League. I felt that it is necessary for me to put myself in such environment in order to improve myself.
FP #8 HARAGUCHI Genki (Fortuna Dusseldorf)
I believe that we managed to show the direction of where Japan must head towards. Each player must heighten their quality in order for the team to get better. It was such a disappointing result, so I would like to challenge again in four years.
FP #9 OKAZAKI Shinji (Leicester City Football Club)
It doesn't mean a thing if I'm just here, so in that sense, I'm very disappointed. I wanted to leave something behind so that I can justify why I was selected over some other players who did not make it to the World Cup. I came here to meet people's expectation and prove that I'm worthy of a player, but the fact I couldn't leave with a result makes it that much regretful.
FP #10 KAGAWA Shinji (Borussia Dortmund)
In this past four years since the World Cup in Brazil, I have sacrificed everything and gave it all into this match. I am truly thankful for everyone who has supported me over the course. I have no regrets on what I have done. I have also learned the importance to face the reality. Belgium showed us their will power to score goals, regardless of whatever it took. We lost to their strong intentions, and that was disappointing. We gave everything we've got and conceded the goals, so in that sense we have no regrets, but we still need to improve as an individual.
FP #17 HASEBE Makoto (Eintracht Frankfurt)
I have nothing but appreciation. Every little moment spent with the great teammates and the supporters gave me such wonderful time. In the past two World Cups, there was a sense where we felt like we lacked a little bit of courage, but in this one, we truly gave all we've got, so personally I am very satisfied. And all this would have never happened if we didn't experience the last two World Cups.
FP #18 OHSHIMA Ryota (Kawasaki Frontale)
At this point, I personally cannot imagine myself in four years, but the fact I made it here by taking each step one at a time has given me the sense that my approach was not wrong. However, the fact I couldn't play in the matches tells me that I must change something. I don't know what it is at this moment, but I would like to go back to my club and work on it to improve myself.
FP #21 SAKAI Gotoku (Hamburger SV)
It was a wonderful tournament. We entered the World Cup with the intention to make it to the quarterfinals, and even though we failed to make it through, from my experience in the two World Cups I have participated, this was as close as it gets. We have proved that we are a worthy team in terms of performance and atmosphere. We were not awarded with the results we were looking for, but we displayed a great performance and I am very satisfied with the tournament overall.
FP #22 YOSHIDA Maya (Southampton FC)
Everyone fought very well. The players and the fans all worked hard in this past two months to make the team better. We fought with the obligation to exceed the expectations, and in that sense, I think we have managed to reach at least the passing point. However, looking back in hindsight, we have only won a single match, which was out of a fortunate circumstance against Colombia. In our last match, we exposed our fragility by conceding three goals after we were up by two goals. The thought that maybe we could have done a better job looped through my head for the entire night. We faced a similar situation in the 2006 World Cup where in that tournament, the team lost to Australia after leading the match at one point. There were certainly physical aspects that had to improve, but more than anything, I felt that we lacked psychological strengths. In this tournament, I am regretting the fact I couldn't lead the team in that aspect.
TASHIMA Kohzo, President of JFA
It is disappointing to see the team go out in such fashion, especially after seeing the team develop into such a great team in a short period of time. However, that is the fate of this national team. We have made several decisions in efforts to increase the odds of winning by mere 1%, but the players and Coach Nishino managed to develop that 1% into 20% and 30% by showing great cohesiveness and unity within the given time frame. I appreciate their efforts of gathering every piece the Japanese football community has generated over the years. We have strived to find the "Japanese way" of football through the youth development systems over the years, but we feel that it is finally materialising. I am very proud of the players who fought with the "Japan pride."

Schedule
2018 FIFA World Cup Russia
Tue. 19 June
2-1
1st Match vs Colombia (Mordovia Arena)
Wed. 20 June
PM
Training
Thu. 21 June
PM
Training
Fri. 22 June
AM
Training
Sat. 23 June
PM
Official Conference・Official Training
Sun. 24 June
2-2
2nd Match vs Senegal (Ekaterinburg Arena)
Mon. 25 June
PM
Training
Tue. 26 June
AM
Training
Wed. 27 June
PM
Official Conference・Official Training
Thu. 28 June
0-1
3rd Match vs Poland (Volgograd Arena)
Fri. 29 June
TBC
Training
Sat. 30 June
TBC
Training
Sun. 1 July
TBC
Official Conference・Official Training
Mon. 2 July
2-3
Round of 16 vs Belgium (Rostov Arena)
*Local Time
*The schedule is subject to change due to the team condition, the weather, etc.
2018 FIFA World Cup Russia
Tournament Dates: 14 June - 15 July 2018

Round16
Mon. 02 July Kickoff at 21:00 vs Belgium National Team (Rostov Arena)
(Tue. 03 July 3:00 Japan time)