NEWS
The participating four teams assembled for the Welcome Reception of U-16 International Dream Cup 2018 JAPAN presented by The Asahi Shimbun
13 June 2018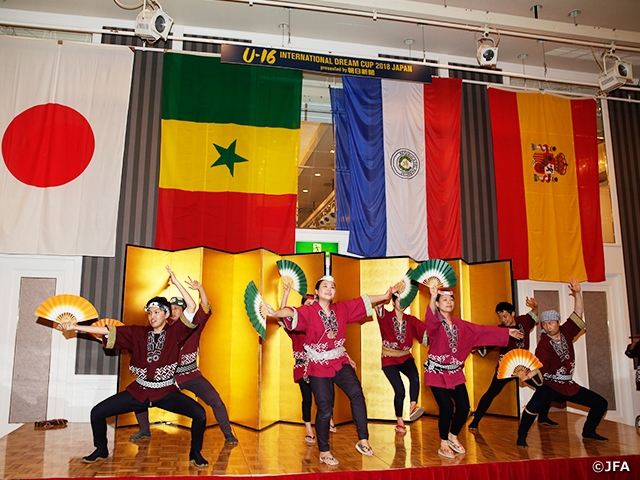 On Tuesday 12 June, just one day ahead of the U-16 International Dream Cup 2018 JAPAN presented by The Asahi Shimbun, a welcome reception was held in Sendai city for the players and staffs of the four participating teams.
JFA Executive Director FUKUI Kazuya gave the opening speech by stating, "we would like each country to showcase their character and strongpoint to strive for the title. It would be our pleasure if the participants of this tournament reunite at the World Cup in the future." Vice Mayor FUJIMOTO Akira of Sendai city followed with a speech sharing his aspiration towards the players, "your passionate plays gives hopes and dreams to the people of Sendai. As much as we like to see an earnest battle on the pitch, we hope that you nurture a relationship off the pitch."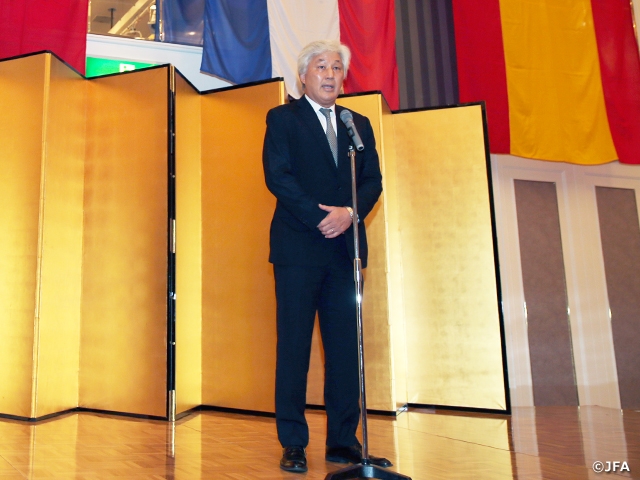 Following the speeches, each team displayed their native dance with their country's music. Once the Paraguayan team took the stage, all other teams joined to dance with the Latin music, initiating a cultural exchange ahead of the tournament.
It was not only the players who had a cultural exchange, but the staffs were seen engage in conversations as well. Assistant coach SAITO Toshihide who played in the 1999 Copa America as a member of the Japan National Team found out that he has played against Paraguay's Coach Carlos Humberto Paredes Monges, who also played in that tournament as a member of his national team. Coach Paredes, who has visited Japan six times, also revealed that he has played with NAKAMURA Shunsuke (Jubilo Iwata) at the Italian Club, Reggina.
The participants watched the local performance group "Omotekoji 10" perform the "Sparrow Dance." The reception was concluded by conducting the "Date no Ippon-jime," a traditional single clap handed down from Sendai Domain's legendary feudal lord, DATE Masamune, to pray for the tournament's success.
U-16 International Dream Cup 2018 JAPAN presented by The Asahi Shimbun will open on Wednesday 13 June at Yurtec STADIUM SENDAI, as the U-16 Spain National Team and U-16 Senegal National Team will face each other at 15:00, while the U-16 Japan National Team will square off with U-16 Paraguay National Team at 18:00.
Players' Comments
GK #12 SASAKI Masato (U-16 Japan National Team)
I think it is important to enjoy ourselves in this rare occasion. We need to be able to turn our switch on and off accordingly. Tomorrow we will give our very best to perform well.
DF #5 Moussa Ndiaye (U-16 Senegal National Team)
The reception was surrounded by a very positive atmosphere and I had so much fun. I think everyone was enjoying themselves, too. We learned the cultures of other countries and made many friends. We are prepared for the match tomorrow, and we will be focused when we enter the match.
GK #16 Arona Samba (U-16 Senegal National Team)
I had a wonderful time at this reception. We were given the opportunity to learn about the cultural difference of other countries. I feel very fortunate to be able to be a part of such event. We will face Spain tomorrow, but we have talked within the team, and we are ready to play. We hope to win the match tomorrow.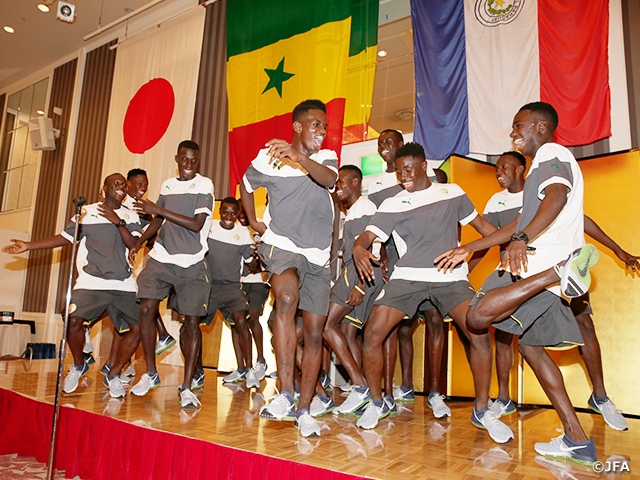 Wed. 13, Fri. 15, Sun. 17 June 2018 [Free Admission]
Japan/Senegal/Spain/Paraguay
Yurtec STADIUM SENDAI, Miyagi