NEWS
U-16 teams from Senegal, Spain, and Paraguay arrives in Japan ahead of the U-16 International Dream Cup 2018 JAPAN presented by The Asahi Shimbun
12 June 2018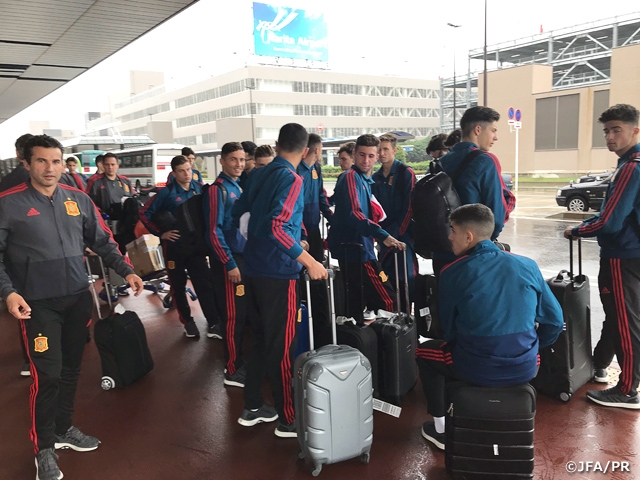 Ahead of the U-16 International Dream Cup 2018 JAPAN presented by The Asahi Shimbun scheduled to be held at Yurtec STADIUM SENDAI on Wednesday 13 June, U-16 Senegal National Team, U-16 Paraguay National Team arrived in Japan on Sunday 10, while U-16 Spain National Team made their arrival on Monday 11. The three teams joined by the U-16 Japan National Team started its training in Japan.
Following their long travels, the players seemed to be fatigued, but all players worked out enthusiastically to prepare ahead of their first match on Thursday 13.
The four teams will play in a round-robin format for three days on Wednesday 13, Friday 15, and Sunday 17 to determine the winners.
Comments from Senegal National Team
Malick Daf, Coach
First of all, I would like to address our appreciation for this opportunity to participate in such wonderful tournament. It is an honour to be invited from one of the top football nation in the world. This tournament consists great teams such as Spain, Paraguay, and the host nation Japan. Our team will be representing Africa, and I hope our players will learn so many through this tournament. We are amazed by the hospitality provided by the Japanese people. I think this tournament will be a great tournament, and we are very happy to be a part of it.
MF #18 Pape Matar Sarr (Génération Foot)
We came to Japan to win this international title, that is our goal. We hope to perform to our full potential and take home the trophy to Senegal. We have not seen how the U-16 Japan National Team plays, but they were very polite, so we are looking forward to seeing them play. I also hope that both of our national teams will do well in the World Cup.
FW #10 Mouhamadou Moustapha Diaw (Diambars FC)
I came to Japan for the first time to participate in this tournament. We hope to take home the title back to Senegal. Also, we hope to get a good preparation for the African U-17 Championship qualifiers in September.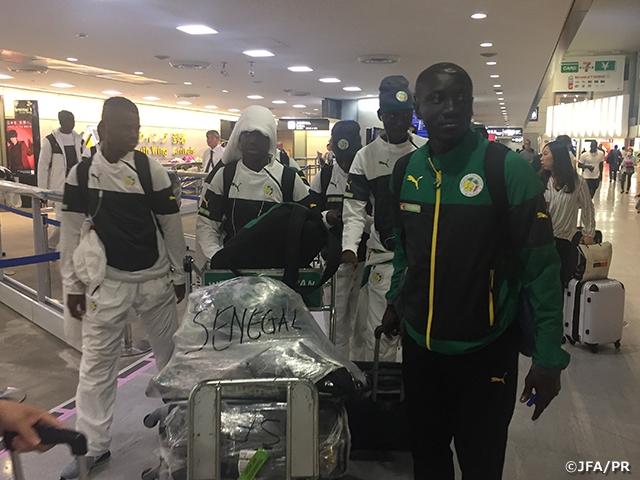 Comment from Paraguay National Team
Carlos Humverto Paredes Monges, Coach
We are thankful to be invited to a wonderful tournament such as the U-16 International Dream Cup. Top-level teams are participating in this tournament. Spain consists great potential in all age categories, while the Japanese team are very discipline and very well organised. Senegal has many players with great physical abilities and they are one of the teams who has put in lots of effort in youth development over the recent years. All teams consist with different character, and we hope to display each of our colour in this tournament. Many of the Paraguayan players has very little experience playing in international tournaments, so this tournament will serve as a measuring stick for us to find out where we stand in the world. The trip to Japan was very long and the players are exhausted, but I gave my players a load of training today, so their condition should improve by tomorrow. For me, it is my sixth time visiting Japan, including the time I arrived in Japan for the 2002 World Cup. Japan is a wonderful country, and I am looking forward for the stay.
Comments from Spain National Team
David Gordo, Coach
This is my second time visiting Japan, but even more so than I felt last time, I feel that Japan is a wonderful country. Japan is difference compared to Spain, and it seems like the country is constantly changing. Japan is one of the most amazing counties in the world. The players are very enthused and excited for the tournament. We've only been able to train twice, so I can't say for sure how the condition of the team is looking, but I believe in our players abilities and quality. I am convinced that this tournament will give our players great experience and that the it will be a wonderful tournament.
GK #1 Ivan Martinez, (CA Osasuna)
This is my first time visiting Japan. It is very different compared to Spain, and I am very surprised by the cultural difference. The city looks clean and the people seems very nice. Our team atmosphere is very positive. We haven't been able to train much as a team, but each player is talented, and they have trained with high intensity ahead of this tournament, so we should be in good shape.
FW #10 German Valera (CD Roda)
We are a bit tired from the long travel, but we will do our best in each and every match. We have each trained hard individually, so we should be in good condition as a team.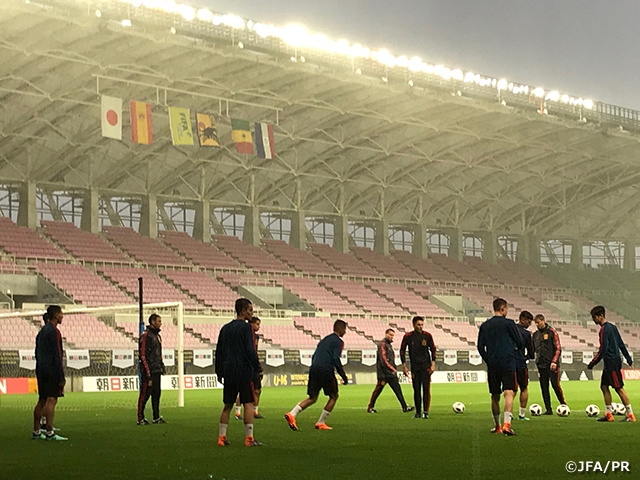 Wed. 13, Fri. 15, Sun. 17 June 2018 [Free Admission]
Japan/Senegal/Spain/Paraguay
Yurtec STADIUM SENDAI, Miyagi