NEWS
Paraguay National Team holds training session ahead of match against Japan
12 June 2018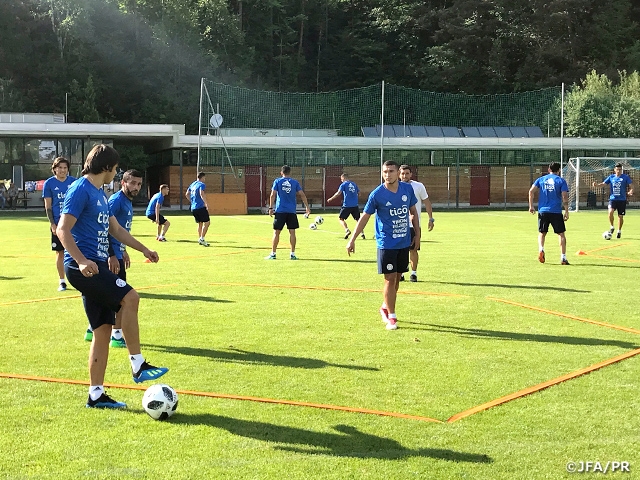 Ahead of their international friendly match against the SAMURAI BLUE (Japan National Team) at Tivoli Stadion, Austria on Tuesday 12 June, the Paraguay National Team arrived at Austria on Friday 8, and started its training session on Saturday 9.
On Sunday 10, the third day of their stay, the team held their training session under a cosy atmosphere, where the players went through a thorough warmup drills before conducting shooting drills and game format drills to go over their transitions between offence and defence.
The match is scheduled to kick-off today, Tuesday 12, at 15:05 (22:05 Japan time).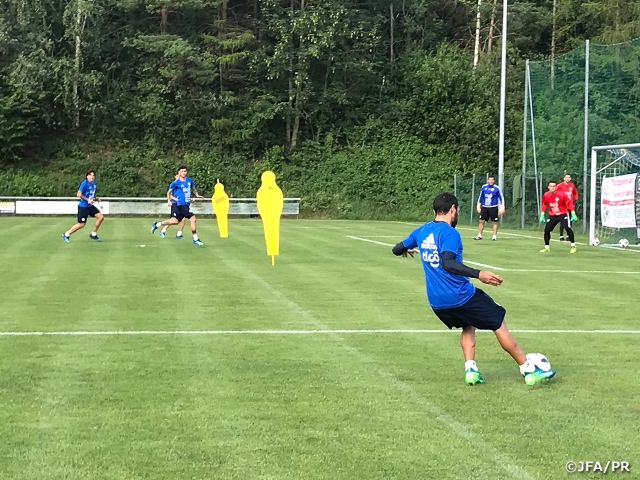 Comments from Paraguay National Team
Gustavo MORINIGO, Coach
Japan is a very high-level team. Their development over the recent years has been remarkable. They have many players who plays for top teams in Europe, allowing them to integrate the styles of Asia and Europe into their playing style. I believe they can earn great results at the World Cup. Our team has taken a step towards rejuvenation, and the average age of our team is 25 years old. It is unfortunate that we are not participating in this year's World Cup, but we are constructing the team with the hopes towards the future. We have many players with great potential, so we hope to join Japan in the next World Cup.
Justo Villar, Player
It is an honour to face the Japan National Team who is participating in the FIFA World Cup Russia. We have faced Japan many times in the past, but the match we played in the 2010 World Cup at South Africa was the most memorable one. This match against Japan will be my last match as a member of the Paraguay National Team. For us, Japan is a great rival and a wonderful friend. We hope the very best for Japan in the World Cup.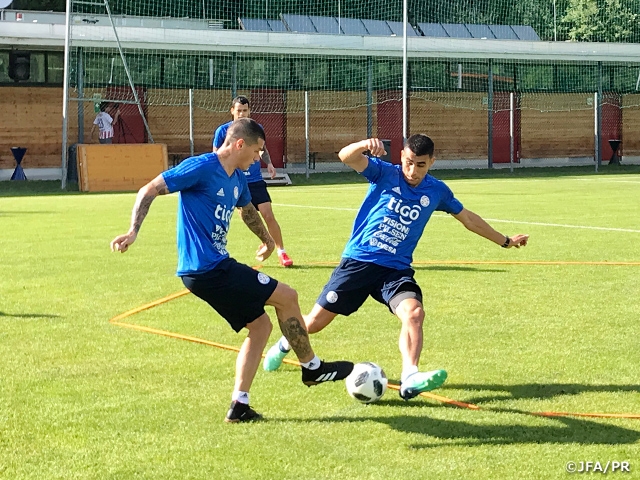 Schedule
Mon. 11 June
PM
Official Training/Official Press-conference
Tue. 12 June
15:05
International Friendly Match
SAMURAI BLUE vs Paraguay National Team (Tivoli Stadion)
*Local Time
*The schedule is subject to change due to the team condition, the weather, etc.
International Friendly Match
Tue. 12 June 2018 Kick-off time 15:05 (22:05 Japan time)
SAMURAI BLUE vs Paraguay National Team
Tivoli Stadion (Innsbruck, Austria)
Tournament Information