NEWS
Chairman of Education Committee of Football Federation Islamic Republic of Iran visits Japan
30 March 2018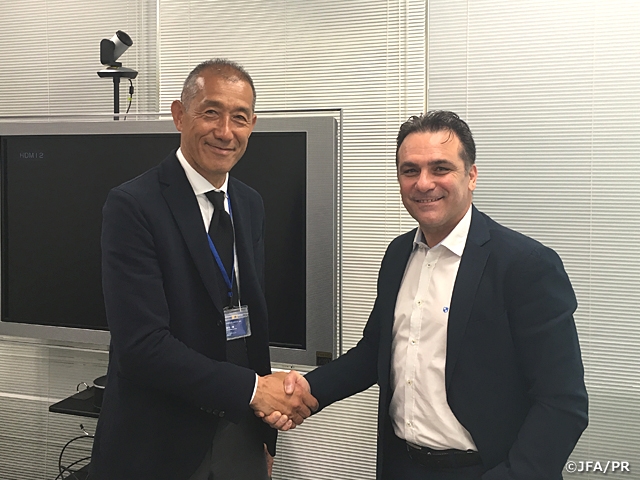 After Japan Football Association (JFA) had renewed its partnership with Football Federation Islamic Republic of Iran (FFIRI) last June, Dr. Mirshad Majedi, the Chairman of Education Committee of FFIRI paid a visit to Japan from Firday 16 March to Wednesday 21 March.
With Japan and Iran being two of the most advanced Asian countries in football/futsal, this visit to Japan was aimed to observe and exchange opinions on the overall structure of the Japanese coaches training. During his visit, Dr. Majedi observed the JFA C-licence refresher course at the Matsushima Football Centre in Miyagi prefecture, where a discussion was held with JFA Coaches Training Director SUZUKI Jun and JFA Instructor ONO Takeshi. The Iranian Chairman was then taken to observe the Meiji Yasuda J1 League game between Urawa Reds and Yokohama F Marinos, followed by a lecture and discussion held at the JFA House by JFA Coaches Training Assistant Director MOCHIZUKI Kazuyori, JFA Futsal Technical Director KONISHI Teppei, and other JFA staff members who are involved in coaches training.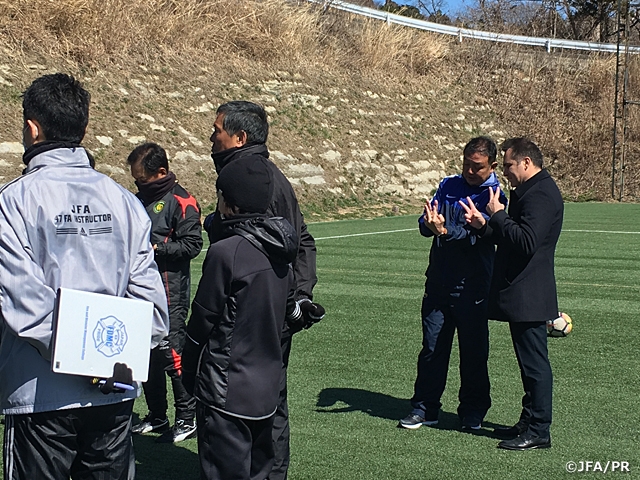 Comment
Dr. Mirshad Majedi, Chairman of Education Committee of FFIRI
During this visit to Japan, I was able to observe the actual refresher course at the Matsushima Football Centre and hold discussions with many JFA staffs. I was given the opportunity to learn about the measures taken by the JFA on coaches training, and I am very satisfied with this trip. The staffs of JFA presented me with a great learning experience as they displayed enormous amount of enthusiasm towards football/futsal while their discipline and dedication were also impressive. I will take back what I have learned here in Japan to further improve the coaches training division of FFIRI. We will also continue our efforts to deepen the relationship between FFIRI and JFA to further develop football/futsal in both countries.