NEWS
Ghana Women's National Team arrives to Japan ahead of MS&AD Cup 2018
29 March 2018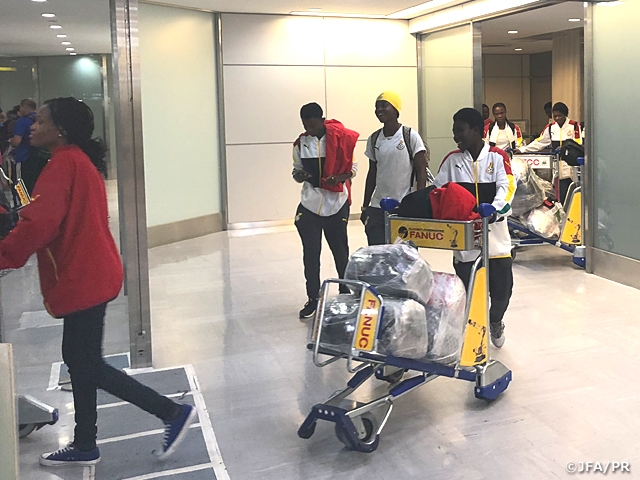 On the evening of Wednesday 28 March, Ghana Women's National Team arrived to Japan ahead of their match against Nadeshiko Japan at the MS&AD Cup 2018, scheduled to be played on Sunday 1 April at Transcosmos Stadium Nagasaki.
First Secretary and Consular NANA KWABENA AMAGYEI from the Embassy of the Republic of Ghana in Japan welcomed the team at Narita International Airport, who then delivered words of encouragement after the team had moved to their hotel. The team will travel to Nagasaki, where the match will take place, on Thursday 29 March.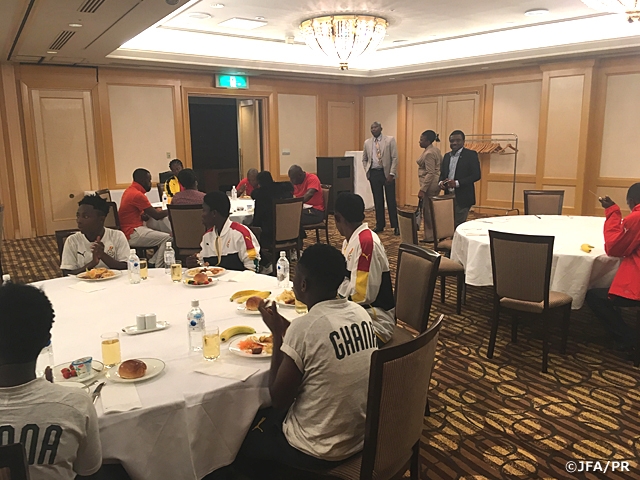 Coach's and Players' Comments
MERCY TAGOE-QUARCOO, Coach (Ghana Women's National Team)
We are very honoured for this great opportunity. Japan is a wonderful country and the people here are full with hospitality. I've always dreamed of visiting Japan, so it is a dream come true for me to be here. Unfortunately, I haven't been able to watch the recent matches of Nadeshiko Japan, but I watched the match between U-20 Japan Women's National Team and U-20 Germany Women's National Team. The Japanese side showed their dominance in that match, while displaying brilliant plays. Sunday's match will serve as an important match for Nadeshiko Japan ahead of the AFC Women's Asian Cup, and I am expecting them to come out strong. We are also in preparation ahead of the 2018 CAF Africa Women Cup of Nations scheduled to be held in Ghana. I think Nadeshiko Japan is in a great form right now, so we would like to use this opportunity to prepare and strengthen our team.
PRISCILLA OKYERE (Ghana Women's National Team)
It is my first time visiting Japan, but I have watched many movies of Japan so I have such a positive image about the country. I've always wanted to visit Japan so I am very grateful to be given such an opportunity. I have played against the U-17 Japan Women's National Team in the quarterfinals of the FIFA U-17 Women's World Cup in 2012. At that match, we have won against Japan, so I don't necessarily think that they are a team above us. It will be my first time facing them in the top flight Women's National Team, but I hope to play like we did in 2012. I am looking forward to play well, and hopefully it will be a great match. I would like to utilise this opportunity to further develop my abilities and stay with the National Team as much as possible.
MS&AD Cup 2018
Sun. 1 April 2018 kick-off 13:30
Nadeshiko Japan (Japan Women's National Team) vs. Ghana Women's National Team
Nagasaki/Transcosmos Stadium Nagasaki
Tickets are on sale now! For ticket information (Japanese website)
For more information on MS&AD Cup