NEWS
Japan Futsal National Team win first game against Mongolia 5-1 ~AFC Futsal Championship 2018 Qualifiers
05 November 2017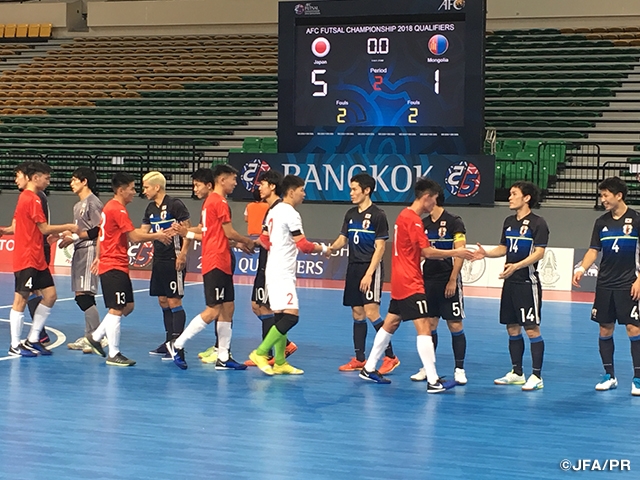 AFC Futsal Championship 2018 Qualifiers
First Match vs Mongolia Futsal National Team
4 November 2017 (Sat.) Kick-off 14:30 Playing time 40min.(20min.×2)
Bangkok Arena (Bangkok, Thailand)
Japan Futsal National Team 5-1(2-0, 3-1)Mongolia Futsal National Team
Scores
3'  SHIMIZU Kazuya(Japan Futsal National Team)
11' SHIMIZU Kazuya(Japan Futsal National Team)
25' NIBUYA Kazuhiro(Japan Futsal National Team)
29' goal against(Mongolia Futsal National Team)
34' MORIOKA Kaoru(Japan Futsal National Team)
37' WATANABE Tomoaki(Japan Futsal National Team)
Starting Line-ups
GK:SEKIGUCHI Yushi
FP:SAITO Koichi, MUROTA Yuki, YOSHIKAWA Tomoki, SHIMIZU Kazuya
Reserves
FP:HOSHI Shota, WATANABE Tomoaki, MINAMOTO Akira, MAEDONCHI Matias Hernan, UCHIMURA Shunta, NISHITANI Ryosuke, MORIOKA Kaoru, NIBUYA Kazuhiro
Match Report
Japan Futsal National Team, who are currently competing in the AFC Futsal Championship 2018 Qualifiers, faced Mongolia in the first match of the group stage. Encouraged by the Japanese supporters who came to Bangkok Arena and created a home-like atmosphere, Japan scored just three minutes into the game. SHIMIZU Kazuya received a pass in front of the goal from SAITO Koichi and fired in a powerful right-footer on the turn with a marker on his back to net an opening goal of the match. In the 11th minute, Shimizu doubled the lead after reacting to a corner kick and tapping in this time with his left foot. The Japanese squad took the two-goal advantage at halftime.
After 25 minutes, NIBUYA Kazuhiro on the left played a wonderful give-and-go with MORIOKA Kaoru in the centre and fired home directly into the Mongolian net to extend the lead 3-0. Despite taking control of the match, Japan struggled to score thereafter and allowed the opponents to strike back. From a quick counter-attack, Mongolia broke through the Japanese defence on the right side to score their first goal of the game.
Japan's dominance did not change even after they conceded a goal and restored a three-goal lead in the 34th minute. Morioka fired in a strong volley with his right foot from a corner and took the game beyond the reach for the Mongolian side. To put the icing on the cake, WATANABE Tomoaki added another goal on 37 minutes, and Japan grabbed a convincing 5-1 win over Mongolia 5-1 and earned three points in their opening match of the AFC qualifiers.
Japan Futsal National Team will meet Macau for their second group-stage match at 17:00 (local time) on Sunday 5 November.
Coach's and Players' Comments
Bruno GARCIA, Coach (Japan Futsal National Team)
It was great that we earned three points. Winning the first match against Mongolia was crucial for us to go through the qualifiers. We displayed our style of play and dominated the match, but I cannot say that everything went well against the side that defended solidly and waited for their chances to hit on the counter. I expect the match against Macau will be similar to the one against Mongolia. They are not easy opponents. However, we will try to earn three points by playing with better focus than today.

FP #5 MINAMOTO Akira (FUCHU ATHLETIC F.C.)
The first game in a championship is always difficult. We couldn't perform as expected, but earned three precious points, which will help us in getting through the qualifiers. In addition, each player was given about the same playing time, and this, I believe, will be an advantage for us to play as a team. We will try to fix our problem areas, such as the timing of initiating attacks or reacting to the opponents' kick-ins, in order for us to earn three points against Macau tomorrow.
FP #6 YOSHIKAWA Tomoki (NAGOYA OCEANS)
Our first game was very tough. The first half ended 2-0, but we struggled to display our own playing style. In the second half, I believe that we showcased our style both in attack and defence. Our priority is to win the two coming games. Furthermore, we are also looking to improve by competing together as a team.
FP #10 NIBUYA Kazuhiro (VASAGEY OITA)
We were devastated that we failed to book a place in the World Cup in the AFC Futsal Championship last year. We were looking to avenge that feeling of disappointment in today's match. It was a very difficult game, but I am very pleased that we won it. We will make a good preparation in order to grab a win tomorrow as well.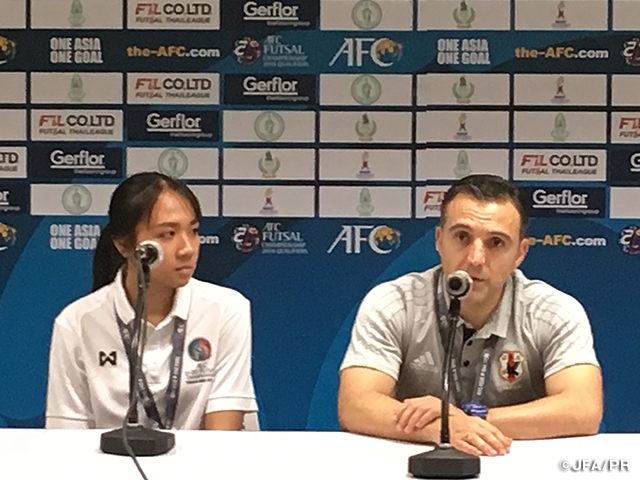 Schedule
AFC Futsal Championship 2018 Qualifiers (East Zone)
Sat. 4 November
5-1
vs Mongolia (Bangkok Arena)
Sun. 5 November
17:00
vs Macau (Bangkok Arena)
Mon. 6 November
14:30
vs Chinese Taipei (Bangkok Arena)
*Playoff Match (only if Japan finish second in the group stage)
Wed. 8 November
12:00
Playoff (Bangkok Arena)
*The schedule is subject to change due to the team condition, the weather, etc.