NEWS
TEGURAMORI: We show capability for Rio and hopes for devastated area - ahead of U-23 Japan National Team vs Ghana on 11 May
11 May 2016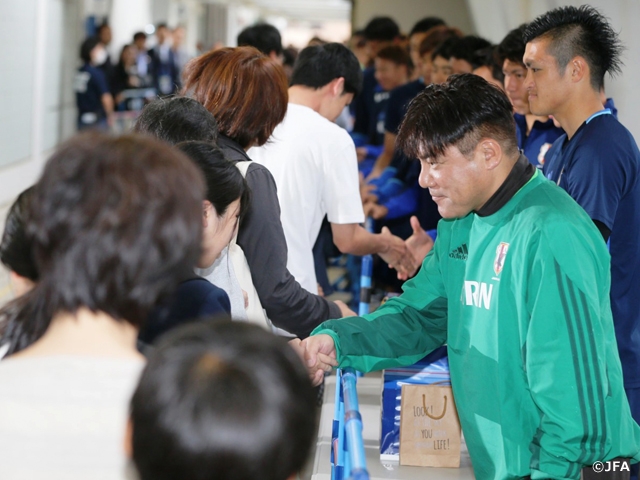 U-23 Japan National Team, who will play the Rio de Janeiro Olympics, had the final tune-up session on Tuesday 10 May at the match site Best Amenity Stadium in Tosu, Saga ahead of the "MS&AD CUP 2016 – Charity matches for Kyushu and Kumamoto earthquakes "Ganbarubai Kumamoto" against Ghana National team.
Japan coach TEGURAMORI Makoto showed his determination for the contest at the official press conference, saying "we've got to show our capability for Rio and make the match that delivers hopes to people in the devastated area."
In torrential rain, the players were placed at each position and went through build-up moves as midfielder TAMEDA Hirotaka (Avispa Fukuoka) joined the team on the previous day in place of an injured player. And then, the squad worked on an 11-on-11 game and set pieces.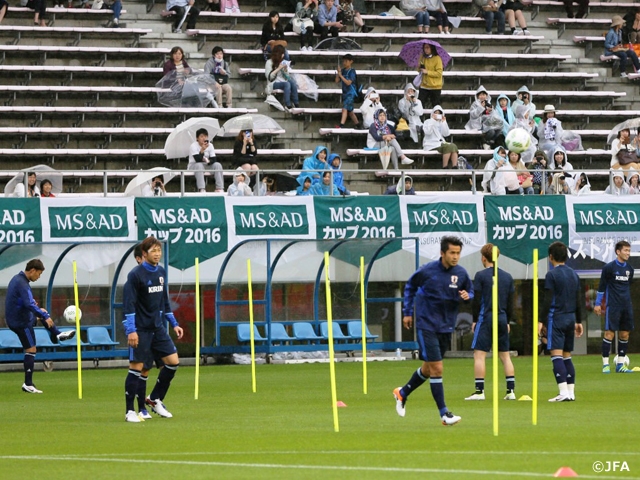 It will be their first time playing against African countries under Teguramori, and the Ghana match is set for a training match simulating Nigeria, whom Japan face in their opening match of the Olympics. It is a precious opportunity for the players to showcase themselves in an actual match to get a squad spot for the upcoming quadrennial event.
Ghana National Team also had the official training at the match site on the same day and showed lively moves.
Teguramori said, "Ghana brought a very good line-up of many stars from the domestic premier league. It's going to be a pretty tough match. We will try to control the game, and I want my players to experience what gets through and what to be amended to improve."
Midfielder YAJIMA Shinya (Fagiano Okayama) said, "they've got unique characteristics like their leg reach on defence. I will try to check out such things."
All the squad and coaching staff members including coach Teguramori joined a fund-raising activity at the stadium to support the reconstruction from the devastated Kumamoto Earthquake. And approximately 100 people visited the practice open to public despite the rainy condition and donated 114,182 yen in total.
Kumamoto native defender UEDA Naomichi (Kashima Antlers), who responded to visitors with words of thanks and smiles together with his teammates, said, "I appreciate they came here in spite of the bad weather. For the sake of people who cheer from Kumamoto, I need to show winning attitude and give them courage. I'll do my best."
Before the kick-off on Wednesday 11, JFA Vice-President OKADA Takeshi and Kumamoto's popular mascot character KUMAMON will show up for another fund-raising activity at the JFA charity booth near the north gate of the stadium. All proceeds will be used for relief efforts for Kumamoto's reconstruction.
The match is scheduled to kick off on Wednesday 11 at 19:15.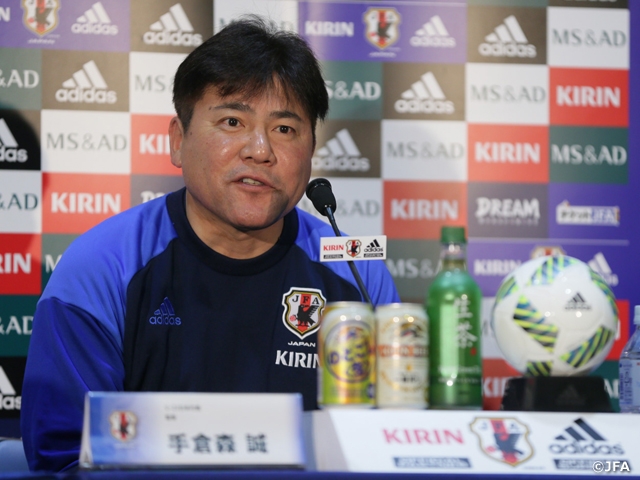 Coach and Players' Comments
TEGURAMORI Makoto, Coach (U-23 Japan National Team)
When you play against teams in the world, you should keep up aggressive challenges and a way of defence with battling spirit. You can't get through in the world if you relay too much on finesse individual skills, so you need to have attacking options in hand in case you can't break through opponents in beautiful fashion.
We consider Ghana as hypothetical opponents of Nigeria and will try to experience opponents' physical trait and lithe movement as well as long reach legs. And hopefully we can adjust their play and find a gap in their defence during the match. We also try to feel and think with our head and then go all out to win.
I told my players "we've got to show our capability for Rio and hopes for the devastated area. Once you have a solid grasp on the expectations and battle it out with the expectation, you can always get something that helps you grow." As a Japanese representative and as a human being, I will show such a feeling on the pitch together with the players.
DF #5 UEDA Naomichi (Kashima Antlers)
Ghana have got outstanding physical strength. I think we can experience what we can't in Japan. We will keep that in mind and get results as it is a good simulation for playing against African teams at the Olympics. (When I delivered relief supplies to Kumamoto,) everyone worried about me even though I was the one who was supposed to give courage. Many people said to me "Good luck in the finals," and I was conversely encouraged. I will feel the happiness playing football and get results for the people cheering us as well.
MF #19 IDEGUCHI Yosuke (Gamba Osaka)
Ghana are definitely fast and intense on the ball, so I will try to cope with it not to be beat with a single move. And on offence, I will also try to create a game and send a final pass. (In terms of player selection,)To be competitive and win, I hope to showcase that I can play even against an African team.
MF #10 YAJIMA Shinya (Fagiano Okayama)
I think the opponents got high physical abilities and are strong on 1-on-1 situations, so I want to think carefully and find space in one way or another. When the match goes to a contest where both teams play on counterattacks, the opponents are faster. It's important to play compact and have a common understanding as a team such as calling out each other. We've got injured players and there are some changes, but I'm good at cooperating with others. I don't really worry.
DF #2 VAN WERMESKERKEN Sai (FC Dordrecht/Netherlands)
I want to take advantage of the chance for this U-23 call-up. I have a lot of opportunities to face African-born players in Holland and there may be a level difference in body sizes and speed between Dutch division two and Ghana National Team. But whether we should force them to go, inside or outside, and which way we should go with, making them have the ball or kick the ball behind defenders, we need to look closely at the opponents' characteristics and make a decision.
Maxwell KONADU, Coach (Ghana National Team)
I'm very happy to come to Japan, and we see the match as really important as our technical director also accompanies with us. This team have high quality players. Tomorrow, we will try to play a match to live up to people's expectations.
JFA-TV (Japanese version only)
Schedule
Mon. 9 May
PM
Training
Tue. 10 May
17:30

Official training(@Best amenity Stadium)*Open to the public

From 16:30 to 17:00 at multiple locations on the stadium
concourse level, all the players selected and team staff including
coach TEGURAMORI Makoto will make an appearance to collect
donations for the Kumamoto earthquake reconstruction support.

Wed. 11 May
19:15
MS&AD CUP 2016
–Charity matches for Kyushu and Kumamoto earthquakes
"Ganbarubai Kumamoto"–
vs Ghana National Team(@Best amenity Stadium)
MS&AD CUP 2016– Charity matches for Kyushu and Kumamoto earthquakes "Ganbarubai Kumamoto" –
U-23 Japan National Team vs Ghana National Team
2016-5-11 (Wed.) - 19:15 (subject to change)
Saga/Best amenity Stadium
Live broadcasting across Japan by fuji-tv
Ticket now on sale ! (Japanese version only)