NEWS
U-23 Japan National Team beat Ghana 3-0
12 May 2016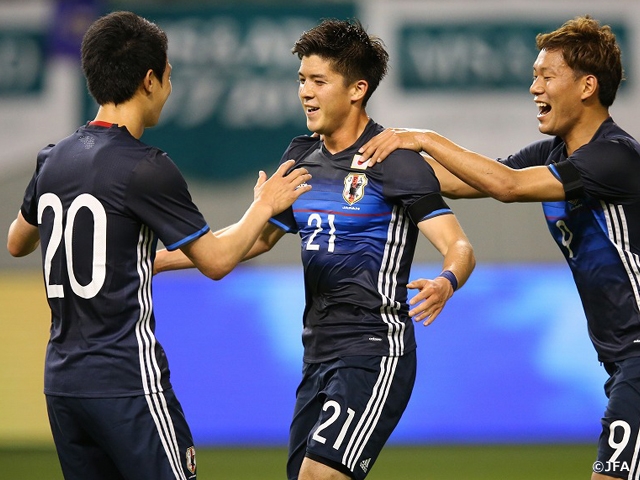 The U-23 Japan National Team, who are now in process of building up the team for the Rio de Janeiro Olympics , faced Ghana National Team at Best Amenity Stadium in Tosu, Saga in the "MS&AD CUP 2016 – Charity matches for Kyushu and Kumamoto earthquakes "Ganbarubai Kumamoto". Midfielder YAJIMA Shinya scored a brace and forward TOGASHI Cayman netted a goal in his first international appearance as Japan beat Ghana 3-0.
In the matchup against the African powerhouse simulating their Olympic counterparts Nigeria, Japan coach TEGURAMORI Makoto brought in KUSHIBIKI Masatoshi as the goalkeeper, ITO Yukitoshi, UEDA Naomichi, NARA Tatsuki and KAMEKAWA Masashi on defensive line, new face HASHIMOTO Kento and OHSHIMA Ryota as anchors and NOTSUDA Gakuto at right midfield and Yajima at left. Togashi and ASANO Takuma were placed upfront.
Japan went aggressive on offence from the start as Yajima opened the scoring with his right foot after receiving a pass from Oshima in the 11th minute.
Four minutes later, Japan connected a pass from a free kick earned at midfield and sent it to the right flank. With Ito providing a right cross, Yajima found the back of the net again with his right-footed volley.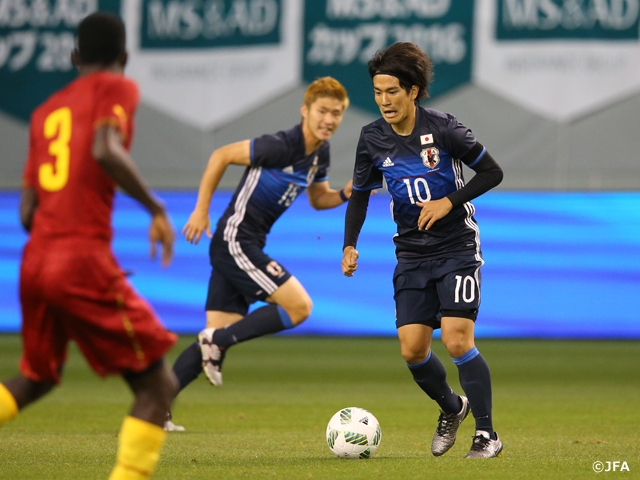 Japan maintained the initiative by pressing upfront and winning the ball with swift attacking. In the 26th minute, Nara tried to get his team's third goal by heading a corner kick.
Japan's third goal of the game came in the 30th minute. Asano picked up the opposition's clearance and sent it to Togashi, who composedly reacted to the goalkeeper's move to chip-kick it to the back of the net.
Japan kept attacking even with the three-goal lead, and Togashi in the 33rd minute took the ball up by himself for a strike only to see it denied by the goalkeeper.
Ghana, mainly composed of young players, attempted to move the ball to build up. They, however, were not as quick as they normally are and often lost the balls partly due to the fatigue from their long trip to Japan. Their biggest chance in the 35th minute was created by midfielder Samuel TETTEH, who took the ball on the right and penetrated into the middle for a shot. But Japan's goalkeeper Kushibiki put it down.
In the second half, Japan replaced four players with goalkeeper SUGIMOTO Daichi, forward KANAMORI Takeshi, defender IWANAMI Takuya and midfielder IDEGUCHI Yosuke. 14 minutes after that, while Oshima subbed out, midfielder MAEDA Naoki came on and took the right winger position, Notsuda moved to the left and Yajima manned one of the anchors.
Yet, Japan repeatedly made ball control mistakes and their shots were off target as well.
On the other hand, Ghana started showing their aggressiveness in the second half. In the 68th minute, Tetteh dribbled from the left flank to right and forward Richard ARTHUR threatened Japan's goal in the end of the play.
Eventually, Japan's breakdown was not serious enough to lose their overall control of the match. Even though their effort did not materialise, Notsuda and Togashi went close to Ghana's goal near the end of the match. The defence also maintained the clean sheet even with the different line-up in the second half.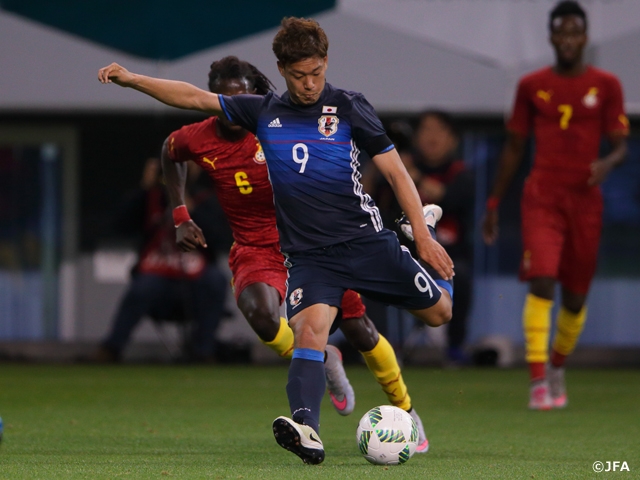 Before the match started, JFA's Vice President OKADA Takeshi and J.League's Vice President HARA Hiromi with Sagan Tosu players and Kumamoto's popular mascot KUMAMON showed up in front of fans to collect donations for the Kumamoto earthquake relief efforts, which amounted 1,089,255 yen. All the operating profits of the match also will be donated for the use for the people affected.
The next event scheduled for the U-23 Japan National Team is the Toulon International Tournament to be started in France on Wednesday 18 May.
Coach and Players' Comments
TEGURAMORI Makoto, Coach (U-23 Japan National Team)
As we came out for this match to dedicate a win to the people affected by the disaster, my players understood our intent well and exhibited it on the pitch. Right before they got on the pitch, I said to them "we got over our own struggles. For the people who are experiencing their struggles right now, we got to be a light of hope. Show them your spirit." Then they got right into their top gear from the beginning and scored three in the first half. I think that was their spirit. We got a little slower and weaker in the second half, but in the first half they played very aggressively. They didn't back down from the physical contacts and it turned out to be a good training for us. We keep doing it at the Toulon International Tournament and getting ready for the Olympics.
MF #10 YAJIMA Shinya (Fagiano Okayama)
We started off on a good momentum in the beginning, and kept holding on to it by scoring two goals early. We had a clear game plan as a team to put pressure on the ball up front and send long balls forward to play in their end. I think it worked well.
FW #21 TOGASHI Cayman (Yokohama F・Marinos)
The goal was exactly as I envisioned. I thought the ball would come to me so I was waiting for it. Then it came to me. So all I had to do was just put it in. But I had another similar opportunity like that, and if I had touched the ball first, I could have scored the second goal. I couldn't do it, so that shows how good or bad I am now. In the second half, I felt fatigue in my legs, and the quality of my plays got stagnant. So I think I found my new assignments today.
DF #5 UEDA Naomichi (Kashima Antlers)
It was good that we could give a win to the Kumamoto area in the middle of disaster. And as a defender, it was good that we could hold them scoreless. But we were supposed to keep the momentum of the first half onto the second but we couldn't. So that gives us a new assignment. We take advantage of this new lesson for our upcoming future. Nigeria play at a really high level, so I felt today that we need to improve even more.
FW #16 ASANO Takuma (Sanfrecce Hiroshima)
It was disappointing that I couldn't score a goal, but it was good that we were able to show our win and smiles to the people supporting us and people in Kumamoto. African players have their long legs stretching to us on the ball and at the end of every play. So we need to feel it and go around that. Otherwise injuries may take place. When the level of opponents gets higher, it will be even more difficult for us to play. I want to remember that even when I play with my own club.
Maxwell KONADU, Coach (Ghana National Team)
Japan were very organised, calm and very skilled as well. We tried to set our defence quickly, but Japan kept putting pressure on us very early and we lost our balance. We started playing well in the second half, but it was too late.
OKADA Takeshi, the Vice President of the Japan Football Association
We thought we wanted to do something to help people in Kumamoto. Kids brought their 10 yens and 20 yens to donate with us, and they are so priceless. Speaking of the match, I could watch without worrying about it because the team were showing effective transitions between offence and defence. They were stable and showing what they can do. I thought they were coming together into a good team.
Schedule
Mon. 9 May
PM
Training
Tue. 10 May
17:30

Official training(@Best amenity Stadium)*Open to the public

From 16:30 to 17:00 at multiple locations on the stadium
concourse level, all the players selected and team staff including
coach TEGURAMORI Makoto will make an appearance to collect
donations for the Kumamoto earthquake reconstruction support.

Wed. 11 May
3-0
MS&AD CUP 2016
–Charity matches for Kyushu and Kumamoto earthquakes
"Ganbarubai Kumamoto"–
vs Ghana National Team(@Best amenity Stadium)
MS&AD CUP 2016– Charity matches for Kyushu and Kumamoto earthquakes "Ganbarubai Kumamoto" –
U-23 Japan National Team vs Ghana National Team
2016-5-11 (Wed.) - 19:15 (subject to change)
Saga/Best amenity Stadium
Live broadcasting across Japan by fuji-tv