NEWS
U-23 Japan National Team kicked off their training camp in preparation for the match against Ghana
10 May 2016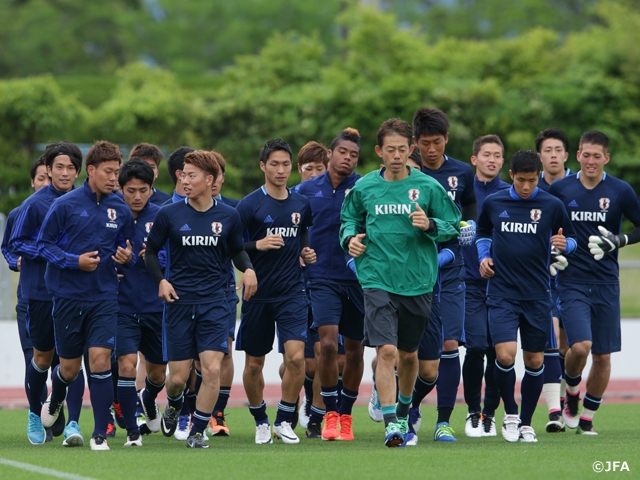 On 9 May, the U-23 Japan National Team launched their training camp in Saga for the match against Ghana on 11. The match is called "MS&AD CUP 2016 – Charity matches for Kyushu and Kumamoto earthquakes "Ganbarubai Kumamoto".
The U-23 Japan National Team, who has been in the process to strengthen the team for this summer's Olympics in Rio de Janeiro, this match is regarded as an important simulation for the future Olympic match against Nigeria. Under the cloudy weather, the team's Coach TEGURAMORI Makoto said to the players: "this is our first step forward to the world's standard and it is important for the Olympics. At the same time, as a charity match, we have to encourage the people who have been affected by the Kumamoto earthquakes."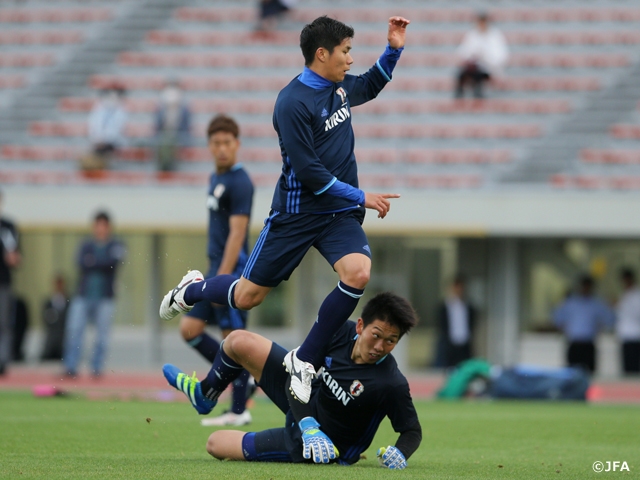 The field players divided into two groups; the players who had played a long time in J. League games on the previous day, such as forward ASANO Takuma (Sanfrecce Hiroshima), had light sessions including running and stretching exercises, whereas the others had harder sessions such as pass work, and building up to finishing with shots. Especially, forward TOGASHI Cayman (Yokohama F・Marinos), and midfielder HARAKAWA Riki (Kawasaki Frontale) looked as though they got the rhythm of play well.
On the other hand, midfielder ITO Junya (Kashiwa Reysol) has left the team due to injury he had got in the previous J. League match; he kept taking treatment in the camp accommodation being apart from the mentioned training sessions. With his departure, midfielder TAMEDA Hirotaka(Avispa Fukuoka)has been called up to the squad.
Prior to the training, a welcoming ceremony was organised by Saga prefecture. Mr. SHIRAI Makoto, chief of Saga prefecture Culture and Sports Agency stated that the team had qualified for the Olympics by winning in the final qualifier, the AFC U-23 Championship, after experiencing the training camp in the same venue. He encouraged the players: "I hope that you will believe that Saga will bring you good luck. I expect your victory. "
Mr. MIKURIYA Yasumori, Vice Mayor of Saga city, gave the team gifts of locally produced tomatoes and strawberries. The team's Coach Teguramori and UEDA Naomichi (Kashima Antlers) received these gifts in the ceremony. Teguramori then expressed enthusiasm for the training: "this place is a very important training venue to strengthen the team for the Olympic Games in Rio de Janeiro. We want to try our best to encourage the victims of the Kumamoto earthquakes." In the end, the team had a photo taking session including Mr. HARA Tsunehisa, Section Chief of Saga prefecture Sports Division and Mr. NAKAMURA, President of Saga Football Association.
The official training on 10th will be open to public at Best Amenity Stadium. The players and the other team staff including the Coach Teguramori will stand at the concourse of the stadium to collect donations for the Kumamoto earthquakes from 16:30-17:00. All the profits from this charity match will be donated to the victims of the mentioned earthquakes.
The match against Ghana will kick off at 19:15 on Wed. 11 May.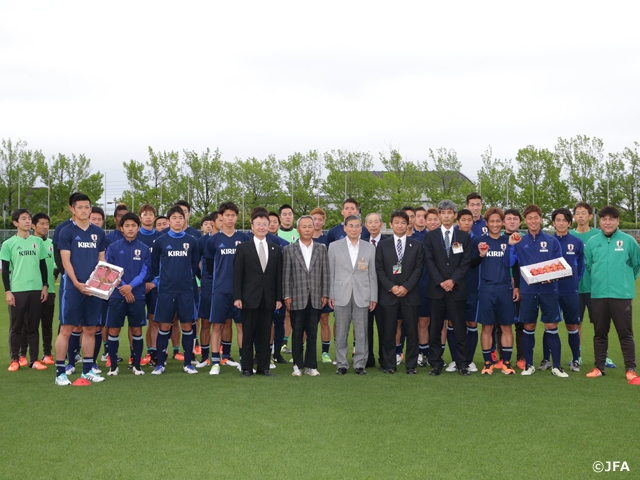 Coach and Players' Comments
TEGURAMORI Makoto, Coach (U-23 Japan National Team)
I told the players that they have to be highly motivated to promote Japan's football more, and asked them to do their best not because they had been called up, but for the Olympics and for Kumamoto. Indeed I feel high motivation from all players.
They respond to every single word I say to them, and I feel their mentality that they want to achieve something altogether as a U-23 National Team. It's like I'm also encouraged by the player first of all. There is a good competition amongst the players in this team. All of them are rivals here, but they respect each other well with a sincere hope that they can be selected when they do their best. Needless to say, I have to have very good eyes to select the best players.
FW TOGASHI Cayman (Yokohama F・Marinos)
I am honoured to be called up to the U-23 Japan National Team again. It is the best if I can score as a forward player in the team. I want to pay extra attention to my play to break through very fit defenders; the only thing I should keep chasing is to make good results since this is just the first year for me. For those who has been affected by the earthquakes, I think we can give them something by winning not only this charity match but also the future national matches. I want to keep a consistent mentality to win any future matches.
MF OHSHIMA Ryota (Kawasaki Frontale)
Ghana players seem to have longer arms and legs, so we should not be caught by their physical advantages, and we have to be very strong at times. I expect this match to be the one in which we can try various things. As a team, unity in both defence and offence is our theme. I want to pay attention to switching offence to defence and vice versa, and to intensive moments.
FW ASANO Takuma (Sanfrecce Hiroshima)
I want to keep a "challenger mentality." My club teammate Utaka, who is Nigerian, has a different figure from Japanese players, and considering that, I want to think well about what we have to do in the match against the players similar to him. If we don't share ideas how to tackle with them amongst teammates, it should be difficult to beat them, so I want to spend an effective time to prepare. Me scoring during the match is nice, but what is most important is that the team can score. I hope all supporters will enjoy and be delighted in the match.
MF HASHIMOTO Kento (F.C. Tokyo)
The camp has started, and I am even more motivated now. Ghana players are fit, so we have to keep ourselves very consistent especially at intensive moments, and this is my advantage. There are many people in Kumamoto who supported me a lot, so I just want to encourage the people by our play.
JFA-TV (Japanese version only)
Interview - TEGURAMORI Makoto, Coach

Interview - TOGASHI Cayman (Yokohama F・Marinos)

Interview - OHSHIMA Ryota (Kawasaki Frontale)
Interview - HASHIMOTO Kento (F.C. Tokyo)
Schedule
Mon. 9 May
PM
Training
Tue. 10 May
17:30

Official training(@Best amenity Stadium)*Open to the public

From 16:30 to 17:00 at multiple locations on the stadium
concourse level, all the players selected and team staff including
coach TEGURAMORI Makoto will make an appearance to collect
donations for the Kumamoto earthquake reconstruction support.

Wed. 11 May
19:15
MS&AD CUP 2016
–Charity matches for Kyushu and Kumamoto earthquakes
"Ganbarubai Kumamoto"–
vs Ghana National Team(@Best amenity Stadium)
MS&AD CUP 2016– Charity matches for Kyushu and Kumamoto earthquakes "Ganbarubai Kumamoto" –
U-23 Japan National Team vs Ghana National Team
2016-5-11 (Wed.) - 19:15 (subject to change)
Saga/Best amenity Stadium
Ticket now on sale ! (Japanese version only)