NEWS
Coach TEGURAMORI on 11 May match against Ghana "we want to accelerate shortening the roster as we develop players"
07 May 2016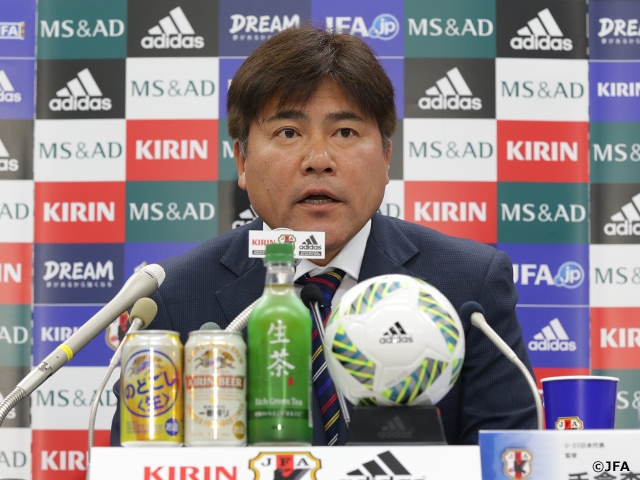 For the MS&AD CUP 2016 – Charity matches for Kyushu and Kumamoto earthquakes "Ganbarubai Kumamoto"– to be held on 11 May at Best amenity Stadium in Saga, U-23 Japan National Team coach TEGURAMORI Makoto on Friday 6 announced the 23-man squad, which includes forward ASANO Takuma (Sanfrecce Hiroshima) who had just come back from his injury.
With his eyes on the Rio de Janeiro Olympics in August being only three months away, coach Teguramori says to motivate his players "this match and the Toulon International Tournament are where we develop players and trim the squad at the same time. If you want to be a part of the core of this team, keep working hard."
To make up this squad, 15 of the players who played in the AFC U-23 Championship Qatar 2016 (Rio de Janeiro Olympics Asian Qualifiers Final Round), such as midfielder HARAKAWA Riki (Kawasaki Frontale) and defender IWANAMI Takuya (Vissel Kobe) were joined by midfielder ITO Junya and defender YAMANAKA Ryosuke from Kashiwa Reysol and forward TOGASHI Cayman from Yokohama F・Marinos.
While OHSHIMA Ryota (Kawasaki Frontale) was also back on the team from his injury, defender ENDO Wataru was not selected in consideration to the fact that his club, Urawa Reds, are in a difficult portion of their schedule including the matches of the Asian Champions League (ACL) and J.League.
The match is held at Best amenity Stadium in Tosu, Saga as a charity match to support the reconstruction efforts of the Kumamoto earthquake. The all profits will be donated for the people affected.
The official training one day prior to the match will be open to public, and from 16:30 to 17:00, the players and coaching stuff including Teguramori will make an appearance on the stadium concourse level to help collect donations.
The coach says "we want to provide energy to the region affected by showing our determination and courage to play with a big mission, our attitude to pursue victories. In the year of the Great East Japan earthquake, Nadeshiko Japan became the best team in the world. I want to instill the spirit that says 'this is our time' into the players of this U-23 team."
On Monday 9, the squad start a training camp in Saga Prefecture.
"Against such a great tem as Ghana, we can simulate Nigeria which we play against in the first match of the Rio de Janeiro Olympics. We want to find out how we should play against African teams and how much we can play."
The match is scheduled to kick off at 19:15 on Wednesday 11 May.
Comments
TEGURAMORI Makoto, Coach (U-23 Japan National Team)
With less than three months before the Olympics, at this match and the Toulon International Tournament, we will accelerate shortening the roster as we develop players. To see how big of a potential we have and how achievable our goal is in the Olympics, we want to find out how we should play against African teams and how much we can play.
In the high-temperature environment of the Olympics, it's important to switch gears effectively. We have to be a group of players who understand when we should go with full strength. In that sense, I think we need to make each one of our players be more polyvalent.
This match will be a tough match against Ghana National Team. But we want to show the affected region our resiliency in difficult stretches and attitude to pursue victories. In life, bad things sometimes happen but we humans are responsible to make it better. When I was (coaching) at Vegalta Sendai, the Great East Japan Earthquake took place. Then I felt the power of sports can bring positive elements to people.
A team of players can also show unimaginable strength when they feel the power of the people of their home country. As we already had a goal to win a medal, another big mission has been added. But I think we need that power to push us forward even further. At the world stage, we want to show the strength of people in the devastated areas, the strength of Kyushu Region, and the strength of the country of Japan. In this 90 minutes, we want to show that we are a group that are capable of doing it.
SHIMODA Masahiro, JFA National Technical Director
I would like to send my deepest prayer to the people affected by the Kumamoto earthquake. We have decided to hold this match as a charity match and donate all the profits to the affected region. We have only three months to the Olympics, and from this point on we want to let the team experience various matches and let them be in a mode to fight through an international tournament. It is a weekday in a middle of a season, and we are thankful to have Ghana National Team to play against. We would like to make it a meaningful match.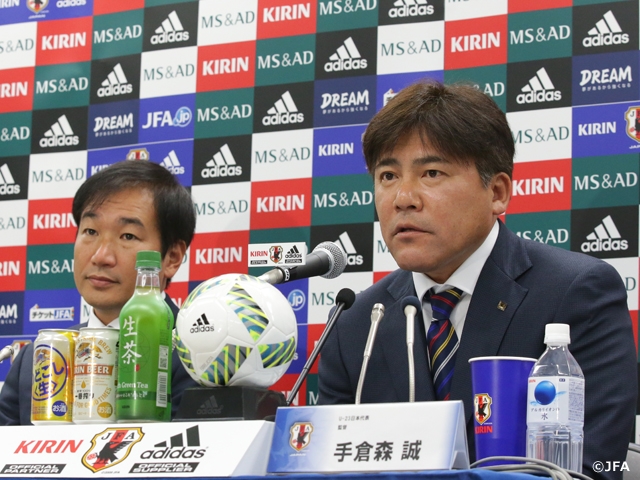 JFA-TV (Japanese version only)
MS&AD CUP 2016– Charity matches for Kyushu and Kumamoto earthquakes "Ganbarubai Kumamoto" –
U-23 Japan National Team vs Ghana National Team
2016-5-11 (Wed.) - 19:15 (subject to change)
Saga/Best amenity Stadium
Ticket now on sale ! (Japanese version only)