NEWS
U-21 Japan defeat Bangladesh in friendly
19 December 2014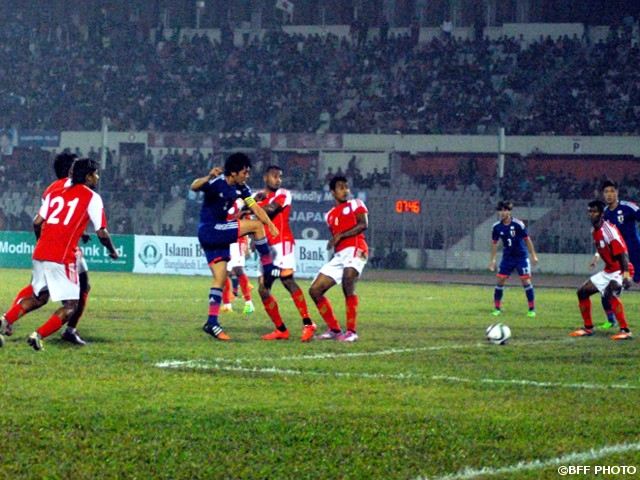 International Friendly Match (Bangladesh National Team vs Japan National U-21 Team)
Thu.18 2014 December Kick Off 17:00 Playing Time 90minutes(45minutes halves)
Bangabandhu National Stadium(Bangladesh/Dhaka)
Bangladesh National Team 0-3 (1st 0-0、2nd 0-3) Japan National U-21 Team
Scores
59min ASANO Takuma(Japan National U-21 Team)
72min MINAMINO Takumi(Japan National U-21 Team)
75min ASANO Takuma(Japan National U-21 Team)


Starters
GK:KUSHIBIKI Masatoshi
DF:YAMANAKA Ryosuke、NARA Tatsuki、IWANAMI Takuya、MATSUBARA Ken
MF:HARAKAWA Riki、ENDO Wataru、YAJIMA Shinya
FW:MINAMINO Takumi、ARANO Takuma、KUBO Yuya
Substitutes
GK:NIEKAWA Ayumi、YOSHIMARU Kenshin
DF:KAMEKAWA Masashi、MIURA Genta、UEDA Naomichi、MUROYA Sei
MF:OHSHIMA Ryota、NAKAJIMA Shoya、IDEGUCHI Yosuke
FW:ASANO Takuma、SUZUKI Musashi、ASANO Takuma
HT YAMANAKA Ryosuke → KAMEKAWA Masashi
HT KUBO Yuya → TOYOKAWA Yuta
58min ARANO Takuma → ASANO Takuma
61min YAJIMA Shinya → SUZUKI Musashi
68min HARAKAWA Riki → IDEGUCHI Yosuke
73min MATSUBARA Ken → MUROYA Sei
78min IWANAMI Takuya → MIURA Genta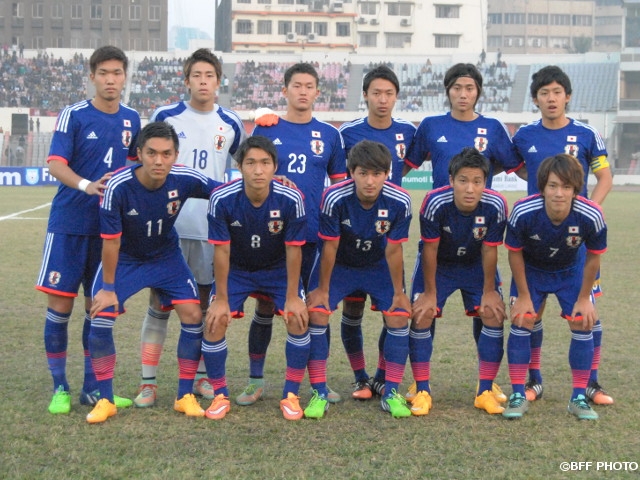 Match Report
It was the day 9 for Japan National U-21 Team in their Thailand / Bangladesh trip, and also the match day against Bangladesh National Team.
The match was kicked off at 5 p.m.. 15,000 enthusiastic Bangladesh supporters filled up the stadium and created unique atmosphere. Partly due to the unfavourable pitch condition, Japan struggled to control the ball early. In the 8th minute midfielder Harakawa Riki's cornerkick was put into the net by forward Kubo Yuya, only to be judged as offside. Japan gradually started gaining their pace, and in the 38th midfielder Endo Wataru fired a shot after receiving a pass from forward Minamino Takumi. But again, the shot was denied this time by good Bangladeshi defence. The first half ended with the score remained 0-0.
During the half time, Japan's head coach Teguramori Makoto said to his players "We are controlling this match, so we should keep our poise and keep playing well. We will finish the year 2014 with a win." In the second half, Japan started exhibiting furious attacks. In the 59th minute, forward Asano Takuma, who was just subbed in moments before, let a pass from midfielder Toyokawa Yuta into the goal to open the score. Japan finally broke down Bangladeshi defence by sticking to their offensive keys of "combination" and "third man's spurt".
Meanwhile, Japan U-21's defence led by goalkeeper Kushibiki Masatoshi and defender Nara Tatsuki kept their guards high and never allowed the opponents to break through. That enabled Japan to keep dominating the match. In the 72nd minute, Suzuki Musashi's feed was deflected by Asano and Minamino received it and fired a shot for the second goal for Japan. It was another goal won by good combination. Furthermore in the 75th minute, Minamino passed back to Asano, who struck an impressive shot to close out the match with the three-goal lead.
The whistle blew right after that and Japan concluded their Thailand / Bangladesh trip with the 3-0 win. The match was very meaningful for the Olympic qualifiers to be held in next March. The team will leave Bangladesh for home on 19 December.
Comments
TEGURAMORI Makoto Head Coach
It was a total away atmosphere and the pitch condition was not good, but our players didn't panic, kept patience and played well. As a result we won it 3-0 and that shows we controlled the match well. I am glad that this U-21 national team finish up this year with a win. During this trip, no player complained about bad environment and they showed their commitment as they took on responsibility as "cornerstones of Japan national team's future." New players showed what they could do and we will have tougher competition within our team. I think this trip ended up well for the qualifiers in next March.
FW 13 MINAMINO Takumi(Cerezo Osaka)
It was a tough condition simulated as a qualifier match, and it was good that we won a match like that. We have players up front who are capable of creating chances, so I was telling myself to get going whenever they get the ball. And I could some good combination plays. In the first half, there were some moments I stayed back and receive the ball, but in the second half, after got used to the pitch, I stayed up high and facing forward to the goal. I am happy that we won this match for the upcoming qualifiers, the last one in this year.
MF 7 YAJIMA Shinya(Urawa Reds)
It was good we as a team could have a win. But my play was better in the match against Thailand U-21. I think the reason was that I paid too much attention to the pitch condition. But those moments are really the time when I have to show my normal play, so I have to improve that.
I have had many disappointments with each generational national team, so I really want to win one. So in order to do that, I want to get called up to this U-21 team and I want to keep my focus and keep getting better.
DF 15 KAMEKAWA Masashi (Shonan Bellmare)
I had to play a different style from my own club, sometimes I didn't know what to do. But after two matches and daily practices, I could make adjustments. We didn't have many opportunities to play against overseas teams, but it didn't bother me very much.
I personally have never played in the high school championship and I had never played for a national team until I became pro. So I want to show people that player like that still can keep getting better. So for that purpose, I will keep working hard to get invited again.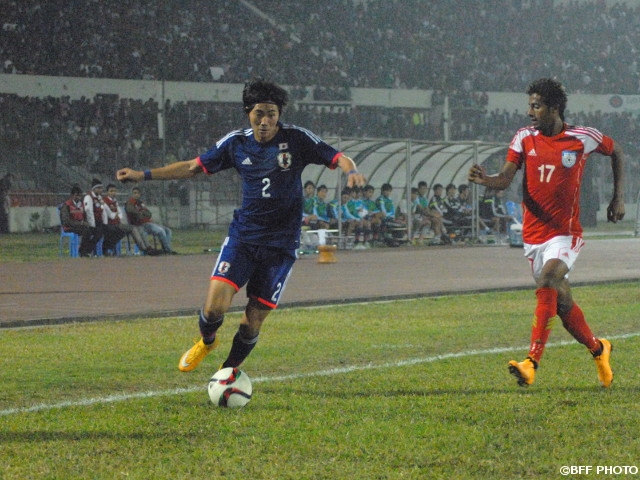 Schedule
| | | |
| --- | --- | --- |
| Thu. 11 December | PM | Training |
| Fri. 12 December | AM/PM | Training |
| Sat. 13 December | AM/PM | Training |
| Sun. 14 December | 2-0 | International Friendly Match vs. U-21 Thailand National Team(Rajamangala National Stadium) |
| Mon. 15 December | AM | Training |
| Tue. 16 December | PM | Training |
| Wed. 17 December | PM | Training |
| Thu. 18 December | 3-0 | International Friendly Match vs. Bangladesh National Team(Bangladesh National Stadium) |