NEWS
Japan U-21 squad defeat Thailand U-21 in friendly
15 December 2014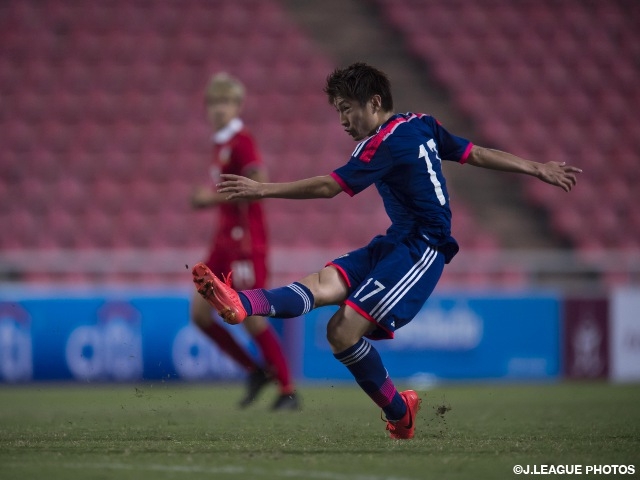 International Friendly Match(vs. U-21 Thailand National Team)
Sun.14 2014 December Kick Off 18:00 Playing Time 90minutes(45minutes halves)
Rajamangala National Stadium(Thailand/Bangkok)
U-21 Thailand National Team 0-2 (1st 0-1、2nd 0-1) U-21 Japan National Team
Scores
16min TOYOKAWA Yuta(U-21 Japan National Team)
90+min SUZUKI Musashi(U-21 Japan National Team)
Starters
GK:NIEKAWA Ayumi
DF:KAMEKAWA Masashi、NARA Tatsuki、UEDA Naomichi、MATSUBARA Ken
MF:OHSHIMA Ryota、HARAKAWA Riki、TOYOKAWA Yuta、YAJIMA Shinya
FW: ARANO Takuma、ASANO Takuma
Substitutes
GK:KUSHIBIKI Masatoshi、 YOSHIMARU Kenshin
DF:YAMANAKA Ryosuke、MIURA Genta、IWANAMI Takuya、MUROYA Sei
MF:ENDO Wataru、NAKAJIMA Shoya、IDEGUCHI Yosuke
FW:KUBO Yuya、SUZUKI Musashi、MINAMINO Takumi
HT NIEKAWA Ayumi → KUSHIBIKI Masatoshi
HT MATSUBARA Ken → MUROYA Sei
HT UEDA Naomichi → IWANAMI Takuya
HT NARA Tatsuki → MIURA Genta
HT KAMEKAWA Masashi → YAMANAKA Ryosuke
HT OHSHIMA Ryota → ENDO Wataru
HT HARAKAWA Riki → IDEGUCHI Yosuke
HT TOYOKAWA Yuta → NAKAJIMA Shoya
HT ARANO Takuma → SUZUKI Musashi
60min ASANO Takuma → KUBO Yuya
60min YAJIMA Shinya → MINAMINO Takumi
Match Report
It was finally the match day for Japan National U-21 Team on the fifth day of their Thailand-Bangladesh trip.
In the morning, the players rather silently took on body core workouts at the park near their hotel. As head coach Teguramori Makoto says "Everything we do during this trip is for the qualifiers. We are not here just to play matches." even a match day was used for the main objective of the trip, getting used to the Southeast Asian heat.
The friendly against Thailand National U-21 Team kicked off at 6 p.m.. Japan's U-21 squad, laying out 4-4-2 formation, took the early initiative in the first half. In the 16th minute after a set-piece in Thailand's end, Yajima Shinya took the ball deep in the right flank and fed a cross to the middle. Midfielder Toyokawa Yuta put it with his right-foot to the back of the net for the first goal for Japan. Later a long-distance shot by defender Kamekawa Masashi and spurts by forwards Arano Takuma and Asano Takuma all threatened Thailand, but denied by their persistent defence. The first half finished with Japan leading by one goal.
The match had the unlimited substitution rule (no re-entry allowed), so Japan started the second half with nine new players on the pitch looking to add a few more goals. Thailand also started furious attacks for an equalizer, which Japan's substituted goalkeeper Kushibiki Masatoshi stopped with outstanding saves. Thailand U-21 team also sent the total of 10 new players onto the pitch in the 55th, 61st and 63rd minutes.
As Japan gradually gained their offensive rhythm led by Asano's sharp attacking the back of defenders, in the 57th minute Japan was awarded with a penalty kick opportunity. However, Asano's attempt was remarkably blocked by Thai goalkeeper. Japan still could not extend their lead.
In the 60th minute, forwards Kubo Yuya and Minamino Takumi, who just joined the team on the previous day, replaced Asano and Yajima. By these substitutions, Japan had put all players on the roster onto the pitch in this match. Japan's offence was accelerated by fresh legs of new players, and they saw midfielder Nakajima Shoya's aggressive dribble, midfielder Ideguchi Yosuke's long distance shot and also an attacking attempt by Kubo. None of them, however, succeeded in scoring the much-awaited second goal.
Japan's defensive end had been stable thanks to leading roles by defenders Iwanami Takuya and Miura Genta and never allowed Thailand to create chances. When the match passed the 90-minute mark, forward Suzuki Musashi in the box took advantage of a pass from Kubo and his left foot calmly put the ball into the goal finally to give Japan the second goal. The whistle was blown right after that for Japan U-21 squad's first win of the trip. The final score was 2-0.
Despite accumulating fatigue due to two-a-day practices and the heat they are adjusting to, the players showed pride as Japan internationals with their crisp plays. The next match of this trip is scheduled on 18 December in Dacca against Bangladesh.
Comments
TEGURAMORI Makoto Head Coach
We changed all players from the first half into the second half, but the guys of the second half seemed trying a little too hard. But overall they all showed what we wanted to focus on as a team such as moving up quickly and fast transition from offence to defence. Especially our attempts to get the ball were much better than the match against Oman (in the AFC U-22 Championship). What we need to be careful of is sometimes we tried too hard and ended up wasting stamina and also we missed some finishes when we really needed to score. I think our players showed their pride and commitment as Japan's national team players and our team chemistry is good as well. We want to play another good match against Bangladesh on 18th to show our potential to "win a medal in the Olympics."
FW 9 SUZUKI Musashi(Albirex Niigata)
It was good that I scored the goal in the end, but I don't think I played well today. Our players in the first half played very well, so the second half line-up including myself tried a little too hard. Today's assignment was "balancing distance with each other", and we will keep working on it in practices from tomorrow and I want to score a goal again against Bangladesh.
MF 17 TOYOKAWA Yuta (Kashima Antlers)
My goal was possible because my teammates nicely set it up, so I thank them. For this match, we tried to play with the sense of pride representing our country. We tried to shoot the ball aggressively and score goals as our minimum targets, so it was good that I could score a goal.
For the rest of the trip, I will keep our team objective in mind which is to "get a medal in Rio de Janeiro," and keep trying to show what I can do. It's just one goal yet. We have another match on 18th, so I will get another goal and keep showcasing myself.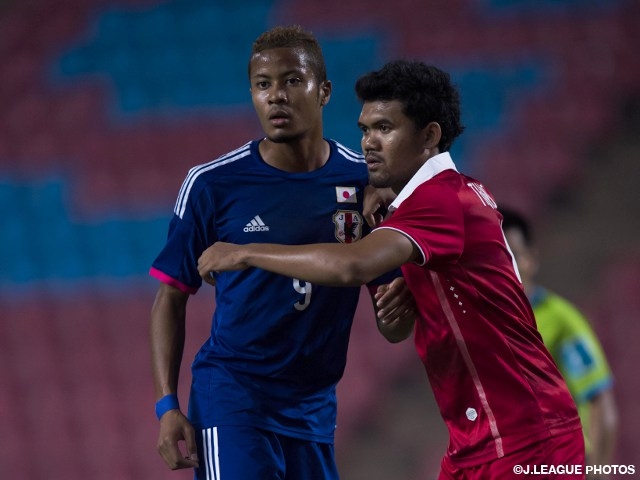 Schedule
| | | |
| --- | --- | --- |
| Thu. 11 December | PM | Training |
| Fri. 12 December | AM/PM | Training |
| Sat. 13 December | AM/PM | Training |
| Sun. 14 December | 2-0 | International Friendly Match vs. U-21 Thailand National Team(Rajamangala National Stadium) |
| Mon. 15 December | AM | Training |
| Tue. 16 December | PM | Training |
| Wed. 17 December | PM | Training |
| Thu. 18 December | 17:00 | International Friendly Match vs. Bangladesh National Team(Bangladesh National Stadium) |