NEWS
U-21 Japan National Team's activity report from Thailand and Bangladesh tour (12/13)
14 December 2014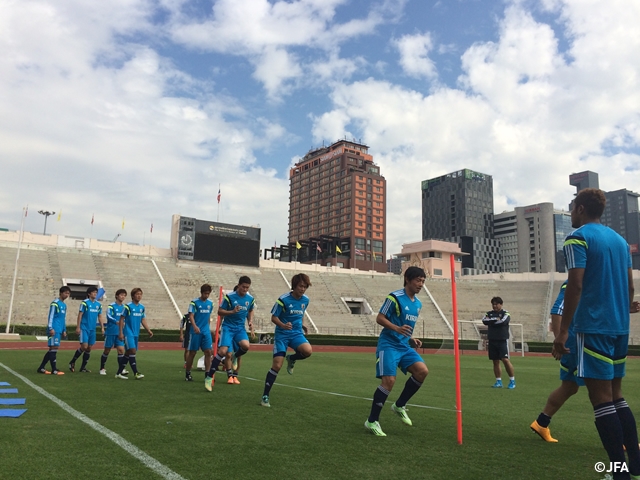 The U-21 Japan National Team had the fourth day of their Thailand and Bangladesh tour.
The temperature was colder comparing to yesterday because of a little rain before the training sessions, but the humidity was still high. The first sessions started with central core training, agility training, and then training to get familiar with this hot weather, which is one of the themes of this training tour. Then they had a series of other sessions such as passing and controlling the ball, and possession. A 6 on 6 game was also included in the sessions and they had more practical skills training comparing to yesterday.
In the evening, they had an official training session for 60 minutes at Rajamangala National Stadium, the venue of the match. KUBO Yuya and MINAMINO Takumi joined from this training and all Japanese squad players had the training together for the first time. In this official training session, they checked their offense formations and had a 9 on 9 mini game to get ready for the match against U-21 Thai National team which is on the following day. There will be the match report coming tomorrow.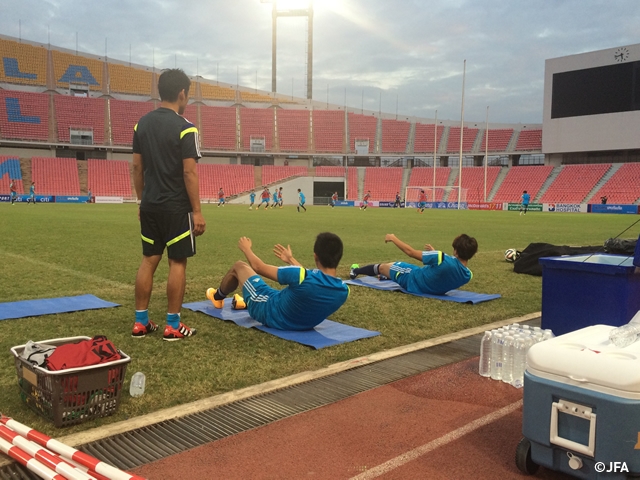 Players Comments
GK 21 YOSHIMARU Kenshin(Vissel Kobe)
It is very nice to join in U-21 squad because that was my aim after playing for U-19s. To keep playing as a squad player, I want to show all of what I have in this tour. Also I want to improve myself by asking questions to KUSHIBIKI Masatoshi and NIEKAWA Ayumi who also play in the same position. Since I am able to predict what will happen next in the game well, I just want to make good use of this ability in the match tomorrow. To be invited for the next opportunity in March next year, I will keep working hard in my everyday training, remembering what I have learned this time.
DF 2 MATSUBARA Ken (Albirex Niigata)
This time one of my aims is to improve myself as much as possible. Also I want to share what I learned when I played for the National A Team. A National Team was very different in terms of team's atmosphere and quality of practice. What impressed me at that time was that every single player had such a strong mind to win because they really hate to lose. I thought this strong mind makes difference when it comes to winning. Even though U-21 National Team players are younger and have lots to improve, I want to lead the team with other senior players such as ENDO Wataru and OSHIMA Ryota.
FW 14 ARANO Takuma (Consadole Sapporo)
I think this training tour is very important considering we have only 3 months to go before the qualifying round of the 2016 AFC U-23 Championship. It is advantageous not only for the team, but also for me, to have this training camp in one of the Southeast Asian countries where the qualifying round will be taken place. Personally, I try to encourage the team to make our atmosphere as positive as possible so that all of us can go through this very hard training to get used to this hot weather. I also try to get familiar with this weather even off the pitch by not using the air conditioning in my hotel room and by eating more than I usually do in Japan. Tomorrow, I will try my best to play for scoring which I have tried to do this year. I will play for the team working well to break through the opponent's defense or making aggressive defending from front line.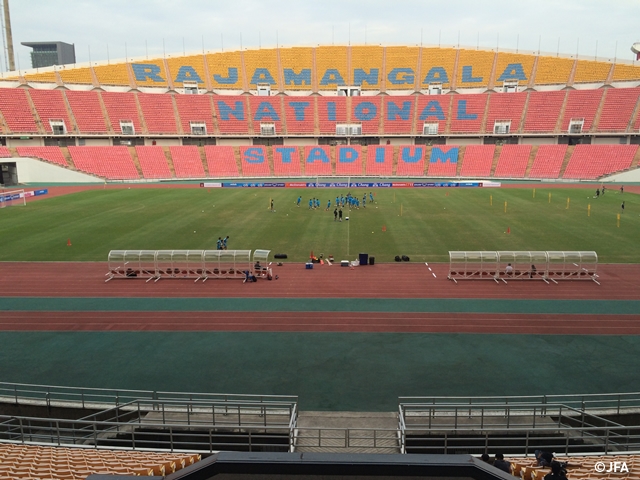 Schedule
| | | |
| --- | --- | --- |
| Thu. 11 December | PM | Training |
| Fri. 12 December | AM/PM | Training |
| Sat. 13 December | AM/PM | Training |
| Sun. 14 December | 18:00 | International Friendly Match vs. U-21 Thailand National Team(Rajamangala National Stadium) |
| Mon. 15 December | AM | Training |
| Tue. 16 December | PM | Training |
| Wed. 17 December | PM | Training |
| Thu. 18 December | 17:00 | International Friendly Match vs. Bangladesh National Team(Bangladesh National Stadium) |