NEWS
U-21 Japan National Team's activity report from their Thailand and Bangladesh tour
18 December 2014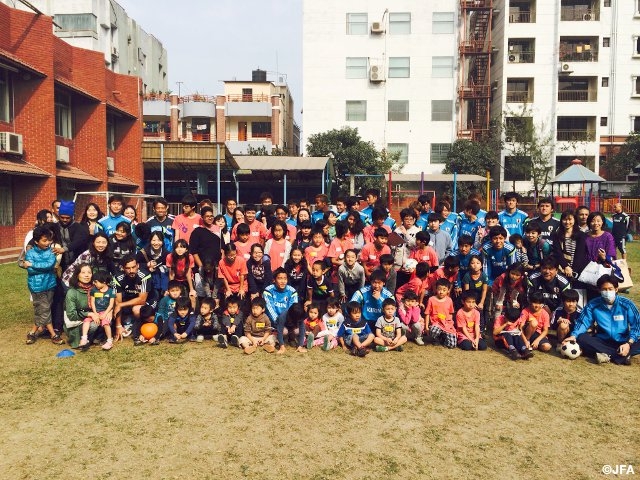 The U-21 Japan National Team had the eighth day of their Thailand and Bangladesh tour.
In the morning, they visited 60 children from kindergarten to junior high school students of Japanese School Dhaka. Children were divided into 2 groups and both of them had a Q&A session and mini football game. The players got some interesting questions like "Which club team do you want to play for?" and children took a strong shot at the U-21's goal in a mini game. 90 minutes of visiting time passed quickly with lots of excitement and smiles.
In the afternoon, the team had an official press conference at the Bangladesh Football Federation. The team's Head Coach TEGURAMORI Makoto and a U-21 player MATSUBARA Ken attended the conference. "Even though Bangladeshi National Team is the National A team and has a lot of experience, we want to show 100% of our ability and to get good experience through the match", commented MATSUBARA with confidence. In the evening, the team had an official training session for 60 minutes at Bangabandhu National Stadium, the venue of the match on the following day. While the pitch condition wasn't good, the U-21 players had some practical strategy checking session as preparation for the match next day. The match against Bangladesh is the final match of this training camp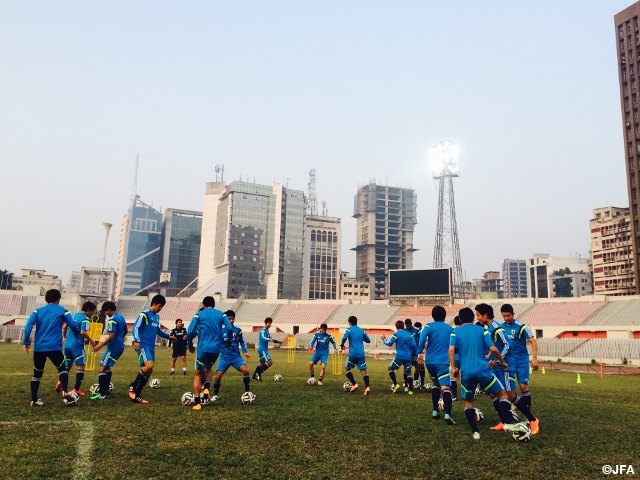 Comments from children of Japanese School Dhaka
INOUE Hazuki, 10 years old
I enjoyed their visit a lot. The players were very tall and very kind . I can't go to the stadium tomorrow, but I will support the National Japanese team.
MATSUOKA Mika, mother of 4 and 6 year old boys Ryosuke and Eisuke
I could never imagine that we could meet with the national squad players. My kids were very excited to see them. We can't go to the stadium tomorrow, but we'll think about them from where we are tomorrow.
HIKITA Mariko, mother of 3-year-old son
We were very much looking forward to this event. My son will never forget this as it will be a good memory in the future. The players he met today will be the stars for him.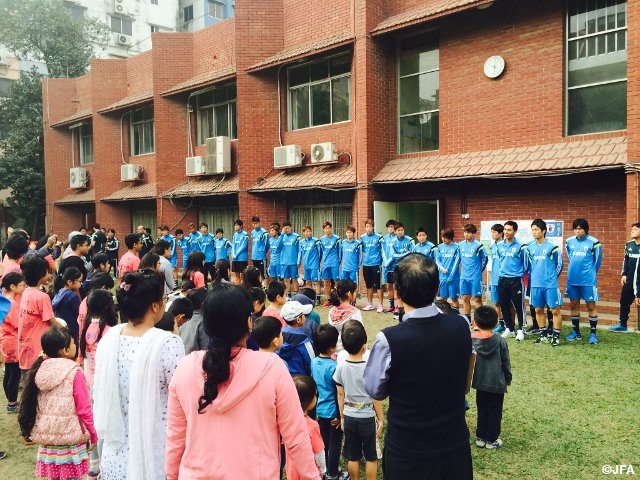 Comments
DF 6 YAMANAKA Ryosuke(JEF United Chiba)
It is such a good opportunity for me to join in this camp in the similar climate condition for the qualifying round of the 2016 AFC U-23 Championship in March next year. I personally aim to show my abilities especially in making scoring chances as well as in scoring myself throughout this training camp. In the previous match against Thai National Team, there were some team mates whom I had never played with, so I paid attention to having good communication with them. It was nice for us to manage to keep a clean sheet in the previous match even though we did have some difficult time.
Tomorrow, I just want to concentrate on winning the match to keep a good sense of winning at anytime. Also I want to work very hard to get not only victories as a team but also good result as a squad player.
MF 8 HARAKAWA Riki (Ehime FC)
It is a very inspiring opportunity for me to experience a big population, lots of cars, and energy on streets in Bangladesh. Since I'm not familiar with hot weather, this simulative training camp in both Thailand and Bangladesh was very helpful.
At the previous match held on 14th, the biggest regret was that we couldn't score very well by moving too much without purpose and missing many scoring chances. Tomorrow, I just want to make good passes to our FW players judging each of their advantages. In March next year, we have the qualifying round of the 2016 AFC U-23 Championship and this is also the qualifying round of the next Olympic Game in Rio de Janeiro. Keeping in mind the result that Japan went up to the semi final in the last Olympic game, I want to play very well in each match in the future.
FW 19 ASANO Takuma(Sanfrecce Hiroshima)
Since I couldn't go to the previous Asian Games, I want to play very well in this camp to improve not only myself but also the team to be closer to the next Olympic games as much as possible. However, we didn't do very well in the previous match against U21 Thai National Team. Even though I could make scoring chances most of the other teammates, I could never score. As a FW player, I should have scored. We could have leaded the match much easier if I could score.
Tomorrow, I will be greedier to get at least a goal as a player and to win as a team. I want to show my abilities well and to be invited for the next U-21 National squad camp.
Schedule
| | | |
| --- | --- | --- |
| Thu. 11 December | PM | Training |
| Fri. 12 December | AM/PM | Training |
| Sat. 13 December | AM/PM | Training |
| Sun. 14 December | 2-0 | International Friendly Match vs. U-21 Thailand National Team(Rajamangala National Stadium) |
| Mon. 15 December | AM | Training |
| Tue. 16 December | PM | Training |
| Wed. 17 December | PM | Training |
| Thu. 18 December | 17:00 | International Friendly Match vs. Bangladesh National Team(Bangladesh National Stadium) |