NEWS
Japan U-21's Thailand / Bangladesh camp go into Day 6
16 December 2014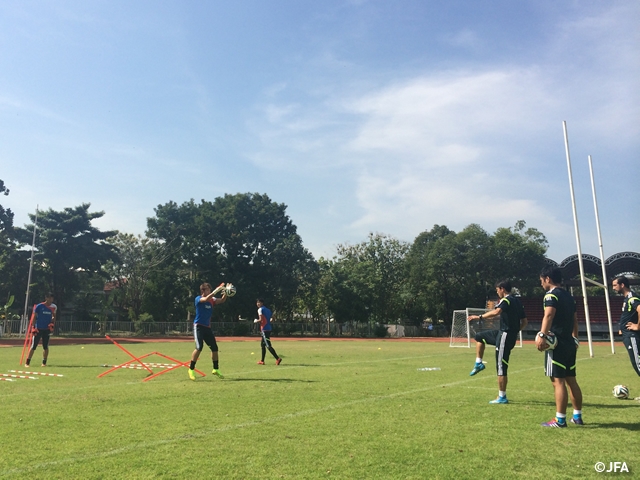 The Thailand / Bangladesh trip by the Japan National U-21 Team went into its 6th day.
One night passed after the first match of the trip, the team enthusiastically took on a regular practice under the heat of 37 degrees instead of after-game recovery procedure. The intense 90-minute session started with preparation exercise and passing and ball controlling drills before moving on to possession drills and 5-on-4 scrimmages. It was very tough physically for the players, but everyone acknowledged the objective and themes of the trip and actively practiced.
The afternoon schedule was totally done off the pitch. Firstly the team visited Wat Pho, a temple in the city of Bangkok. After enjoying taking a group picture in front of the famous 46-meter-long sleeping Buddha, they went up the stairs for a beautiful Bangkok city view from the middle of the 75-meter-high tower. The city tour was proposed by Coach Teguramori Makoto who says "you play against all international players in the qualifiers and the tournament. You need to be cosmopolitan yourself." The players showed smiles on their face by experiencing a different culture together.
The team head for Bangladesh tomorrow.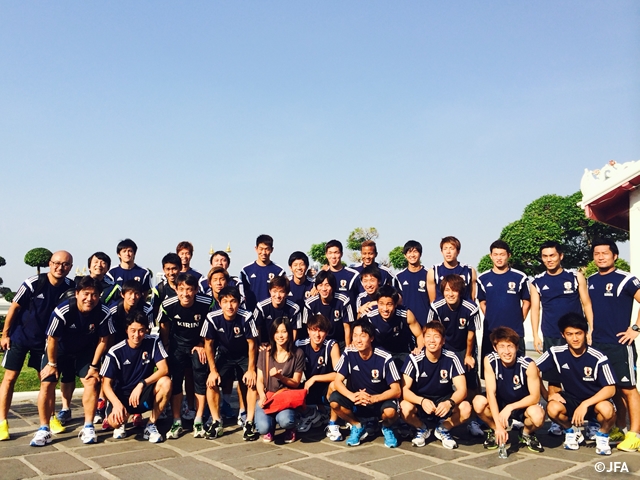 Comments
FW 11 KUBO Yuya(BSC Young Boys/Switzerland)
The afternoon was simply fun. In Bern, Switzerland, the city itself is the world heritage, and I am used to enjoying those things. This trip is my first time to get called to the U-21 team and I don't know many players well yet, so I have been trying to communicate a lot with players on and off the pitch. Especially I have liked playing with Suzuki Musashi and Minamino Takumi. There was no awkwardness in us playing together.
I didn't play well in the yesterday's match, but at this point I haven't got used to the proximity every other player prefers between us, so that is what it is right now. We have to keep practicing to make adjustments. In next match, I will pay attention again to the proximity between my forward partner and me, and together we will try to come up with good style.
DF 23 NARA Tatsuki(Consadole Sapporo)
In the afternoon, we could feel the atmosphere that we can't feel in Japan, so it was a lot of fun. In this trip, I am the oldest among all centre-backs, so I try to help the other centre-back I play with to show what he can do. And I also try to control the defence line and establish good combination among defenders. In the last night match, we had the shared understanding to attack and defend collectively. There were some stretches when they kept the ball around, but we could control our defence in terms of when to put pressure on the ball and when to stay back and defend as a bloc. Compared to other centre-backs such as Iwanami Takuya and Ueda Naomichi, I haven't showed my strength enough yet, so in the rest of the trip, I will keep showing what I can do and continuously try to reach my individual goal in practices and matches.
DF 5 UEDA Naomichi(Kashima Antlers)
We could hold Thailand scoreless, but we still have a lot to improve. It wasn't also enough that we scored only one goal, because we couldn't score when we were supposed to score. I personally made a few bad passes, so I have to make better decisions.
This important trip has only three more days left for practice. We keep practicing very hard to get adjusted to the heat, but I want to see how much we can play in a match even after this series of intense practices.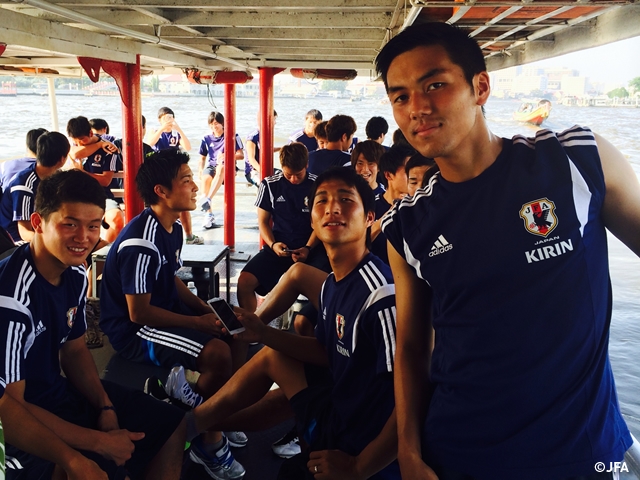 Schedule
| | | |
| --- | --- | --- |
| Thu. 11 December | PM | Training |
| Fri. 12 December | AM/PM | Training |
| Sat. 13 December | AM/PM | Training |
| Sun. 14 December | 2-0 | International Friendly Match vs. U-21 Thailand National Team(Rajamangala National Stadium) |
| Mon. 15 December | AM | Training |
| Tue. 16 December | PM | Training |
| Wed. 17 December | PM | Training |
| Thu. 18 December | 17:00 | International Friendly Match vs. Bangladesh National Team(Bangladesh National Stadium) |