NEWS
Japan U-19 lost first match to China at AFC U-19 Championship Myanmar 2014
10 October 2014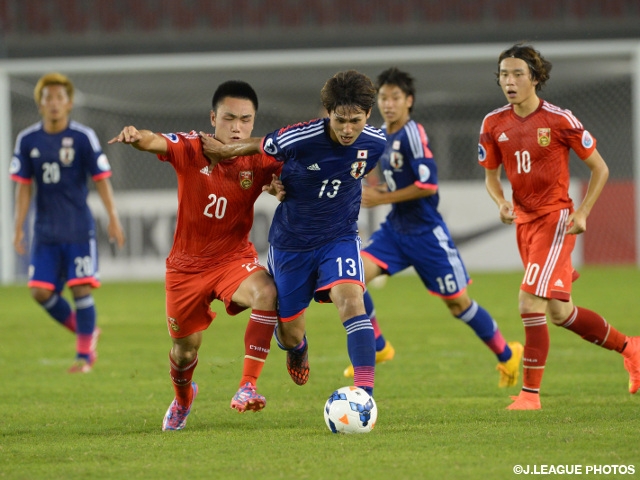 AFC U-19 Championship Myanmar 2014
Thursday 9 October 2014 Kickoff 18:30 90min/45min x 2
Wunna Theikhti Stadium(Myanmar/Naypyidaw)
U-19 Japan National Team 1-2(1st 1-1、2nd 0-1)U-19 China National Team
Scores
1min Goal Against (U-19 China National Team)
16min MINAMINO Takumi(U-19 Japan National Team) 
77min Goal Against (U-19 China National Team)
Startes
GK:NAKAMURA Kosuke
DF:HIROSE Rikuto、NAKATANI Shinnosuke、MIURA Genta、SAKAI Daisuke
MF:SEKINE Takahiro、KAWABE Hayao、MATSUMOTO Masaya、KANEKO Shota
FW:MINAMINO Takumi、OCHI Yamato
Substitutes
GK:YOSHIMARU Kenshin、TAKAGIWA Toru
DF:ISHIDA Ryoma、UCHIYAMA Yuki、MOTEGI Rikiya、MIYAHARA Kazuya
MF:TAKAGI Daisuke、IDEGUCHI Yosuke、MOCHIZUKI Reo、OKUGAWA Masaya
FW:ONAIU Ado、KITAGAWA Kohya
HT KAWABE Hayao → IDEGUCHI Yosuke
62min KANEKO Shota → OKUGAWA Masaya
78min OCHI Yamato → ONAIU Ado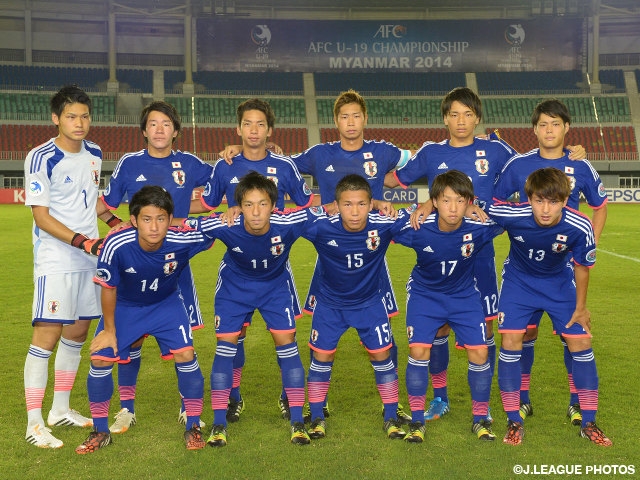 Match Report
Japan National U-19 team came out for the must-win first match against China.
Just a minute after the kick-off, however, after a throw-in they let China's penetration into the box and Japan's defence irresponsibly tripped the opposing player to end up with giving away a penalty kick. China materialised this early opportunity to gain the first lead.
Japan did not hesitate to fight back. In the 16th minute, Minamino Takumi took the ball up in the left flank, came into the middle to fire the stunning left-footed equaliser by himself. Later Sekine Takahiro, Ochi Yamato and Kaneko Shota also tried to follow and created scoring opportunities, but those could not be finished with a goal and the first half finished 1-1.
After the break, Japan kept attacking aggressively breaking down flanks for more goal opportunities, but the last feeds did not reach strikers in the box. Then in the 77th minute, Japan's defence again gave away a foul and this time a freekick in front of their goal. China took advantage and scored it directly to take the lead again. After that Japan kept trying to score, but partly due to fatigue, passes lost their accuracy and Japan failed to tie the match before the time-up with the score remaining 2-1.
Although Japan lost its important first match, they will try to regroup themselves for the second match against Vietnam National U-19 Team.
Comments
SUZUKI Masakazu, Head Coach
It was a match teaching us how dangerous a football match can be. We created many chances, but we couldn't score. And we let them score in penalty kick and free kick situations, and we lost very disappointingly. But it wasn't that we couldn't play our offence. We could create our chances. So in the next matches, I will tell my players to read opponents' defence and positioning better and play accordingly. We still have matches to play, so we will get prepared to play higher quality football.
MIURA Genta (Shimizu S-Pulse)
It was the important first match, but we made careless fouls and lost two goals from there. We created many opportunities to score, but we couldn't finish them and we lost. I'm just disappointed. But the next match is coming up, so from tomorrow, we change our mindset for it. Me individually and as a team also, we have to take our plays to the next level, play better matches and make sure to win.
SEKINE Takahiro (Urawa Reds)
It's very disappointing to lose the important first match, but we have to change our mindset now and look forward, and get prepared for next. We want to share in the team what was wrong in this match to make sure to improve it. All we have to do is to win the rest of two matches in the group stage, so we stay strong-minded to play it out.
OCHI Yamato (Sanno Institure of Management University)
The first match today was good because we could attack very aggressively. But no matter how much we attack, we lost the match, and I think that's because our finishes weren't accurate and we weren't trying enough to finish our offence with a goal. Even though it gets tough in the next two matches, we want to play football that we have built and lead ourselves to wins.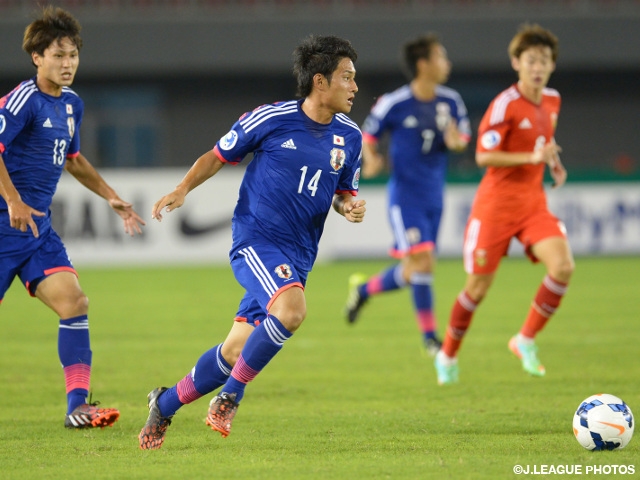 Schedule
AFC U-19 Championship Myanmar 2014
Thu. 9 October
1-2
vs China(Wunna Theik Stadium)
Sat. 11 October
15:30
vs Vietnam(Wunna Theik Stadium)
Mon. 13 October
15:30
vs Korea Republic(Wunna Theik Stadium)
Fri. 17 October
15:30/19:00
Quarter-finals(Wunna Theik Stadium)
Mon. 20 October
15:30/19:00
Semi-finals (Youth Training Center Stadium)
Thu. 23 October
19:00
Final (Youth Training Center Stadium)