NEWS
U-18 Japan women's national squad domestic training camp report (29 Sep)
30 September 2014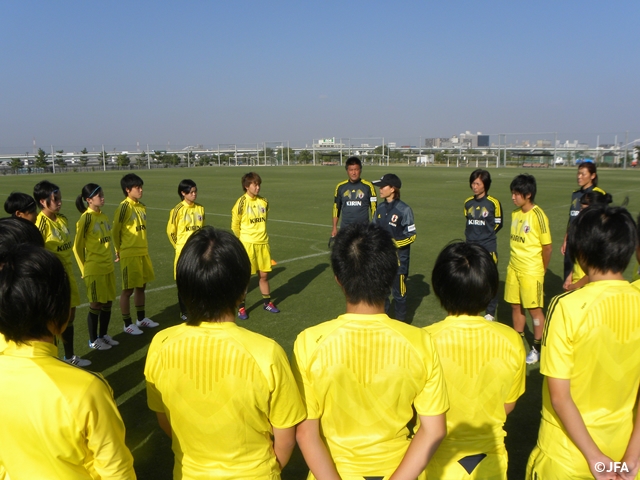 The U-18 Japan women's national squad, who gathered at Sakai in Osaka in the evening on Sunday 25 September, started their training camp the following day. This team aims to go to the FIFA U-20 Women's World Cup in 2016.
In the meeting after breakfast, they shared their goals as a team once again. The team has to get good results in the AFC U-19 Women's Championship in 2015 in order to qualify for the World Cup in 2016. There are three goals for the AFC U-19 Women's Championship: to become the kind of player, who can improve herself; to think as a team, as well as an individual player; to share opinions including on difficult matters.
In the morning training session, the players did some recovery exercises, such as jogging and stretching. Some players, who had not played in club games the day before or who played for only short time, had a mini-practice game with the coaches.
In the afternoon training session, each group of three players practiced passing and controlling the ball. Then they did some four-on-four and seven-on-seven training, followed by a practice match.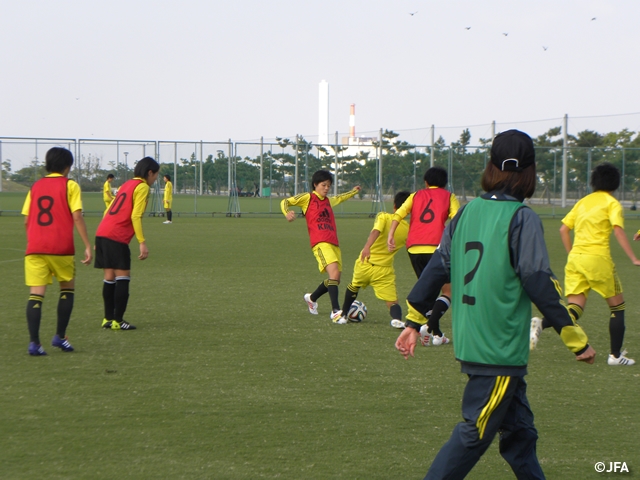 Comments
HATANAKA Miyuka(Speranza FC Osaka Takatsuki)
In this training camp, I'd like to communicate with others a lot, so they will get to know my character and skills. For that, I will show my playing style, and also assist and see other players' styles. As I'm a defender, I'd like to read the game and instruct my team when necessary. Although this training camp is very short, I hope I can find new tasks and challenge myself to improve even more.
SENO Yuki(Shutoku Senior High School)
As this is the first time we have got together, I'd like to start getting used to this team's atmosphere by communicating with the players. In this camp, I want to show my long passes and long-distance shots. I'll join the attacks from the central line, so that I can contribute to the team in both attacking and defending. I'm grateful that I can play in this high-level team, and I'd like to learn something, that I can't in high school football. I will also try to share my opinions and requests with the other players, and show my skills, while I assist others to play in their style. I'll take my experience back to my team and improve myself even more.
SONODA Mizuki(Kyoto Seika Girls High School)
Within the limited four days of this training camp, I'd like to play my style as much as possible and also communicate with every single player. If there's a problem, I hope we can discuss it and get it fixed as a good team should. Personally, I'll focus on switching quickly between the attack and the defence, and also put my ideas into attacking. I will think through which part of my game is enough for this level and which is not, so that I can use what I learn here, in order to be selected as a member again.
KITSUKI Yui(Hinomoto Gakuen Senior High School)
First of all, I'm really grateful to be here and to be able to play football in this great environment. This training camp is so inspiring, as I can play with players from the plenus Nadeshiko League, the plenus Challenge League or some high schools, with whom I can't usually play. I'm really enjoying myself as well. Although we only have a limited time in this camp, I'd like to show my skills, communicate eagerly, and improve this team. I hope we can coordinate well in the practice match tomorrow by communicating and getting know each other. It's been three years since I was selected for the U16 women's national team. I've been practicing and training everyday, thinking of playing across the world. However, in this camp I realised that I can do more. I'd like to continue to practice harder once I'm back to my team, keeping in mind the things I think I need to play internationally.
MATSUBARA Shiho(Cerezo Osaka Sakai Ladies)
Although we held only two practice sessions so far, I found that I could learn a lot, such as the quality of the game and some physical aspects, as most of the players are older than me. It's the same off the pitch as well. I realised there are some things I can change personally. We focused on possession in today's practice session. I thought I needed to improve the quality of my passing and the controlling. Improving mental agility to decide the next play is also my task. Although this training camp is very short, I'd like to learn as much as possible from the elder players and show my skills as well.
Schedule
Mon. 29 September

AM
PM
Training
Training

Tue. 30 September

AM
15:30
Training
Training Match vs. Kokoku High School

Wed. 1 October

AM

Training