NEWS
Japan women's futsal national team win against Russia women's in the Women's Futsal World Tournament
13 December 2014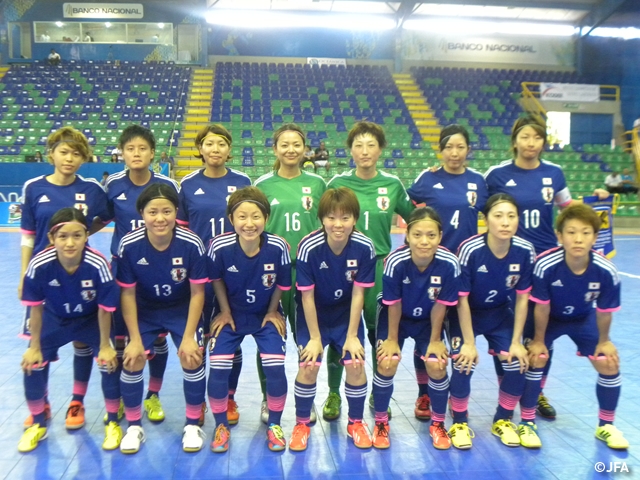 The 5th Women's Futsal World Tournament
Thu. 11 December 2014 Kickoff 15:30 Playing Time 20minutes
Palacio de los Deportes (San Jose/Costa Rica)
Japan Women's Futsal National Team 3-2 (1st 1-1, 2nd 2-1) Russia Women's Futsal National Team
Scores
12min  FUJITA Yasuka (Japan)
19min  Goal against (Russia)
21min  Goal against (Russia)
34min  HARUYAMA Ai (Japan)
40min  SONODA Mizuki (Japan)
Staters
GK:SATO Mayo
FP: HARUYAMA Ai、SEKINADA Minako、NAKAJIMA Shiori、FUJITA Yasuka
Substitutes
GK:YAMAMOTO Ayaka
FP:HOTTA Eriko、NAKANO Emi、SAKATA Mutsumi、KATO Saori、KOIDE Natsumi、YOKOYAMA Junko、KICHIBAYASHI Chikage、SONODA Mizuki
Match Report
Japan had the second match against Russia - 5th World Women's Futsal Tournament.The match kicked off at 3:30 p.m. Japan's starting team was: YAMAMOTO Ayaka, HARUYAMA Ai, SEKINADA Miyako, NAKAJIMA Shiori, and SONODA Mizuki. Japan actively attacked the Russian goal from the start to get closer to the next stage of the tournament. On 2 minutes, Japan got a free-kick due to a foul caused by Russia keeping the ball for more than 4 seconds in their own half. SEKINADA passed the ball to NAKAJIMA who then had a shot but the Russian GK saved it.
On 9 minutes, NAKAJIMA broke through the defense after a one-two with HOTTA Eriko, and then dribbled with the ball until the front line and then passed it to OKADA. She slipped in front of the goal but her shot went just to the left side of the goal. On 12 minutes, Japan got the first goal by FUJITA Yasuka's direct heading shot from Yamamoto's throw in. However, just before end of the 1st half, Russia equalised after getting the ball in Japan's half and then dribbling with the ball and to shooting. The 1st half ended with 1-1.
Just on 10 seconds after the beginning of 2nd half, Russia's got a second goal from right wing. Afterwards, Japan tried to equalise but could not score. On 34 minutes, Japan got a corner kick and SONODA passed the ball to HARUNA who was in front of the goal and she scored the equaliser.
40 seconds before end of 2nd half, HARUYAMA cut in to steal the ball and passed it to OKADA, she took a strong shot with her left foot and Japan scored its 3rd goal. Japan then defended it's goal from Russian desperate attacks to score a late equaliser but the match finished with 3-2. This is Japan's first victory at this tournament. Tomorrow, they will play against Brazil to try to move on to the next stage of the tournament.
Comments
ARIHARA Masaaki, Head Coach
Wining the match against Russia, who are one of the top 4, is very meaningful not only for Japan but also for the other countries. The important is that Japan won not by copying what the strong teams do, but by improving its futsal level while keeping its own play style. Comparing Japan with the 4 top countries, we do have disadvantages. We shouldn't be confident just by wining once. To keep wining, we have to try something different to make some "surprise" in how we can play as well as learning very basic ways or skills to win. All of us, including players, coaches and others, will keep working hard to make good teamwork to get the victory.
Our key purpose is to experience a very intensive match in this tournament. The match against Brazil will be a challenging one. Going through the group league to play in the next stage of the tournament is indeed our purpose. To beat Brazil, we will work as much as possible by being creative and being positive to encourage brave decisions made by our players on the pitch as a team.
SONODA Mizuki (Kyoto Seika Girls High School)
Today we played against Russia, one of the world's top countries. Since I couldn't score yesterday, I just wanted to be aggressive getting any chance to score in today's match. Russian player are physically bigger than us hence it was hard for us, but we all united very well to win the match. I imagine that it will be the tough game against Brazil tomorrow again, so I will keep working very hard.
HARUYAMA Ai, arco-iris KOBE
Since we lost the match yesterday without getting any goals, we encouraged ourselves to get a goal to win the match today. As we wanted, FUJITA got the first goal. After that, Russia equalised and then took the lead after the start of the second half. It was a difficult situation for us but I could equalise by taking a shot from a awkward pass to me. It was good that SONODA got our 3rd goal to win the match. Now we have got 3 points from our win.
I am very happy to score for the first time as a national squad player and also it is very nice to beat Russia for the first time as a team. This victory is brought about by the effort of the players, coaches, other staff and supporters. I just appreciate everyone who supported us and I want to share this joy with them. Tomorrow, I want to work very hard to win not only as a player but also as a team.
FUJITA Yasuka (arco-iris KOBE)
I started the game for winning points as a squad as we lost yesterday. At a time of Japan's goal clearance, I could score goal with back-header for Yamamoto's excellent ball when I run to the space between the other side's defence and goalkeeper. I am very happy today because we won and I scored the goal for the first time as an international cap. I want to do my best as a team for the tomorrow's match as well.
Schedule
Sat. 6 December
AM/PM
Training
Sun.7 December
AM/PM
Training
Mon.8 December
AM/PM
Training
Tue.9 December
AM/PM
Training
The 5th World Women's Futsal Tournament
Wed.10 December
0-4
vs Portugal
Thu.11 December
3-2
vs Russia
Fri.12 December
18:00
vs Brazil
Sat.13 December
AM/PM
Training
Sun.14 December
Semi-Final
Mon.15 December
Third Place Decider/Final
Fri.19 December
AM/PM
Training
Sat.20 December
15:00
International Friendly Match vs Chinese Taipei Women's Futsal National Team(Kobe Green Arena)
*The schedule is subject to change without notice upon the team conditioning, the weather, etc.
International Friendly Match
Sat. 20 December 2014 Green Arena Kobe/Hyogo
Japan Women's Futsal National Team vs Chinese Taipei Women's Futsal National Team
Kickoff 15:00(plan)
More information