NEWS
Japan women's futsal national team's activity report from the Women's Futsal World Tournament (9 Dec)
10 December 2014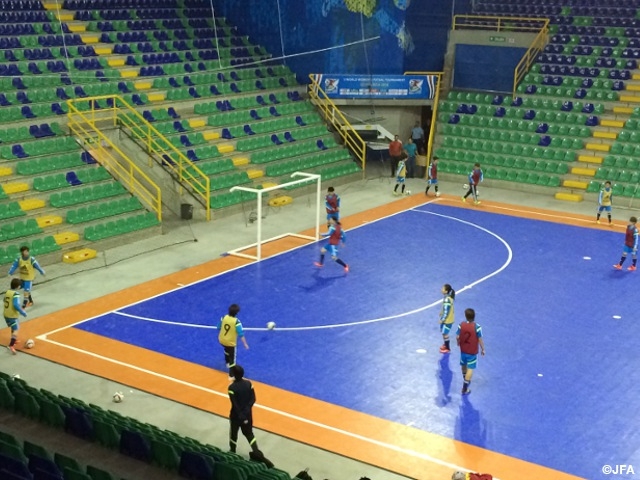 For Japan women's futsal national team, it was the fourth day of the fifth Women's Futsal World Tournament.
The players will play their first game against the Portugal women's national team tomorrow. Today they had an official training session on the actual pitch for the coming match. They focused mainly on checking set pieces and finished with practicing shooting. The players got themselves ready for tomorrow's match. Japan is in the same group as Brazil, Russia and Portugal. Although Japan expect tough games, we look forward to seeing how much they can show their own game against the strongest teams.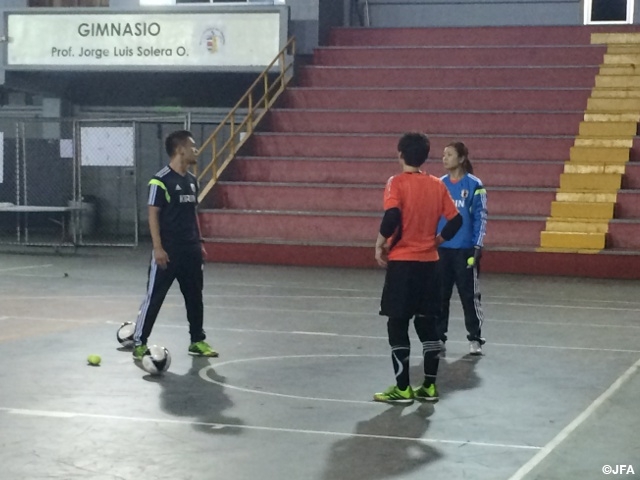 Players Comments
NAKAJIMA Shiori (Burela Pescados Ruben/Spain)
Tomorrow is our first match. It's been five days since we arrived in Costa Rica. Although there was limited time for preparation, each player did her best by focusing on our training in order to understand what the head coach wants us to do and then put that into the game. The staff supported us a lot and we've been communicating with each other off the pitch as well. So I feel there is a very good atmosphere in our team on and off the pitch.
It's vital for us to start well tomorrow, so that we can get through the group stage. I expect a tough game tomorrow, as we'll play against Portugal, one of the strongest team in the world. I'd like to stay positive and never give up, showing what we've practiced and trusting my teammates. We'll play games consecutively from tomorrow, which will make us really tired. As all the players need to help each other, I'd like to do my best with my teammates and staff as a united team.
SATO Mayo (MEMBER OF THE GANG)
Five days in Costa Rica have passed really quickly and tomorrow we'll play our first match.
I've practiced, thinking how I will play against a strong team ? how to create a numerical advantage, what is my role, and what kind of passes would work. I've been communicating with other players on and off the pitch and we also held many meetings. I think we've done what we could to prepare ourselves within five days. I'd like to have a reasonable feeling of tension and enjoy the tournament, thinking of the members of the previous national team and the players, who practiced together at the domestic training camp.
Schedule
Sat. 6 December
AM/PM
Training
Sun.7 December
AM/PM
Training
Mon.8 December
AM/PM
Training
Tue.9 December
AM/PM
Training
The 5th World Women's Futsal Tournament
Wed.10 December
16:00
vs Portugal
Thu.11 December
16:00
vs Russia
Fri.12 December
18:00
vs Brazil
Sat.13 December
AM/PM
Training
Sun.14 December
Semi-Final
Mon.15 December
Third Place Decider/Final
Fri.19 December
AM/PM
Training
Sat.20 December
15:00
International Friendly Match vs Chinese Taipei Women's Futsal National Team(Kobe Green Arena)
*The schedule is subject to change without notice upon the team conditioning, the weather, etc.
International Friendly Match
Sat. 20 December 2014 Green Arena Kobe/Hyogo
Japan Women's Futsal National Team vs Chinese Taipei Women's Futsal National Team
Kickoff 15:00(plan)
More information