NEWS
Japan women's futsal national team's activity report from the Women's Futsal World Tournament (8 Dec)
09 December 2014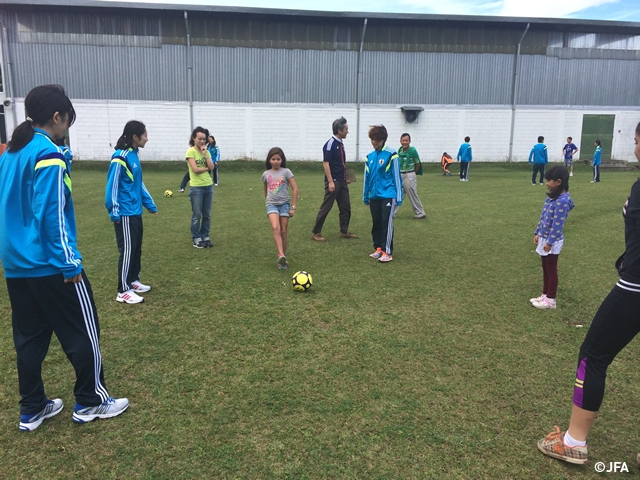 For Japan women's futsal national team, it was the third day of the fifth Women's Futsal World Tournament.
In the morning, they paid a visit to a local Japanese school in San Jose, the capital city of Costa Rica. There are currently 13 pupils at the school. The players, staff, as well as Arihara, the head coach, began by introducing themselves, and then moved onto a question-and-answer session. One pupil asked: 'how can one become a professional football player?' Nakajima Shiori, who is playing for a club team in Spain, answered: 'you never give up and try to master what you like. If you desire strongly to become a football player, then you have a chance.' Kichibayashi Chikage also replied: 'it's difficult to make a living by doing what you like. There are many people, who want to become a football player, and they are all standing at the same starting line. It's vital to think carefully and do whatever you need to stand out.' After the session, they all joined a football lesson. Then in the end, the pupils gave a performance of Yosakoi dance in order to encourage the team.
In the afternoon, the players started with long-distance jogging, considering their recovery from yesterday's training match. They did some stretching in between so they could sweat. Then they divided into groups of three and practiced taking balls to the goal by passing around. The players focused on the combination, which was one of the issues they are currently working on. They finished their session with a practice match, bearing in mind the actual games.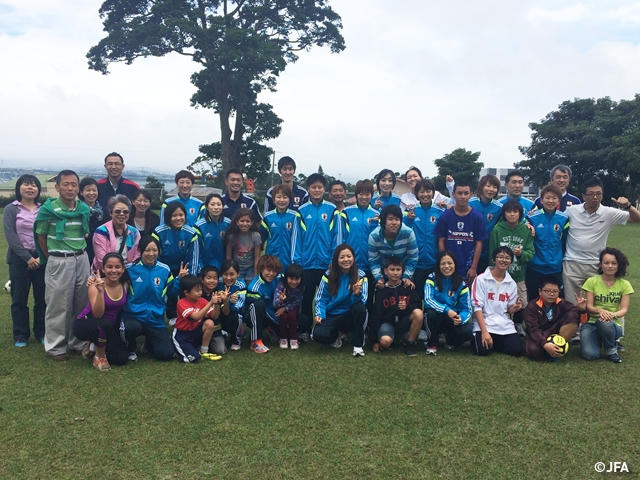 Comments of Players
FUJITA Yasuka (arco-iris KOBE)
As everyone was so energetic, I really had a great time, kicking the ball about together and talking. I got some energy from their lively Yosakoi dance. I'll practice hard tomorrow with this energy and support from Japan, so that we can get good results in the tournament from the day after tomorrow.
HOTTA Eriko (SAICOLO)
Although it was very short, I had such a nice time, getting a lot of energy from the pupils and the teachers. I was really impressed with their Yosakoi dance. In the afternoon, we practiced making the attacking target clear, after reviewing what we could and couldn't do in the yesterday's friendly. Personally, as I could see the difference between international players and Japanese players, I'd like to review the issues that need to be fixed. I'll do my best in tomorrow's training and the following matches.
Schedule
Sat. 6 December
AM/PM
Training
Sun.7 December
AM/PM
Training
Mon.8 December
AM/PM
Training
Tue.9 December
AM/PM
Training
The 5th World Women's Futsal Tournament
Wed.10 December
16:00
vs Portugal
Thu.11 December
16:00
vs Russia
Fri.12 December
18:00
vs Brazil
Sat.13 December
AM/PM
Training
Sun.14 December
Semi-Final
Mon.15 December
Third Place Decider/Final
Fri.19 December
AM/PM
Training
Sat.20 December
15:00
International Friendly Match vs Chinese Taipei Women's Futsal National Team(Kobe Green Arena)
*The schedule is subject to change without notice upon the team conditioning, the weather, etc.
International Friendly Match
Sat. 20 December 2014 Green Arena Kobe/Hyogo
Japan Women's Futsal National Team vs Chinese Taipei Women's Futsal National Team
Kickoff 15:00(plan)
More information