NEWS
Nadeshiko Japan make final tune-ups for New Zealand match
08 May 2014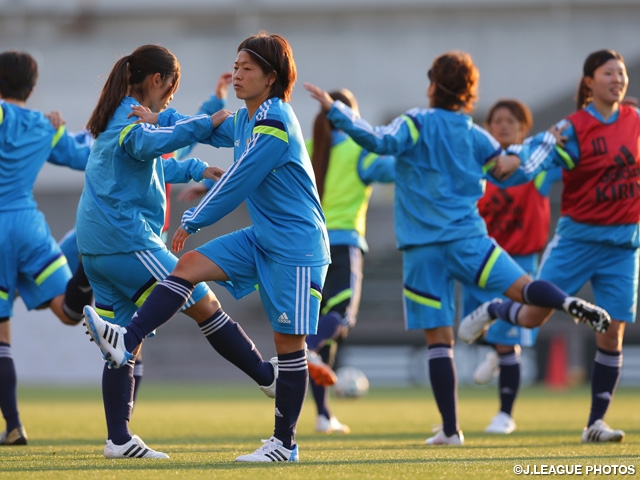 Nadeshiko Japan had their final tune-ups for their WORLD MATCH exhibition against New Zealand, which will a warm-up game for them before the AFC Women's Asia Cup (opens in Vietnam on the 14th), which also serves as the Asian qualifier for next year's FIFA Women's World Cup.

In the afternoon of the 7th, the team were headed to Osaka's Kincho Stadium for an official practice session after a meeting at their hotel. They partially closed the session to the media, but mainly spent a majority of the time for confirming with their team chemistry.
The team, who have had their training camp in Osaka Prefecture since the 5th, have a new-look as they have five new young players. It will be one of the key check points in the New Zealand game that how much they can communicate with each other, have proper combinations and show that they exhibit their team works that they have built in the short period.
In the Asia Cup, in which each team will play three games with one-day rests in between, the top five teams out of the eight participating countries will be granted the spots in the World Cup, and for Japan, they will certainly gain some momentum going forward with a win over Australia in their first game. New Zealand has similar traits to Australia, so it will obviously be a good test for Japan to play against them.
New Zealand is ranked 23rd in the FIFA rankings (Japan is third). The Oceanian country, who have tuned up in Osaka since they arrived there on the 3rd, had their practice session, part of which was closed to the media.

Under the reign of head coach Sasaki Norio, the two sides will take on against each other for the fifth time and had been 2-2 in their head-to-head match-ups, including a game in the 2011 World Cup. They ended with a 1-1 draw in their latest meeting in last June's Kirin Challenge Cup. On the members for New Zealand for this time, 14 out of 20 are currently playing at colleges in the United States or in Germany.
''New Zealand have become able to relay the ball better and have both speed and heights. I think it's good opponents for us to test ourselves at the moment,'' defender Iwashimizu Azusa says.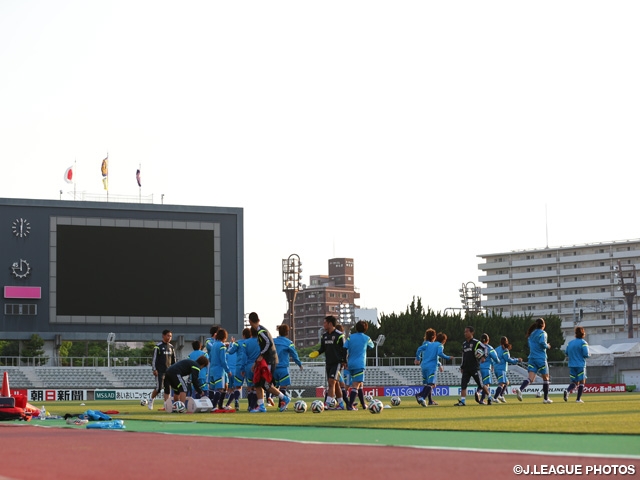 Comments From Head Coach & Players
SASAKI Norio, Head Coach
While we have new faces on the team, we focused on our offensive starts and connections in the front end in the second day of our training camp yesterday. We have yet to have full communication in between, but we would like to have a better chemistry and make this a good preparation for the Asia Cup.
MIYAMA Aya(Okayama Yunogo Belle)
Our preparation period was short, but we feel like we are getting united as the tournament is getting closer. Tomorrow's game will be a good preparation for our first game against Australia in the Asia Cup, playing with these members for the first time. As we have shown in our training, I feel that the most important thing for us is the start of our offensive plays. Not that everything is going to work, but we will give tries. Personally, I would like to put up some plays that are connected to scoring. We are going to enter tomorrow's game and the Asia Cup with these new members. I know that we will face some difficulties, but we will intend to become united as one.
TAKASE Megumi(INAC Kobe Leonessa)
Although there are some gaps between us and the newly-selected players in terms of our experiences, we have been able to come all the way to get here, deepening our communication on the pitch and in the meetings and through our coaching. I think we have a good mood. Personally, it will be important for me to make some actions, not just keeping the ball up front. We have to get a ticket for the World Cup through the Asia Cup, so we would like to gain some momentum going forward for the tournament (Asia Cup). We have some refreshing mood with the new members, but nothing will change in terms of us playing with the pride of the national team.
Tony READINGS, Head Coach
I think I know Japan well enough. They are very difficult to spot their weaknesses, and even if you stop one of them, it doesn't mean that you can stop their threats in the rest of the game. Even when you have the ball, they come at you trying to get it, so you need to rotate the ball as quickly as you can. Since the World Cup in 2011, many of our players have transferred abroad. It is a minus that we only have 25 to 30 days a year that we can get together, but in terms of our technical and tactical stand points, it is a plus for us that each individual player has been able to play in better circumstances. Our game against Japan will be tough and a difficult game to play, but this is a good opportunity for us because we are currently developing ourselves with next year's World Cup and the Olympics beyond it in our sights. Hopefully, we will be able to show how much we have grown since our last meeting of last year.
Nadeshiko Japan WORLD MATCH
Nadeshiko Japan (Japan Women's National Team) vs. New Zealand Women's National Team
Thu. 8 May Kick off is planned at 19:35 at Kincho Stadium in Osaka.
Tickets are now on sale! The ticket information is here!
Schedule
| | | |
| --- | --- | --- |
| Thu. 8 May | 19:35 | Nadeshiko Japan WORLD MATCH vs New Zealand Women's National Team (Kincho Stadium) |
| Wed. 14 MAy | 20:15 | AFC Women's Asian Cup 2014 in Vietnam vs. Australia Women's National Team |
| Fri. 16 May | 20:15 | AFC Women's Asian Cup 2014 in Vietnam vs. Vietnam Women's National Team(Thong Nhat Stadium) |
| Sun. 18 May | 19:15 | AFC Women's Asian Cup 2014 in Vietnam vs. Jordan Women's National Team(Binh Duong Stadium) |
| Thu. 22 May | 17:15/20:45 | AFC Women's Asian Cup 2014 in Vietnam Semifinal(Thong Nhat Stadium) |
| Sun. 25 May | 16:45/20:15 | AFC Women's Asian Cup 2014 in Vietnam Third-place Match/Final(Thong Nhat Stadium) |
※From 13 May The time shows local time.