NEWS
Nadeshiko Japan tune up in intra-squad game Day 2 of domestic training camp for Asia Cup
07 May 2014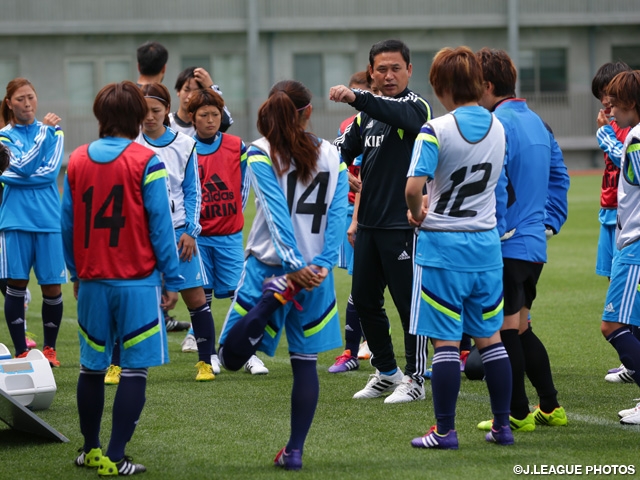 On the 6th May, the weather made an absolute turnaround from the drizzling rain on the previous day, Nadeshiko Japan entered the second day of their domestic training camp for the Asia Cup on a sunny day at a field in Osaka Prefecture.
For this day, among the four players that are playing abroad, Kawasumi Nahomi from the United States and Utsugi Rumi from France arrived on the team. Now a total of 23 players have assembled at the camp, and only Kiryu Nanase and Ogimi Yuki are to be joining later.
In the morning practice session of the 6th, Utsugi, who directly came to the practice field from the airport, and Osafune Kana, who missed the all-team practice of the previous day due to illness, went through tune-up menus. The remaining 21 players played three intra-squad games in the morning, while coach Sasaki Norio tried so many different personnels, observing the whole team. ''I think those first-time players were doing better than we'd expected,'' Sasaki said in a satisfactory manner.
In the afternoon session, they re-confirmed their possessions, offensive players and set-plays against male collegiate students and wrapped it up with a full-court game-style practice.
Comments From Players
UTSUGI Rumi(Montpellier HSC/France)
As the world champions, we would like to qualify through (the World Cup qualifier) in the first place to get into the actual Cup in a good place, while we want to be number one in Asia as well. We have more young faces and others who play abroad, but we have been able to upgrade ourselves, not having changed what we've done. So in our game against New Zealand, it will be valuable for us to show to the observers that our team is making a progress. We would like to try a lot of different things. The environments in tournaments in Vietnam are unpredictable as they have humidity and rains and their grounds could be loose, so we may have to play in a situation we are not used to, but we would just like to play some prudent football.
NORIMATSU Ruka(Urawa Reds Ladies)
I've been dreaming of making Nadeshiko Japan, so I'm excited about (having been called up). While I was a little nervous, I have more excitement in me. The players on Nadeshiko Japan are all quick-footed and they have high-qualities in their passing and every other plays. I can't afford to become loose, but hopefully I will get used to the team and put up my strength as soon as possible. My strength is my long kicking ability. I would like to show that I can change flows of a game with accurate passes or create a chance with one big kick. I'm looking forward to my first official game on Nadeshiko Japan. In the remaining days until the New Zealand game, I want to tune myself up better while I can exhibit myself to the maximum, and if I get a chance to play in the game, I want to show my strength and learn so many things in the end.
KAWASUMI Nahomi(Seattle Reign FC/America)
Since it's not my first time, I am not too worried about the jet-lag. I have played abroad for a month or so and felt a variety of things, so I would like to contribute to the team taking advantage of that. I think that I can play better on my plays when I face up against the goal, so hopefully I can show that with good timing while coping with other players well. We are all hoping to win in Asia for the first time. In order to repeat the World Cup title, we first have to earn the spot. We want to return to Japan with the two titles in our hands.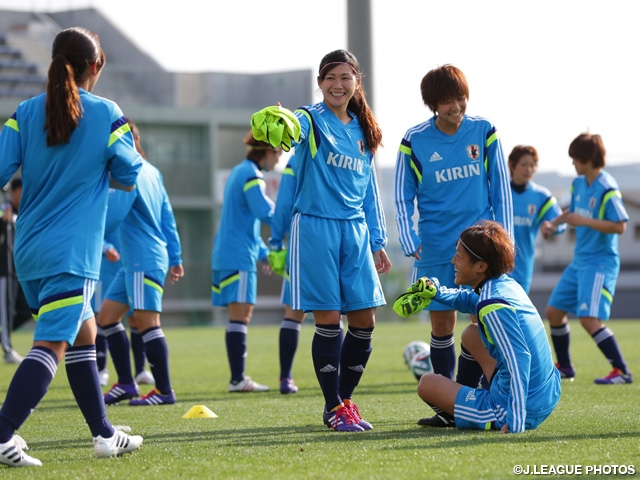 Nadeshiko Japan WORLD MATCH
Nadeshiko Japan (Japan Women's National Team) vs. New Zealand Women's National Team
Thu. 8 May Kick off is planned at 19:35 at Kincho Stadium in Osaka.
Tickets are now on sale! The ticket information is here!
Schedule
| | | |
| --- | --- | --- |
| Thu. 8 May | 19:35 | Nadeshiko Japan WORLD MATCH vs New Zealand Women's National Team (Kincho Stadium) |
| Wed. 14 MAy | 20:15 | AFC Women's Asian Cup 2014 in Vietnam vs. Australia Women's National Team |
| Fri. 16 May | 20:15 | AFC Women's Asian Cup 2014 in Vietnam vs. Vietnam Women's National Team(Thong Nhat Stadium) |
| Sun. 18 May | 19:15 | AFC Women's Asian Cup 2014 in Vietnam vs. Jordan Women's National Team(Binh Duong Stadium) |
| Thu. 22 May | 17:15/20:45 | AFC Women's Asian Cup 2014 in Vietnam Semifinal(Thong Nhat Stadium) |
| Sun. 25 May | 16:45/20:15 | AFC Women's Asian Cup 2014 in Vietnam Third-place Match/Final(Thong Nhat Stadium) |
※From 13 May The time shows local time.