NEWS
Nadeshiko cruise past Ghana 5-0, head for Asian Games
14 September 2014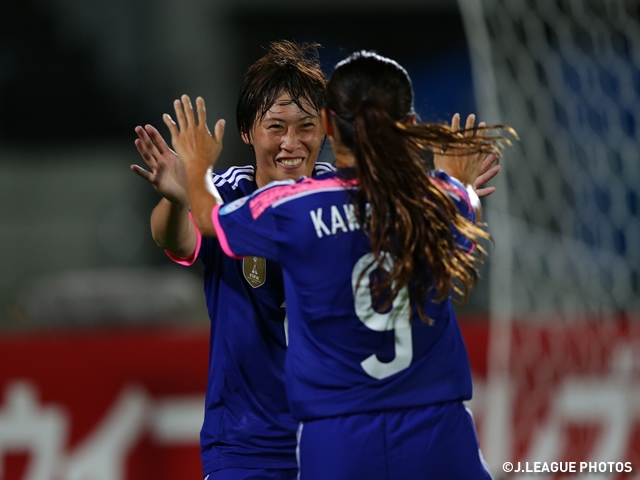 Nadeshiko Japan (Japan Women's National Team) had the Nadeshiko World Match against Ghana Women's National Team at ND Soft Stadium Yamagata on 13 September. Led by two goals by forward Takase Megumi, Japan enjoyed a 5-0 win in their last warm-up match for the 17th Asian Games, where they try to capture their back-to-back titles.
The starting line-up included forward Masuya Rika and defender Usui Rie, who were listed on the national team for the first time in their career. But it was no problem for them to take the momentum of the match as they scored the first goal only 15 seconds after the kick-off.
Midfielder Miyama Aya received the ball after the start of the match and immediately kicked a long feed forward. Takase caught the ball and sent a beautiful floater over the goalkeeper into the goal, which ignited the crowd of 12,288.
In the 11th minute, midfielder Sakaguchi Mizuho and Miyama exchanged passes and passed by defenders for another goal. Seven minutes later, midfielder Kawasumi Nahomi received a pass from Sakaguchi and sent a cross from the light flank. Takase came to the ball and shot it for her career-first multiple goals in a national team match.
Nadeshiko Japan did not stop attacking there. In the 30th, a corner kick from the left was redirected by defender Kitahara Kana and her partner on the backline, defender Osafune Kana put it into the left corner of the net to extend the lead to four. Eight minutes later, it was midfielder Nakajima Emi that received a pass from Masuya on the right flank, took it to the middle and fired a mid-ranged shot to give the fifth goal to Japan. Even after that, Masuya and Takase, Japan's two strikers for the night, kept threatening the opposing goal, but those were not materialised.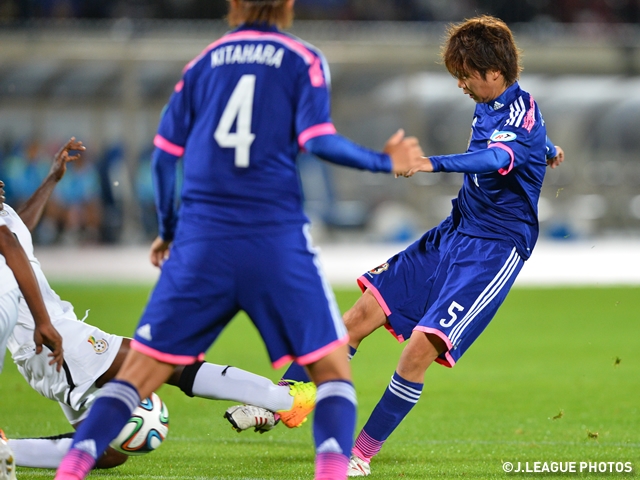 To start the second half, in addition to the goalkeeper, Japan substituted four players onto the field: midfielders Naramoto Hikaru and Kiryu Nanase, forwards Kira Chinatsu and Nagasawa Yuika. Even with the new line-up, Japan's dominance was firmly unchanged. As Naramoto and Nakajima controlled the ball in the midfield, Kitahara's shot hit off the post and Kira and Sugasawa also kept attacking Ghana's goal.
In the 68th, defender Hiza Hasui replaced Usui, and one minute later, Hiza went up the right flank to feed a cross, which Sugasawa headed, but the opposing defender cleared that attempt.
Meanwhile, Ghana is in the middle of their training period for the Africa Championship next month where a spot in the FIFA Women's World Cup 2015 will be at stake. In the second half, they started raising their speed and put more intense pressure on the ball. Forwards Elizabeth Cudjoe and Agnes Aduako led their attacks, but it was far from bothering Japan's defence.
On 14th Nadeshiko Japan will transfer to Incheon, Korea Republic where the Asian Games will be played and start the tournament with the first match against China on 15th.
The women's football competition in the Asian Games is competed by 11 countries. Following the match against China, Japan will face Chinese Taipei on 18th and Jordan on 22nd. The top two teams of each group and the best two teams among each group's third-placed teams will advance to the knock-out stage and the quarterfinals, semi-finals and final will be played on 26th, 29th and 1st October respectively.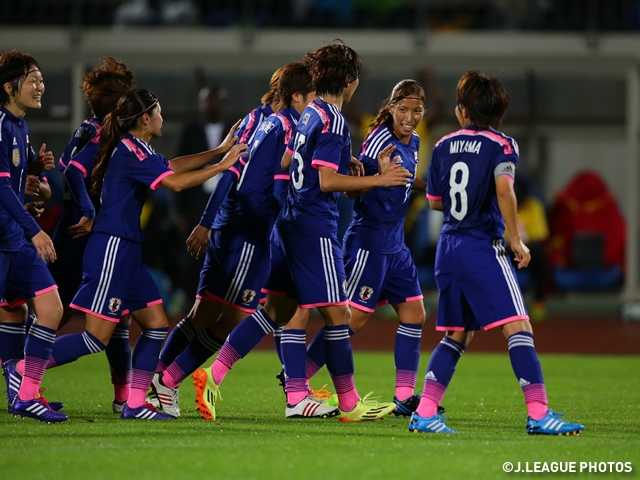 Comments
SASAKI Norio, Head Coach
Takase's goal started it and in the first half it was like whatever we shot was going into the goal. As we played our game, we always thought about finishing, but in fact we didn't score in the second half. It was partly because we tried to avoid getting injured. I think the players who are on this national team for the first time were feeling nervousness, but still put out some good performance. I hope this will give them some confidence and help them to play better in tougher matches. I want to help them develop to see how well they can play in tough situations for example when you are tired and when you can't play how you are supposed to play. Our defence have been shaped up very well. All we are missing is Iwashimizu, so when she gets into better shape, it will be very well. We have to move to another location for the match (against China) two days later, but we want to get in a good condition for that.
FW TAKASE Megumi (INAC Kobe)
I surprised myself with that first goal. When the ball went to Miyama, I felt like "maybe I should go for it" and I started running forward. It was good that I made it. And not only scoring just one, but also we kept attacking and attacking. That was good for my team and also for myself. I think we showed our spirit. It was my first time to score two goals in a national team match. I am very happy. Their defenders were a little out of place, so I thought I could attack the space behind them. Right in front of their goal, I think I could have done better. Now we need to change our mindset and get ready for the Asian Games.
FW MASUYA Rika(INAC Kobe)
I wanted to score a goal when I got to play. They created chances for me, so I really wanted to score. The quality of my plays still needs a lot of work. In the Asian Games, I will really have to show what I can do and I want to score a goal.
MF SAKAGUCHI Mizuho(Nippon Television Beleza)
We won this match, but it was not like we played great football. We won't be able to play like this in the Asian Games. So we can't be too satisfied and can't go too easy. I could go up and join our attacks well. When we scored, Miyama went up, so I was going to join her there. That's one of the things I could take to next matches. When Takase scored the second goal, she came in at the right time and we could execute the combination we worked on in practice. But we didn't play too much defence today, so we couldn't see how we maintain the distance between each other and how we communicate. We will take what we could do in our offence, analyse films and simulate our defence before the first match in the tournament.
DF OSAFUNE Kana(Vegalta Sendai Ladies)
We won this match and I think we can carry this momentum to the next match. But the matches will be a lot faster than this, so we need to make an adjustment. We need to change our mindset for China. I should have made a little better decisions with the ball, and I could have done a better job when we built up. We had some scary moments when we passed the ball horizontally or to defensive midfielders. So I have to be more accurate in doing those.
MF NAOMOTO Hikaru(Urawa Reds Ladies)
It was disappointing that I couldn't score a goal. I should have created more scoring opportunities. Me personally, playing in the midfield, I had to keep playing defence and also I thought I had to join our attacks as well. So I wanted to keep the balance between the two. Anybody can send passes around, so I think I need to score as well. I want to score goals and I want to overwhelm the opponents.
MF MIYAMA Aya(Okayama Yunogo Belle)
Speaking of the first goal, Takase made a very good dash there, so all I had to do was send a pass right there. The first goal right after the kick-off and another goal in the 11th minute made it very easy for us to get on our rhythm. In the second half, we had some players who got the first chance on a national team match, and we kept creating opportunities. But we need to get better. For the Asian Games' first match against China, there are a few more things we need to work on defensively, so we cannot go easy on ourselves. We need to keep the sense of urgency. Now we are the team to beat for other countries. Our responsibility is bigger than ever. We have to work harder and aim higher.
Yussif BASIGI, Ghana National Team Head Coach
Thanks to Japan who played a very good game, it gave us a clear understanding of our own strength and weakness. That was our goal today and we could achieve that. This match gave us an idea how we get better, so we thank Japan for that. Japan is a very good football team and it's hard to expect their next plays. They are well disciplined to execute their tactics, and very good at using both flanks, wingers and transitioning from defence to offence very quickly. If they keep improving like this, it's very possible for them to defend the World Cup title next year.
JFA-TV
Nadeshiko Japan WORLD MATCH
Nadeshiko Japan (Japan Women's National Team) vs Ghana Women's National Team
Sat. 13 September 2014 Kickoff at 19:00 (estimate time) / Open 17:00 (estimate time)