NEWS
Aomori Yamada showcase dominant performance against Yokohama FC to claim third Premier League EAST title - Prince Takamado Trophy JFA U-18 Football Premier League 2021
13 December 2021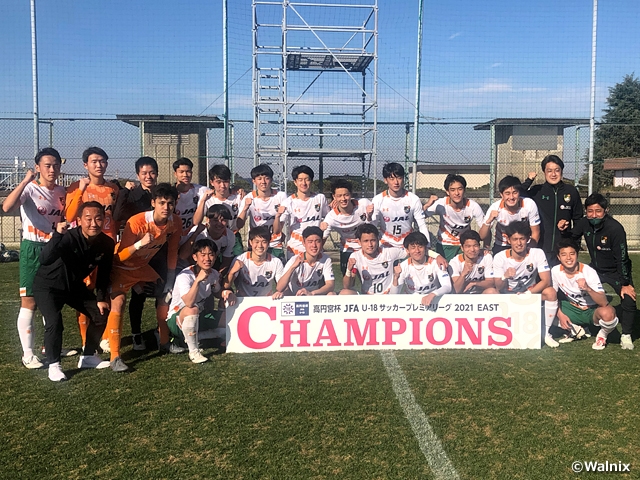 The postponed fixtures of the Prince Takamado Trophy JFA U-18 Football Premier League 2021 took place on Sunday 12 December to close out the season.
Pick-up Match
Yokohama FC Youth 0-4 (0-4, 0-0) Aomori Yamada High School
At Yokohama FC LEOC Training Center, Yokohama FC Youth (Kanagawa) squared off against the league leaders Aomori Yamada High School (Aomori), who entered the match in position to claim the title with a win. Yokohama FC on the other hand, was involved in neither the title race nor the relegation race, but entered the match with plenty of motivation, as it was the final match of the season.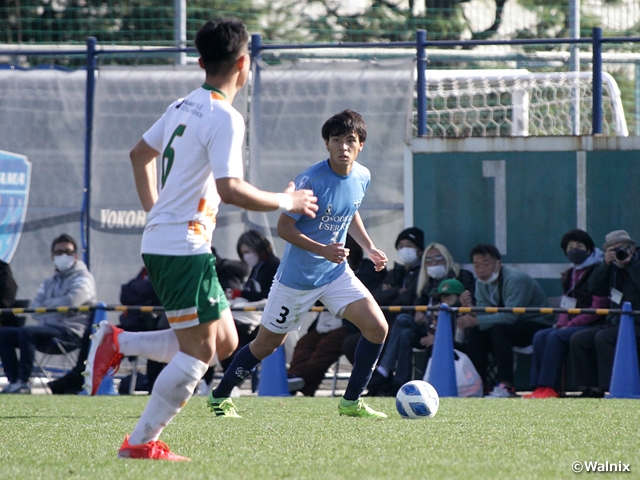 However, the match started with Aomori Yamada showing their dominance from early minutes, as Yokohama's coach SHIGETA Yukinori later mentioned, "We knew Aomori Yamada was going to apply aggressive pressure against us, but it was beyond our expectations." The opening goal came in the third minute, when FUJIMORI Sota (#11) responded to a loose ball following a cross and pierced a left footed shot into the Yokohama goal.
TAZAWA Yuzumu converted a deflection of a free kick in the 22nd minute to double the lead for the visitors, followed by the goal of WATANABE Sera (#17) in the 36th minute to make it 3-0. Just before the end of the first half, MATSUKI Kuryu (#10) added to the tally to give Aomori Yamada a 4-0 lead at the break. As Yokohama FC's MASUDA Kensho (#3) mentioned, "They were much quicker to the ball," Aomori Yamada took full control over the match by winning the loose balls in the final third.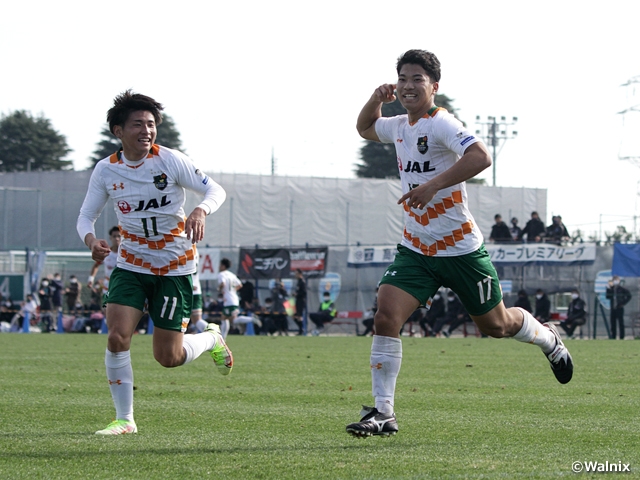 "We cannot end like this. Let's go out and score back a goal," said YAMAZAKI Taishin (#10), as the home side made attempts to rally back in the second half. However, Aomori Yamada displayed great composure to keep the Yokohama offence at bay, as MIWA Ryohei (#4) later reflected, "Following our loss against Shimizu S-Pulse Youth, our coach pointed out the flaws in our game and it made us realise how loose we were in certain areas." With their defence maintaining the clean sheet, Aomori Yamada won the match 4-0 to claim their third Premier League EAST title.
After the match, coach KURODA Go praised his team, "We had a group of players with a lot of positive energy, and the staff members led by coach MASAKI Masanori showcased just as much passion to coach the players, which allowed us to come together and face the same direction as a team." Although there were difficult stints when they lost multiple players due to injuries, the players who replaced them gradually gained confidence to help the team move forward, as the coach mentioned, "It actually allowed us to add depth to our squad, and at the end of the day, I can confidently say that we were second to none in growth rate."
Coaches and Players' Comments
SHIGETA Yukinori, Coach (Yokohama FC Youth)
Aomori Yamada is a great team, and they absolutely deserve to win the title. Last year's Premier League was limited to the Kanto region, so this year was the first time for us to play against Aomori Yamada in the league matches. They really showed us that there is more to the game than just skills and tactics, and I hope our players will make the most of this experience to improve themselves.
DF #3 MASUDA Kensho (Yokohama FC Youth)
Although we were able to demonstrate our build-up plays in the second half, we struggled to find our rhythm in the first half. We won the league title last year, but it was without the likes of Aomori Yamada and Shimizu S-Pulse, and we are coming to realise that we are not at their level yet. Today's match reminded us that we need to fight harder to win the ball and do a better job responding to players with speed.
KURODA Go, Coach (Aomori Yamada High School)
With Shimizu S-Pulse Youth closing down the gap between us, we were in a position where we had to win three consecutive away matches. While it was difficult to maintain our condition, the players really worked hard and fought as a team. Winning the title in this tough league means a lot, and I was impressed by these players once again.
MF #14 ONO Hikaru (Aomori Yamada High School)
Since I was unfamiliar with the left fullback position and knew that I cannot play the way the two injured players played, I just focused on showcasing my usual performance. I am gradually learning the position. The players are always holding discussions to share each other's opinions, and I think that is helping the team get better.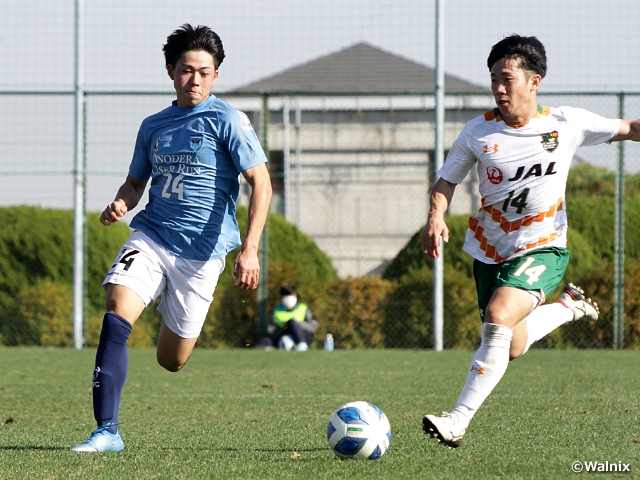 Results of other matches
EAST
Shimizu S-Pulse Youth 1-1 (0-0, 1-1) Ryutsu Keizai University Kashiwa High School
Urawa Red Diamonds Youth 2-0 (0-0, 2-0) Funabashi Municipal High School
FC Tokyo U-18 2-0 (2-0, 0-0) Omiya Ardija U18
Shimizu S-Pulse Youth (Shizuoka), who needed to win the match in order to keep their title hopes alive, managed to take the lead with the opener scored by KANEKO Seita (#7) in the 66th minute, but ended up drawing with Ryutsu Keizai University Kashiwa High School (Chiba) 1-1 after conceding the equaliser in the 71st minute. Urawa Red Diamonds Youth (Saitama), who is already set to be relegated to the Prince League, won over Funabashi Municipal High School (Chiba) with the goals of IZAWA Sohei (#9) and HORIUCHI Yota (#16) to finish the season on a high note. FC Tokyo U-18 (Tokyo) took the initiative of the match with the eighth minute goal scored by NOZAWA Leon (#18), earning a shutout victory over Omiya Ardija U18 (Saitama).
WEST
Jubilo Iwata U-18 2-1 (1-1, 1-0) Ozu High School
Kyoto Sanga FC U-18 2-5 (0-2, 2-3) Gamba Osaka Youth
Vissel Kobe U-18 2-0 (0-0, 2-0) Higashi Fukuoka High School
Cerezo Osaka U-18 2-2 (0-1, 2-1) Sagan Tosu U-18
After entering the second half 1-1 against Ozu High School (Kumamoto) at home, NISHIMURA Hinata (#10) responded to a through ball sent by GOTO Keisuke (#23) to score the go-ahead goal that gave Jubilo Iwata U-18 (Shizuoka) their fifth win of the season. Gamba Osaka Youth (Osaka) scored five goals, including the brace of SAKAMOTO Isa (#11) to win over Kyoto Sanga FC U-18 (Kyoto) 5-2. Following a scoreless first half, TERASAKA Shogo (#19) and IKOMA Taiki (#13) each scored a goal to send Vissel Kobe U-18 (Hyogo) past Higashi Fukuoka High School (Fukuoka). Cerezo Osaka U-18 (Osaka) managed to come from behind to draw against Sagan Tosu U-18 (Tosu), thanks to the late equaliser scored by ITO Tsubasa (#13).
Prince Takamado Trophy JFA U-18 Football Premier League 2021
League Duration: Sat. 3 April - Sun. 12 December 2021