NEWS
Funabashi Municipal turn the tables on Kashiwa to stay in the Premier League - Prince Takamado Trophy JFA U-18 Football Premier League 2021
06 December 2021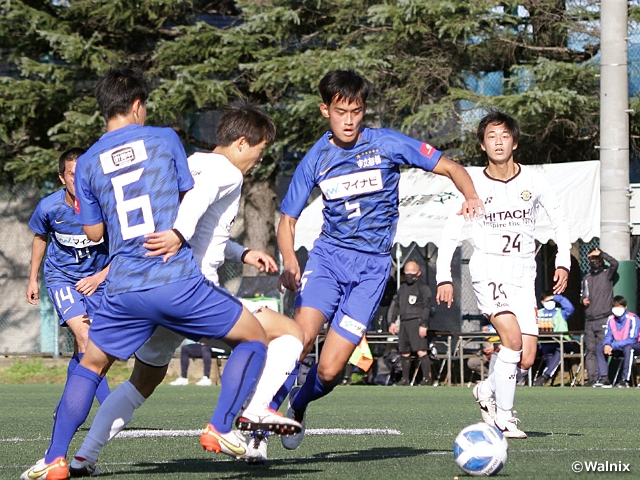 The 18th sec. of the Prince Takamado Trophy JFA U-18 Football Premier League 2021 EAST took place on Sunday 5 December at various locations.
Pick-up Match
Funabashi Municipal High School 3-2 (0-2, 3-0) Kashiwa Reysol U-18
At Hoten Park (Grasspo) a matchup between two Chiba sides, Funabashi Municipal High School (Chiba) and Kashiwa Reysol U-18 (Chiba), took place. For Funabashi Municipal High School, who is provisionally ranked ninth, this was a match they cannot afford to lose in order to stay in the league.
Although sec. 18 is the final week of the season, there are still matches left to be played due to the postponements caused by the pandemic, but for Kashiwa, this was their final match of the season. With many of their players being brought up through the club's junior youth and youth teams, Kashiwa's YAMATO Yuzuki (#3) mentioned, "There are players who have played for Reysol for six years or even nine years, so we entered the match with a special sentiment," as the Kashiwa side showcased great enthusiasm even though they were not involved in the title race or in risk to be relegated.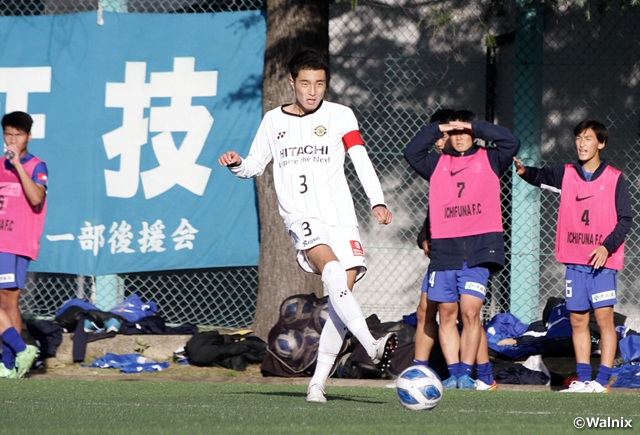 Funabashi Municipal on the other hand, had their backs against the wall, and the situation seemed to have affected their plays in a negative way. The opening goal came in the sixth minute, when Kashiwa's YAMAMOTO Ota (#18) netted a spectacular shot, followed by the goal of OSHIMA Yuto (#24) in the 18th minute to put Funabashi Municipal in a hole early in the match. For Funabashi Municipal who desperately needed a win, it was the worst possible start, as coach HATA Shugo later reflected, "We had no momentum and the way we conceded the goals were poor."
However, the players of Funabashi Municipal started to rally after conceding the second goal, as coach Hata mentioned, "They became really tough. I could feel the growth of the players." As Kashiwa started to lose momentum, the Funabashi side started to pick up their pace midway into the first half. Effectively utilising the long balls, Funabashi Municipal came close in several occasions to threaten the Kashiwa goal.
"Our pressing is working, and we are not playing badly. Our opponent looked uncomfortable when we penetrated the space behind their defence line, so let's exploit that space," said coach Hata as he sent off the Funabashi Municipal eleven to the second half. In the 49th minute, GUNJI Riku (#30) responded to a deflection following a set piece to cut the deficit in half. The striker calmly converted a one-on-one against the opposing goalkeeper in the 62nd minute to equalise the match, before scoring the go ahead goal with a superb lob shot in the 72nd minute.
"I have been personally frustrated because we have not been able to win many matches due to my lack of goal production, so I was determined to score today, and I told my teammates at halftime that if the defence can hold up the score, I would definitely score goals for them," said Gunji following his hat-trick performance.
After Funabashi Municipal took the lead, Kashiwa made fierce efforts to rally back, but the home side managed to hold onto the one goal lead, earning a valuable victory. With this victory and with Urawa Red Diamonds Youth (Saitama), who were in contention for the relegation race, losing their match this week, Funabashi Municipal has secured their spot in the Premier League next season. "The players showed us that they have the power to crawl back up. Their perseverance was on full display and showcased a very impressive performance," said coach Hata, following his side's come from behind victory.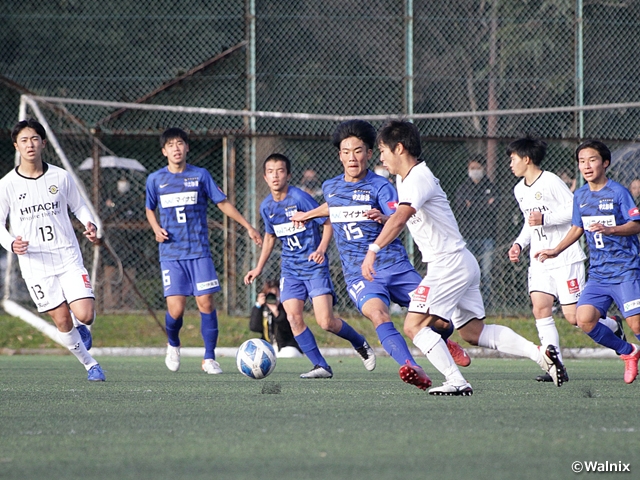 "I take full responsibility for this loss," said Kashiwa's coach SAKAI Naoki, before sharing his take on the match, "Some of the players will go on to play professionally, and I'm sure that the other players will also strive to reach that level. This match taught us that we need to work harder, and I hope that the players will make the most of this experience for their future football career."
Coaches and Players' Comments
HATA Shugo, Coach (Funabashi Municipal High School)
We are competing in a development league, but that doesn't mean that we don't mind getting relegated to a lower division. We've been under a lot of pressure and I'm sure it's been difficult for the players, but I think they have shown great improvements and the spirit of Funabashi Municipal.
MF #30 GUNJI Riku (Funabashi Municipal High School)
When I scored the first goal, the ball was in the air, so I just focused on hitting the target. In the scene where I scored the second goal, the goalkeeper was closing down and I didn't have many options, so I just aimed at the corner. I was aware of the goalkeeper's position, and I was able to place the ball where I wanted when I scored the third goal. I have never been so happy and also see everyone getting excited for me.
SAKAI Naoki, Coach (Kashiwa Reysol U-18)
It was evident that the team was shaken up after conceding the first goal, and it is my fault that I couldn't help the players maintain their composure. We had anticipated that our opponent would attack quickly down the line in the second half, and we had prepared for set pieces, but yet we were caught off guards. We must accept this result and try to make the most of this experience to become a better team.
DF #3 YAMATO Yuzuki (Kashiwa Reysol U-18)
Although we were able to enter the match in good shape, we started to fall behind and couldn't win the second balls. I was side lined for a long stint due to injuries during these past three years, but I was able to continue with the support of many people, and I cannot thank coach Sakai and everyone enough.
Results of other matches
Omiya Ardija U18 2-1 (0-0, 2-1) Urawa Red Diamonds Youth
Ryutsu Keizai University Kashiwa High School 2-0 (1-0, 1-0) Yokohama F.Marinos Youth
FC Tokyo U-18 0-2 (0-2, 0-0) Aomori Yamada High School
Shimizu S-Pulse Youth 3-1 (1-1, 2-0) Yokohama FC Youth
Omiya Ardija U18 (Saitama) claimed the bragging rights in the Saitama Derby against Urawa Red Diamonds Youth (Saitama), thanks to the game winner scored by OZAWA Haruki (#15) in the 87th minute. As a result, Urawa is now set to be relegated to the Prince League next season. Ryutsu Keizai University Kashiwa High School (Chiba) scored a goal apiece in both halves to win over Yokohama F.Marinos Youth (Kanagawa). League leaders Aomori Yamada High School (Aomori) won over FC Tokyo U-18 (Tokyo) with the help of the goals scored by WATANABE Sera (#17) and FUJIMORI Sota (#11) in the first half. Second place Shimizu S-Pulse Youth (Shizuoka) welcomed Yokohama FC Youth (Kanagawa) to their home, where they managed to come from behind to keep their title hopes intact.
Prince Takamado Trophy JFA U-18 Football Premier League 2021
League Duration: Sat. 3 April - Sun. 12 December 2021