NEWS
Hiroshima claim fifth title in the WEST! - Prince Takamado Trophy JFA U-18 Football Premier League 2021
06 December 2021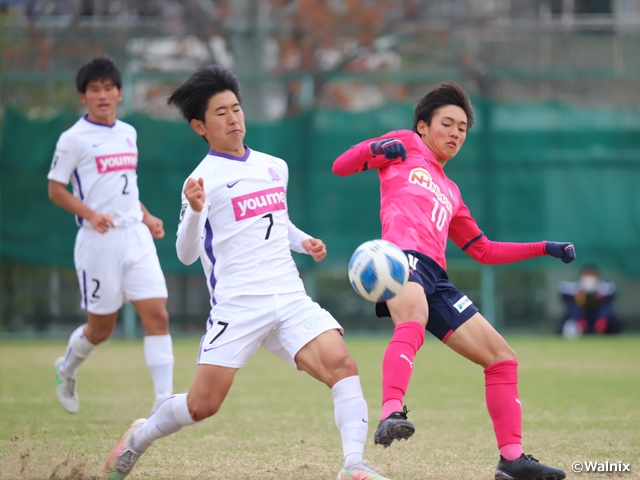 The 18th sec. of the Prince Takamado Trophy JFA U-18 Football Premier League 2021 WEST took place on Sunday 5 December, as Cerezo Osaka U-18 (Osaka) faced Sanfrecce Hiroshima F.C Youth (Hiroshima).
Pick-up Match
Cerezo Osaka U-18 0-1 (0-1, 0-0) Sanfrecce Hiroshima F.C Youth
While the league scheduled was extended to Sunday 12 December to accommodate the postponed fixtures, Hiroshima entered their 18th and final fixture this week. Following the loss of Ozu High School (Kumamoto) three days ago, Hiroshima was in position to claim the title with a draw or better, and the team showcased great intensity from the start, as NISHIMURA Gaku (#7) later reflected, "We entered the match with the intention to end the season on a high note."
By applying pressure from high position, Hiroshima won a throw-in in the fourth minute. After FUJINO Kazuki (#8) received the ball in the restart, the ball was delivered to TANADA Ryo (#10), who fired a spectacular shot that pierced the upper corner of the Osaka goal.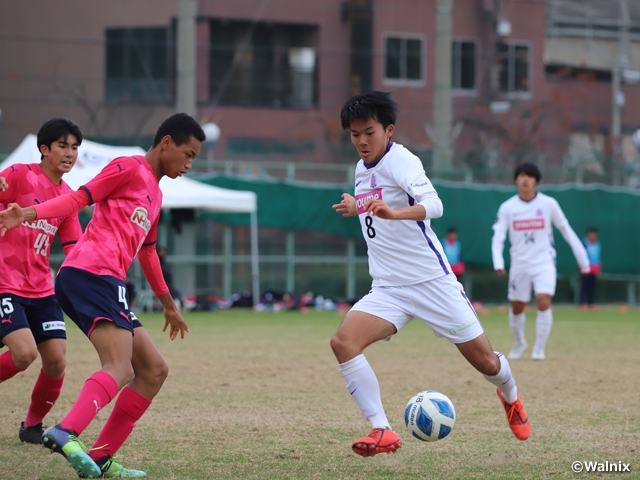 Despite taking the early lead, Hiroshima gradually lost possession of the ball to Osaka, as coach TAKATA Tetsuya mentioned, "After conceding an early goal, our opponent managed to keep their composure and stuck with their game plan." As shown in the play made by KITANO Sota (#10), who made a cut-in from the side before sending a cross towards the goal, Osaka started to utilise the width of the field to create opportunities, but led by MITSUHIRO Kento (#6), who later commented, "We knew there would be times when our opponent will take control of the game, so we focused on keeping our composure to play good defence," Hiroshima showcased their resilience to keep the Osaka side from creating critical opportunities. In the 37th minute, Osaka's KINOSHITA Shinnosuke (#11) broke loose to face the goalkeeper one-on-one, but Hiroshima's goalkeeper HADANO Soshi (#1) made a fine save to sustain the team's one goal lead.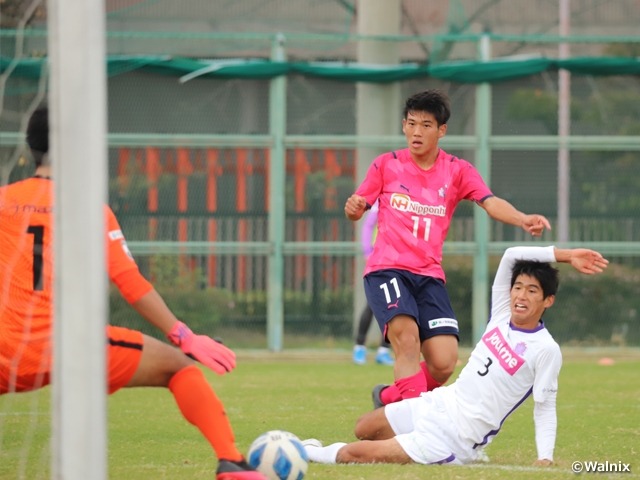 The second half saw Osaka dominate the ball possession. "We kept playing the ball wide in the first half, but we made more attempts to attack the central area in the second half, which drew the attention of our opponents towards the centre, giving us more space to work with in the flanks," said KAWAI Hinata (#12). However, despite creating more opportunities in the opposing end, the Osaka side struggled to break through the solid Hiroshima defence. Hiroshima also made attempts to extend their lead from counterattacks, as KASAGI Yuzu (#22) responded to a pass delivered by Fujino in the 56th minute but failed to capture the goal. With both sides falling short from finding the back of the net in the second half, Hiroshima walked away with a 1-0 victory to claim their fifth title of the Prince Takamado Trophy JFA U-18 Football Premier League WEST.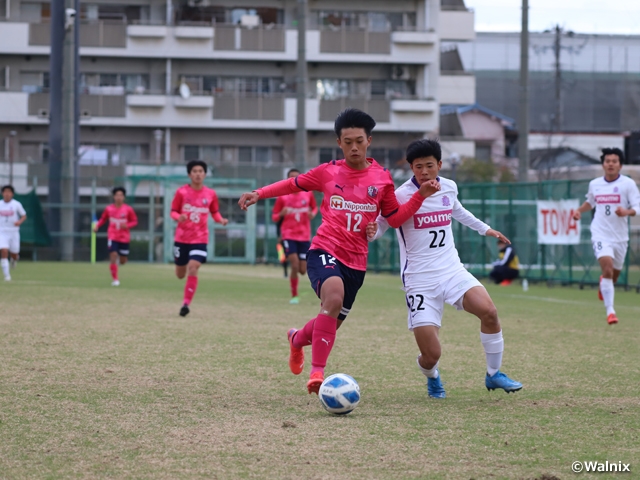 Coaches and Players' Comments
SHIMAOKA Kenta, Coach (Cerezo Osaka U-18)
This is certainly a disappointing result, but I felt that we have come to the point where a single play could have changed the outcome entirely. The team has clearly changed since the first half of the season, in which we ended winless. Although the team is making a forward progress, we still need to raise the qualify of our plays in the final third and make better decision, especially when facing teams who are laying a block in front the goal.
DF #12 KAWAI Hinata (Cerezo Osaka U-18)
Today we faced a team who dropped deep in their territory, so we struggled to execute our usual passing football in the first half. However, once we started to carry the ball from the centre half position, we managed to create more opportunities in the second half, and we wish we could have made this adjustment in the first half. We will try to showcase everything we have work over the year in our final match. We will do our best to prepare ourselves both as a team and as individuals.
TAKATA Tetsuya, Coach (Sanfrecce Hiroshima F.C Youth)
When we first launched this team, we struggled because we didn't have enough power, so I'm really proud that we were able to come this far to win the title. The players showcased great tenacity, took good positions, and filled in the gaps to cover each other as a team. Each one of them has grown and improved compared to the beginning of the season. We have a deeper bench and become a team that can work hard and showcase the Sanfrecce way, regardless of who is on the pitch.
MF #6 MITSUHIRO Kento (Sanfrecce Hiroshima F.C Youth)
Despite all the challenges we faced, we were able to work hard and continue to improve ourselves both as a team and as individuals, so I am very happy with this title. We played many matches where we struggled to find our rhythm but managed to keep clean sheets like we did today. The fact that we can play defence without losing our composure, shows how much we have grown as a team. Winning the Premier League WEST is not an easy thing to do, so it gives us great confidence moving forward. I will go on to university, but I will never lose sight of my goal of becoming a professional football player, and hopefully I can come back to play for Sanfrecce Hiroshima in the future.
Results of other matches
Nagoya Grampus U-18 3-1 (1-0, 2-1) Kyoto Sanga FC U-18
Vissel Kobe U-18 2-2 (0-1, 2-1) Jubilo Iwata U-18
Higashi Fukuoka High School 1-1 (0-0, 1-1) Ozu High School
Sagan Tosu U-18 1-0 (1-0, 0-0) Gamba Osaka Youth
Led by the opener scored by HAYAMA Shinnosuke (#12), Nagoya Grampus U-18 (Aich) scored three goals to win over Kyoto Sanga FC U-18 (Kyoto). As a result, Kyoto is now set to be relegated to the Prince League with one more fixture left to play. Vissel Kobe U-18 (Hyogo) welcomed Jubilo Iwata U-18 (Shizuoka) to their home, where they came from behind twice to walk away with a point. The match between two high schools from Kyushu, Higashi Fukuoka High School (Fukuoka) and Ozu High School (Kumamoto), ended in a 1-1 draw. Sagan Tosu U-18 (Saga) own over Gamba Osaka Youth (Osaka), thanks to the PK scored by ANDO Toshiki (#3).
Prince Takamado Trophy JFA U-18 Football Premier League 2021
League Duration: Sat. 3 April - Sun. 12 December 2021